Pakistan has begun arresting and deporting Afghan refugees who missed Wednesday morning's deadline for them to leave, a government minister has announced. At least 200,000 people have already returned to Afghanistan voluntarily, said Pakistan's acting interior minister, Sarfraz Bugti.
The crackdown on unregistered foreigners, part of Pakistan's new anti-immigrant policy, affects some 2 million Afghans thought to be in Pakistan without documentation.
Bugti said: "There will be no compromise against illegal refugees. We have the data on who are staying illegally in Pakistan. We are going door to door, and we have done geofencing. We will detain and deport them. We have arrested dozens across the country so far, including in the capital."
Afghans would be put in buses, trucks or whatever was available to transport them to the border, said Bugti, and authorities would be tracking them to ensure they did not return. He attacked the west for not doing enough to help relocate Afghans at risk from Taliban retaliation if they return.
Pakistan's policy of forcibly returning refugees has drawn widespread criticism from UN agencies and rights groups, and from the Taliban administration in Afghanistan, which has urged its neighbour to give undocumented Afghans more time. Although the numbers of Afghans crossing into Pakistan rose dramatically after the Taliban takeover, many others have been living and working in Pakistan for years.
Refugee holding camps have been established for the thousands waiting to cross the border. In Chaman, a border town with Afghanistan, more than 1,000 refugees are staying in temporary shelters, anxiously waiting their turn to be deported. Gul Mohammed, an Afghan in his 50s, said he does not know what he would do in his home country, having lived in Pakistan for many years and with family there.
"I will see what I can do to survive in Afghanistan after I reach there. I have tried to contact those who have reached Afghanistan to know how they are doing, but I failed. Uncertainty waits for many of us," said Mohammed.
Pakistan started rounding up Afghan refugees before the deadline had expired, and police have been accused of the harassment of both illegal and legal refugees. In the Chaman camp, Saddam, who moved to Pakistan seven years ago, said the constant police raids had made him leave. "They were raiding, arresting and harassing us, and I was forced to leave for Afghanistan. The police were hurting our dignity by their cruel behaviour."
Also in the camp was Mir Agha, 23, who said: "I was born and raised in Pakistan. All my siblings were born here. We had proof of refugee cards given by the UNHCR but they were scissored by the police after they arrested us.
"Pakistan is now home, not Afghanistan, and we will be refugees there. We can't relate there. We are refugees in both countries. I'm worried about how I will survive and live there."
Chaman district's deputy commissioner Raja Athar Abbas said authorities have deported at least 4,000 people on Wednesday. For the 1,000 refugees in the camp, he said: "We are providing them boarding, lodging, food, medical and municipal services, and we have registered them with us before we deport them," he said.
The UNHCR has raised fears over forced deportations, especially of minorities, journalists and women, who are at risk under the Taliban regime. Pakistan's foreign ministry spokeswoman, Mumtaz Zahra Baloch, said these groups would not be forced to return: "The fear of deportation of journalists, activists and minority groups are in our notice and we will take due precautions."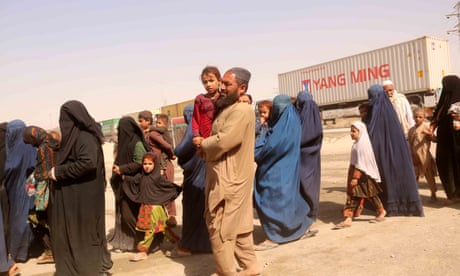 A senior US official estimated that there are still 25,000 Afghans who could be eligible for resettlement in the United States. "We are actively reaching out to and communicating with those individuals. Many within these groups would be placed at risk if repatriated to Afghanistan," said the official.