How to support your family when you have just lost your job during hard economic times? That was the question one journalist asked himself after his newspaper laid him off during the calamitous contraction of the economy in 2021 when the amount of international money coming into Afghanistan suddenly diminished. The journalist's response surprised even himself – he started a business in an area he knew nothing about – clothing. He has used modern technology to help create a business that supports himself and dozens of others. AAN's Sayed Asadullah Sadat has spoken to the former journalist about how he came to set up his online business selling beautiful traditional Afghan clothes via Facebook.
Some of the beaded work and embroidery on sale by the business. Photo: Ismail Sadeqi/Facebook, 2023.

I used to work as a reporter for a local newspaper covering social and economic stories, but after the Republic fell, the paper I worked for downsized because there was not enough money coming in from advertisers, and I lost my job. I had a bit of savings and we thought that if we tightened our belts and economised, the savings would tide us over until I found another job. But everyone was in the same boat as me; hundreds of journalists on the unemployment line were competing for the same jobs, which were few and far between.

As I watched my savings dwindle, the weeks turned to months, and I finally had to admit that I wasn't going to get another job in my profession. I had to find a way to support my family, pay for the household, my children's schooling and my parent's medical bills. I started looking round for other jobs until one day, a little over a year ago, my wife told me that one of our relatives, who was a seamstress, was looking around for someone to help her market her products.
The next day, I called our relative and we went to her house to discuss the idea with her. She told us she was getting a lot of orders for traditional handmade clothes and thought this was a growing market and worth exploring. She told me that traditional clothes had fallen out of favour during the Republic because affordable imported clothes were readily available, but now they were making a comeback.
Keeping Afghanistan's cultural heritage alive
The idea of reviving traditional Afghan clothes appealed to me. The idealist in me thought about how the business would keep a part of our cultural heritage from disappearing. I thought about the times when I covered handicraft markets as a journalist. These used to be regularly organised by the government or NGOs who had projects supporting widows or female heads of household. I had interviewed artisans from all over the country about the particulars of the clothes from their region. Back then, they would tell me about how long it took to create each piece, how difficult it was to sell their work at a profit and how, when the projects ended, they would be left with their unsold stock, struggling to find customers. So we agreed to focus on traditional Afghan clothes, such as gand-e Afghani (traditional Afghan wedding dress), and other handmade Afghan accessories we could make in my business partner's small home-based workshop.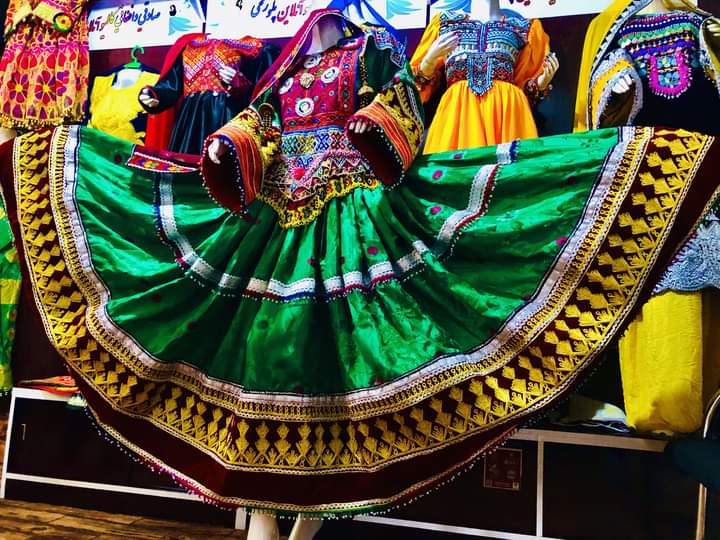 This is how I came to open an online shop selling traditional Afghan clothes.
Growing an online business in Afghanistan 
It was hard going at first. We didn't have much money to invest in a business and I knew nothing about clothes – sewing or selling. But I was desperate to find a way to support my family and my business partner, the tailor, had a good reputation for making top-quality clothes. We used some of my savings, about 50,000 Afs (USD 550), to make some samples and I started exhibiting our work through photos that I posted and promoted on Facebook.
The orders came in slowly – only a few from people who knew my business partner's work, and there were times when I almost gave up on the whole thing. But my wife kept urging me to stay the course and I'm so happy I listened to her. Our reputation for quality workmanship grew and more orders started coming in. Nowadays, customers from all over Afghanistan place orders with us using our Facebook page. We've even had a few orders from overseas, but sending things abroad from Afghanistan is difficult. It's a market we'd like to grow, but with all the banking restrictions, doing trade outside Afghanistan seems like an impossible dream.
It's hard to believe that the business is only over a year old. In this short time, we have grown a solid customer base and have had to hire more people to keep up with incoming orders. We've gone from our humble start to employing 23 people, including 16 women who work from home as seamstresses and artisans who do the beadwork and leatherwork. Our product line has grown to include a variety of Afghan clothes and accessories, which are both machine-made and handmade and feature traditional embroidery techniques such as gulbatun (silk thread), zartar (golden thread) and the chirmadozi (double-knotted). We've also expanded into leather works such as sandals and purses. Our most popular items include Kuchi-style clothes, Afghan shawls and hand-beaded purses.
We even have a designer who works with our customers to design bespoke pieces for them. We don't have enough working capital to have a stock of raw materials on hand, so after the customer agrees to the design, we buy the fabric and other materials from the market and deliver them to the home of one of the seamstresses/artisans who will then create the pieces. Once the item is finished, we deliver it to the customer by courier and they pay us cash on delivery.
But as successful as online sales are, people still have a hard time trusting a business that is not bricks and mortar. So eight months ago, after we got our business licence from the Emirate, we rented a small storefront and opened a showroom. Having an address has helped give us more legitimacy and has increased customer confidence. Thank God we are making good money. There is even a bit of a profit, about 20,000 Afs (USD 230) a month, after expenses. I'm putting the money away for a rainy day, or maybe we could use it to expand the business. But the most gratifying thing is that in addition to my own and my partner's families, our business supports the families of the 23 people who work for us. They each provide for eight or ten family members.
Creating jobs for women 
Handicraft work in Afghanistan is mostly done by women, who often have expertise in sewing, weaving, beadwork, embroidery and other traditional crafts, which means it can be an important source of income for them, especially in these hard economic times. I'm happy that I've been able to provide women with jobs. These days, many women are staying at home and struggling to find jobs. Now, some of them are working. I've bought sewing machines for them with my own money so that they can work at home. They can do housework and they can also sew. This way, they can support their families financially. These days, many women are training as seamstresses and artisans, hoping to make a living. Word has gotten around that I hire women who sew well and I get tons of calls every day from women looking for work.
Planning for the future 
But as the economy continues to struggle, I fear that a time will come when my business will also struggle. As people have less and less disposable income, paying for the necessities of life, like food and rent, will take priority over luxuries like clothes. I'm hoping the government will lend a helping hand to domestic producers and keep cheap imported products from flooding the market. The Emirate could subsidise the textile industry so that the fabric and other things we use could be produced in Afghanistan. Not only would this make the raw material we need cheaper, but it would also create jobs and bring money into the economy.
If women could work outside the home and if the government supported me with subsidies, I could open a big factory so that all the women could work under the same roof. We could invest in professional industrial machines and hire more people, including women. These things would make our work easier, faster and more profitable. We wouldn't have to pay couriers to go to and from people's homes all day to deliver raw materials and pick up finished products, which is time-consuming and expensive. It slows down our work and makes collaboration and coordination difficult.
Online sales have tremendous potential. They do away with geographic limits and make it possible for businesses to trade worldwide, like the fashion websites they have in China. I know that a business in Afghanistan can't trade globally right now, but I hope that Afghanistan can someday rejoin the world economy. When that day comes, I plan to be the first Afghan online clothing store that sells clothes from Afghanistan to customers all over the world.
Edited by Roxanna Shapour