The number of Afghan refugees moving along the Balkan Route has remained very high this summer. In particular, a great proportion in their earlier 20s and often under-age Afghans seem to be taking the long trip to central, western and northern Europe. From Turkey, they usually cross Greece and Bulgaria in order to reach Serbia. Once there, most Afghans opt for the 'Western Balkan route' leading through Bosnia, Croatia, Slovenia and finally Italy – where routes for further possible destinations split once again. Among these countries, Croatia became, in January 2023, the European Union's foremost external border facing the Balkan Route, while non-EU Serbia, remains a midway staging point for migrants, beyond the EU borders yet conveniently close to their final destinations. During a recent visit to Croatia and Serbia, and through long-term observation from the vantage point of Trieste, the Italian city close to Croatia and Slovenia where one of the western branches of the Balkan Route leads, AAN's Fabrizio Foschini has sought to understand what is happening to Afghans transiting through these two, very diverse yet closely connected, countries.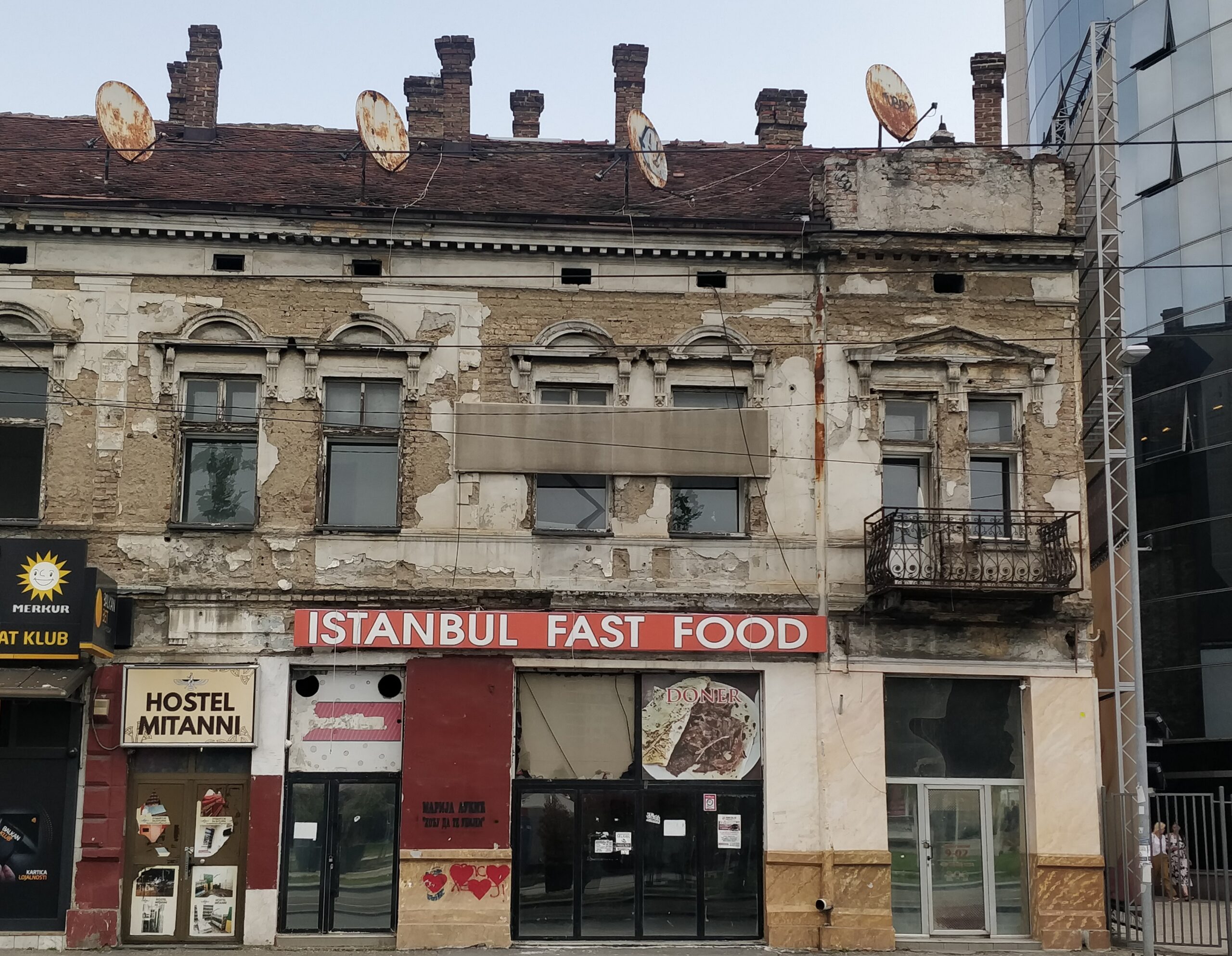 In Savamala, traces of past frequentation by migrants, such as cheap hostels and restaurants, are still visible in the neighbourhood, which is now the site of major building projects. Photo: Fabrizio Foschini, 25 July 2023. A country in the EU
:
 Croatia
Almost ten years ago, a young Afghan told me the story of how he had been unwittingly tricked by Croatia's membership of the EU. After an odyssey of several months across Bulgaria, Serbia and Hungary – he was one of those low-budget DIY travellers who, without even a GPS, counted only on their skills to make it to their destination – he had managed to cross the Serbian-Croatian border undetected. Coming out of a plum tree orchard where he had spent the night, and still wet from having waded a creek to get there the previous evening, he walked into a Croatian hamlet and inquired from the first person he met his basic whereabouts: "Which country am I in? Is it in the European Union?" "Yes!" was the somewhat upbeat reply "This is Croatia, we're in the EU!"

It took my friend, who had hurried to the nearest police station and duly applied for asylum, hoping his roaming was over, some days to understand that the people he had met were highly enthusiastic because Croatia had in fact just joined the EU a few days previously, in that fateful July of 2013. It took him some more time to realise that the country had no proper reception system yet and offered no viable chances to asylum seekers, at least not to Afghans.[1] He eventually decided – and managed – to leave Croatia and told me his tale when he was freshly arrived in Trieste, where he would apply for – and eventually obtain – asylum.
Croatia's position in refugees' mental geography of the so-called Balkan Route has become clearer since those early days, and more sharply defined: had my friend hit the border four or five years, later he would not have thought of grabbing the chance to seek asylum there. Croatia is now largely seen by migrants as an obstacle to overcome during their hoped-for movement westwards and its security forces and government's attitude as uncompromisingly hostile.
Maybe it is not so paradoxical that Afghan migrants' increasingly poor perception of Croatia has developed in the same years that saw the completion of Croatia's accession to full EU membership. In January 2023, it made the last two big steps forward, with the adoption of the EU's common currency, the euro, and entry into the Schengen Agreement, a treaty which led to the creation of the Schengen Area in which internal border checks have largely been abolished. Bulgaria and Romania are members of the EU, but not Schengen, while Greece, a Schengen member, has a sea border with the rest of the Union, something which facilitatesits control of migrants' movement. That leaves Croatia, together with Hungary to the north, the main external border for those approaching the EU from the southeast. EU strategies and concerns about what it deems 'the migrant crisis', therefore inform Croatia's policies and behaviour towards migrants more than the internal political debate about them. This is also because, so far, despite the migrants having a highly visible presence, very few have stopped and settled in Croatia.
However, an increase in the number of asylum requests filed in Croatia during the first months of 2023 pointed to possible imminent changes in the country's position and role in migration along the Balkan Route, and inspired this research and report. Let us then first have a look at some numbers.
Asylum seekers in Croatia: inflow and outflow
In the first six months of 2023, the most important entry to the EU for Afghans remained what is known as the Western Balkan route. [2] It was along this route that the European Border and Coast Guard Agency, Frontex, listed the highest numbers of detections of illegal border crossings by Afghan nationals – 6,392 – far more than the 2,437 detections along the Eastern Mediterranean route (from Turkey into Greece or Bulgaria or from Turkey by sea to the Greek islands or to Italy).[3] The Frontex numbers look to be an undercount given the increasing trend in migration in recent years. Moreover, in 2022, in Croatia alone, the Ministry of Interior reported far more: 14,877 illegal border crossings and 1,390 asylum requests provided by the Ministry of Interior.
Actual figures for Afghans travelling along the Western Balkan route must be even higher, given there are also undetected border crossings by Afghans. For example, in 2022, Hungary effected more than 25,300 pushbacks of Afghan nationals to Serbia, according to its police statistics (quoted by the Asylum Information Database – AIDA). A majority of Afghans, moreover, unlike Syrians who typically try to cross north into Hungary (the most direct route to their destinations in northern Europe), opt to keep moving west, from Serbia through Bosnia and then Croatia, on the western branch of the Balkan Route which leads towards Italy. This will be the specific focus of this report. [4]
The constant flow of Afghans arriving at Italy's north-eastern border further provides a glimpse of the overall numbers moving through Croatia. In 2022, the number of migrants crossing from Slovenia into Italy, traced by the Border Police of Trieste, or who spontaneously presented themselves to the authorities there, amounted to around 13,000. This figure coincides roughly with the number of migrants in transit assessed by a group of solidarity organisations active in the city, which also estimated that over half were Afghans, (see their recent report). In particular, according to them, in the third quarter of 2022, Afghans made up 75 per cent of the total number of migrants transiting through Trieste. In the case of non-accompanied minors arriving in Trieste, Afghans accounted for 85 percent of the total during 2022.
In Croatia itself, these two trends, the increase in the numbers of overall arrivals and of Afghans, were also monitored. In 2022, 12,872 asylum requests (of all nationalities) were made, against a mere 3,039 of 2021 (see AIDA's annual country report about Croatia). Then in 2023, the first partial data showed an enormous jump in asylum requests: by 20 March, as many as 6,280 individuals had applied for asylum in Croatia, an 800 percent increase compared to the same period in 2022. By 30 June, according to the Ministry of Interior's statistics Croatia had received 24,367 asylum requests, among them, the majority (5,925) filed by Afghan nationals.
It was difficult not to link the new pace of asylum requests with the changed political and economic situation of 2023 – Croatia joining the Schengen agreement and adopting the euro. The game-changer of being inside Schengen, for example, was mentioned by an unnamed police official to the Croatian daily, Vecernji List:
Previously they went to Slovenia, a Schengen member and sought asylum there because then they could no longer be returned to a country outside of Schengen. Now that Croatia in is Schengen, they don't need to wait to arrive in Slovenia, so they're asking for asylum here. 
Was it possible that a Croatia now in Schengen could become more attractive as a destination for migrants, and that those who had just transited through it, could become more interested in trying to stay, given the country's fast-expanding economy and its hunger for cheap seasonal labour in tourist sector? Moreover, this year, Croatia fell into line with most other EU countries with respect to the waiting time imposed on asylum seekers before they can legally seek a job; it was brought down from nine months to just three.
A second look at the situation however quickly dispelled this theory. Firstly, the assumption that all asylum requests would lead to those seeking asylum remaining in Croatia is misleading. A number of factors point to relatively few new asylum seekers stopping in the country for good. They include the fact that the increase in asylum requests in Croatia was paralleled by migrants transiting through to Trieste. Also, the numbers of recorded illegal entries into Croatia and Slovenia (the next country along the route westwards to Italy) during the first six months of 2023 were roughly equivalent – 26,871 and 25,431 respectively (see for example figures given in this report by Ansa). This points to the outflow of migrants from Croatia into Slovenia keeping pace with the number of new arrivals, including those who applied for asylum. In 2021, researchers at the University of Zagreb had assessed that almost 90 per cent of those applying for asylum in Croatia left the country after a short time, leaving their requests pending. The current estimate is that around 85 per cent do so.
Further elements reinforce the likelihood that few of the new asylum seekers stop in Croatia for good. As already mentioned, so far, Afghans constitute by large the most numerous group of asylum seekers in Croatia this year. Yet it is realistic to infer that, in the case of Afghans even more than that of other national groups, the great majority leave the country and move westwards. According to information shared by a Zagreb-based independent organisation offering legal assistance and advocacy for asylum seekers the Centre for Peace Studies (Centar za mirovne studije, CMS), asylum requests made by Afghans in Croatia are usually rejected, even after appeal (in both the 2nd and 3rdinstances). Despite an increased focus on Afghans on the part of the European Council on Refugees and Exiles (ECRE) and its partner organisations in Croatia, such as CMS, this is not yet reflected by changes in the asylum policy at the national level. Only a negligible number of Afghans, mostly individuals who worked with NATO forces and could prove direct collaboration with Croatians, managed to settle in Croatia after being evacuated in 2021. Few Afghans would choose to stop in a country showing such reticence in granting asylum, especially when they are so close to more attractive destinations deeper inside the EU.
Croatian police behaviour towards Afghans likely plays another key role in keeping them on the move. The country's borders with Bosnia and Serbia, are heavily patrolled, along with transit routes in the interior of the country; according to the Croatian Prime minister 6,700 police guard and patrol the border. The Croatian police often engage in so-called 'pushbacks' – that is, the immediate and illegal expulsion of individuals who may have applied for asylum, if given the opportunity.
Migrants intercepted by the police not only close to the border, but even at greater distances from it, are routinely brought back and forced to re-enter Bosnia on foot, without a formal transfer to Bosnian authorities, and usually through deserted tracts of the border far away from their original crossing point.
CMS estimated around 25,000 pushbacks to Bosnia in the years 2019-21 (smaller numbers of pushbacks towards Serbia have also taken place). The overall number of pushbacks may have slightly diminished in 2022 –the Danish Refugee Council counted 3,461 pushbacks to Bosnia; however, Afghan nationals constituted the main victims of this practice, with 919 such cases. In the first six months of 2023, the volume of pushbacks involving Afghans has continued unabated, with 475 recorded.
Instances of police abuse against migrants have been consistently reported and denounced by NGO workers and the media, in Croatia and elsewhere over the past few years and have recently been detailed in a major report by Human Rights Watch. Leaving aside the issue of 'chain-pushbacks', which involve more than one country, in this case Slovenia and Italy (more on this later), such abuses range from the blanket denial of access to asylum to arbitrary detention, theft and damage of personal property, physical violence and degrading treatment. As documented in a CMS report, police officers who take part in such operations most often have their faces covered to avoid identification and likewise cover up the pushback as instances of prevention of illegal border crossings.
Despite a ruling by the European Court of Human Rights that held Croatia responsible for the death of a six-year-old Afghan girl, Madina Hosseini, who was run over by a train after being pushed back by the police to Serbia in 2017, the Croatian police continue with its abusive practices. They have evidently become engrained in the operational routine of Croatian police forces tasked by their and other European governments, which support Croatian border control economically and operationally through Frontex, with checking unauthorised migration. The actions of the Croatian police should be considered an integral part of the deterrence measures put in place to 'protect' the whole of the European Union, not just their own country: the push-backs are just one of a range of measures – bureaucratic hurdles, low recognition rates and threats of deportations – variously deployed by different EU countries.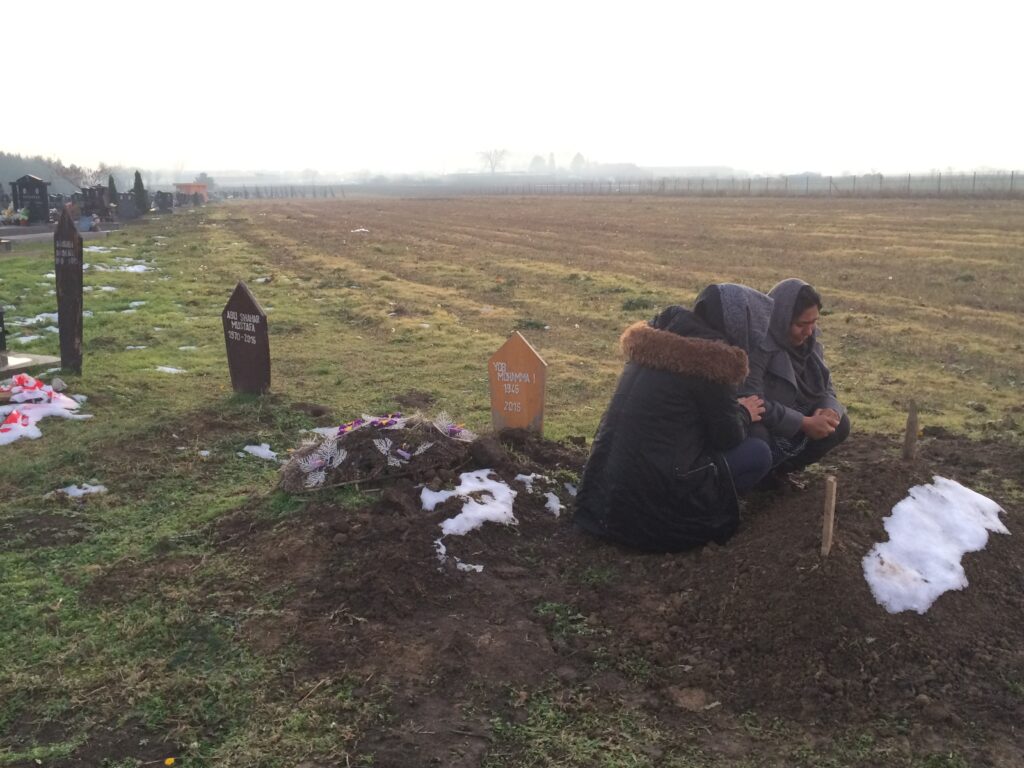 Even when Afghans are not subjected to pushbacks, NGO workers reported that this nationality is are often treated worse than other migrant groups such as the (far fewer) Syrians, so that the idea that they are not welcome in Croatia is quickly and firmly impressed upon the transiting migrants. A number of conversations with Afghan refugees travelling through Croatia corroborated this point.
Talking to Afghans outside of Porin Hotel
The main reception centre in Croatia is in the former Hotel Porin, on the southern outskirts of Zagreb. The centre opened in 2011 with a capacity of 600. Although meant for single men, it currently hosts a mixed population which include several families.[5]The authorities might have considered its location, away from the city centre, convenient. It has proved uncomfortable for those living there. There is a foul-smelling major waste disposal nearby, a huge and largely abandoned freight train exchange station and untended expanses of grass. The area swarmed with ravenous mosquitoes even more than the average Zagreb suburbs in the wet and stormy summer of 2023.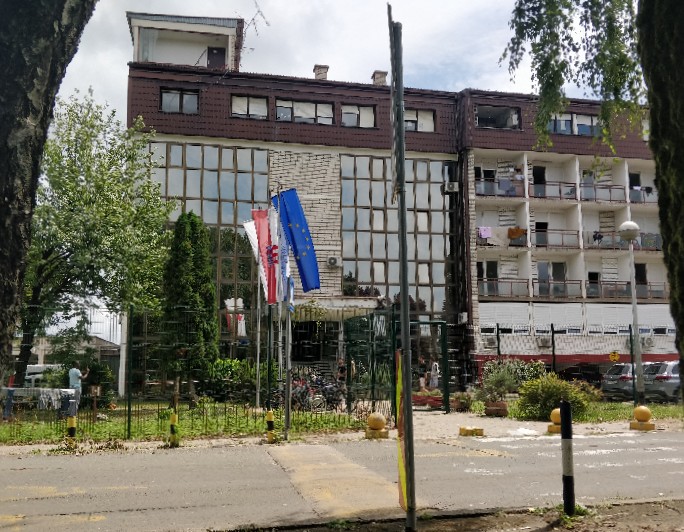 The camp is closed to all but government personnel and the Red Cross. Médecins Sans Frontières used to have access but has recently suspended its operations there. However, Afghan migrants are regularly to be found moving around the old hotel's fenced precincts, squatting in the greenery that surrounds it, exchanging information or walking back from the city after a failed departure. At lunch time, in particular, many Afghans who have not been able to secure accommodation in the complex try to obtain some food from their acquaintances inside.
For someone who used to speak to migrants on the Balkan Route a few years back, and to those arriving in Trieste, the first contact with Afghans in 2023 Croatia was telling. The first person, a particularly sombre-looking young man from Maidan Wardak, apologised profusely in Dari for requesting to see my ID. He would not talk to me unless he could reassure himself beyond any doubt that I was not linked to either the Croatian security forces or Frontex.
I've just been let out of police detention, you know. I spent last night in the hold-up. I'd arrived here yesterday morning, the police identified me and sent me to the camp [Porin]. I left the camp shortly after and went to the train station to catch a train and continue my journey. However, before the train started, the police checked it, carriage by carriage, and there was no place to hide. They were very angry at me for leaving the camp, and even more so for having taken the train. They said, "You have no right to board trains or buses here, you can only move around the way you came – walking." They brought me to the police station and kept me there for the night. As soon as I'd fall asleep, somebody would make a noise or shake me to force me to stay awake. Then they let me go, but told me: "Go on or we'll deport you back to where you came from." The Croatian police don't care about us applying for asylum. They only want to fingerprint us because the more fingerprints they take, the more money they receive from the EU.
According to CMS in Zagreb, Afghans crossing into Croatia face three possible legal outcomes, if caught by the police and identified as migrants. Some migrants receive access to asylum applications and are subsequently sent to Porin or another reception centre – from where most eventually resume their trip westwards. A second possibility is that the person receives a 'return decision', a seven-day warrant ordering them to leave Croatia. 30,000 such decisions were issued in 2022, in particular to migrants from Burundi (who used to be able to travel to Serbia without visas) but also to many Afghans. Reportedly, this practice is continuing without a clear pattern and leaves migrants facing an uncertain fate. The return decision in fact can result in their being allowed to continue traveling, or their being held and then pushed back to Bosnia. A third option – an expulsion decision – has also become more frequent this year (more details in this analysis by Balkaninsight), especially after a ministerial summit of the western Balkan countries and the EU in Rome in April 2023. Migrants may be issued an expulsion decision, which results in Bosnia formally readmitting them. They are delivered to the Bosnian police. This is reported to have happened even after a person asked for asylum in Croatia.[6]
Whichever they get – authorised to ask for asylum, given a seven-day warrant to leave the country or a formal expulsion decision – it is difficult for migrants to make sense of any of it. At least when it comes to Afghan nationals, there were many complaints about the paucity of translation services – and communication in general – on the part of the police. The complaint of a young man from Takhar province, formerly a member of the Afghan National Army (ANA), was echoed by nearly all his compatriots: "There's never an interpreter with them [the police], the paperwork is all in Croatian and many policemen don't even bother to try to speak English with you."
Most Afghans AAN spoke to were convinced they had not applied for asylum in Croatia, although they had given their fingerprints to the European Asylum Dactyloscopy Database (Eurodac). According to the Dublin Regulation, once a person is identified by the Croatian police, their asylum request is up to Croatia to process, because it was their EU country of entry, even if they do not afterwards complete their application there.[7] They are also be liable to be sent back to Croatia, if they travelled on to another EU member state. The readmission of Dublin cases to Croatia is a relatively frequent instance, and actually one on the rise since Croatia's accession to Schengen, especially by countries with big volumes of Afghan asylum seekers, such as Switzerland. The phenomenon led a group of Croatian NGOs to travel to Bern in mid-June to meet the Swiss Secretary of State for Migration to advocate for a stop to the practice. They cited the lack of sufficient capacity in their country's reception system for accommodating refugees (read about the delegation in the Swiss press). Being sent back, of course, does not necessarily prevent migrants from trying to travel west again and apply for asylum elsewhere.
The Porin hotel was fully booked during the days AAN was in Zagreb. Afghans hanging around the hotel said that some newcomers had been made to sleep in the hallways and others could simply not be accommodated inside and slept rough in abandoned wagons in the nearby railway area. When the author visited in late July, the rough sleeping was especially grim, as Zagreb was hit by a quite unprecedented hurricane. It caused extensive damage and several deaths in the city. The Croatian capital was ravaged by bouts of heavy rains and wind for the full following week.
One of the Afghans who was sleep rough outside Porin was a young boy from Dand-e Ghuri in Baghlan province. Hardly looking as old as the 16 years he claimed, he had been sent by the Croatian police to what he termed "a camp for minors" (likely the reception centre in Kutina) upon arrival. He left it after just one day, however, and proceeded to Zagreb, but could not find a place inside Porin. While waiting for some sympathetic compatriot to bring him food from inside the hotel, he related what had led him to leave in haste the arguably better reception he would have received at the camp for minors:
I left my country two years ago, shortly before the fall of the Republic. I wasted a lot of time in Turkey because I had no money to pay for the next leg of the trip. I worked as a shepherd near Istanbul, and also in the city, but it was never enough. My family sold everything in order to have me out of Afghanistan. They sold the last sack of rice, even some of the little land they owned. My little sister is at home. My whole family is only waiting for me to get to some place where I can start to help them. It's two years I've been gone and not a single time have I been able to send some shirini [literally "sweets", presents or sums of money given as gifts to relatives, friends or associates] to my father. There's no money left at home. How could there be? We are sharecroppers: one quarter of our harvest the Taleban take as taxes, one quarter goes to the landlord, one quarter is just for our own consumption to eat and stay alive, and with the sale of the remaining quarter you have to meet all the other expenses of the family. … The time I spent in Turkey, the way I used to slave for a small sum of money there made me reflect a lot. Now I need to get somewhere fast, somewhere I can get an education, find a good job, start a different life.
As for where this more favourable final destination could be, in the minds of those traveling, there are a few recurrent ideas. While some mention France and potentially further, possibly to the UK, or Switzerland, most seem to be directed to Germany. However, the majority of those interviewed by AAN declared they aimed first to get to Italy, and so were trying to catch a train or bus to Rijeka, Croatia's Adriatic seaport, only 50 kilometres away as the crow flies from its 'twin' city in Italy, Trieste.
Migrants cannot fly, however, or even, apparently, be allowed to take a bus or train, but must only walk. Two former members of the ANA from Mazar-e Sharif related what had happened to them the day before:
Yesterday, we went to the main station to catch a train, but the police were on the platform and sent us back to the camp [Porin]. They called a taxi and forced us to take it and followed us in their car. The taxi driver had first said the ride would cost 30 euros and we gave it to him, but then he started saying that it was 30 for each of us and got angry at our refusal to pay the additional money, so he stopped the cab after just a couple of blocks and the police came and threw our backpacks out of the car and we had to walk back to the camp. The policemen told us we could continue our trip, but not by any form of transport. They even threatened us: Go quick, move on or we'll deport you back to Afghanistan. 
Taxi drivers are a key component in what Afghans call 'the Game', played along this section of the route, both as transporters of migrants for short distances, but also, often, as police informers.
­From Serbia onwards, the role of traffickers is much less direct and their presence 'on the ground' negligible. Of course, there are those traveling under more high-profile and costly arrangements, such as direct transport by vehicle, which according to one police investigation can cost up to 5,000 euros from Bosnia to Italy or up to 8,000 euros if somebody wants to get further west, for example to Spain. However, most migrants, especially single young men, are left to themselves after they leave Serbia and cross the border into Bosnia. The traffickers keep in touch over the phone and provide guidance by sending GPS positions which they must reach, stage by stage.
A short distance from the gates of Porin, the author met a group of Afghans squatting in the tall grass, listening attentively to a twenty-year old from Bagram talking in Pashto with smugglers on his phone. He was telling them about the difficulty of boarding public transport and the poor conditions of his and his companions' feet after the tiresome trekking they had been forced to do in the previous days and afterwards recounted to the author his recent journey.
I arrived two days ago. I slept outside Porin, I cannot enter [the complex] or eat there as I gave no fingerprints to the police – I actually have not met any so far. I came all the way with a friend from my district. We paid 3,000 USD to travel from Turkey to Serbia. During that part of the trip, we always had a rahbalad [guide] with us and when we were detained for some days in Bulgaria, somebody from our smuggler network waited until we were out and guided us into Serbia. From Serbia onwards, we were alone. Now it works through "locations" only. The smugglers give you a series of locations via GPS and you follow them: a station, a road, a border crossing. From Belgrade, they brought us to a river border and told us to jump into the water to get into Bosnia. On the other side we took a taxi. It cost 50 euros for each of the passengers to be brought close to Bihac. Then we went to a camp called Lipa and after around a week, we crossed into Croatia. On the way, there were people coming back to the camp whose phones had been broken or stolen by the Croatian police. We crossed a forest which had no paths. Luckily we met no police, although we could hear the drones buzzing over our heads. Then we walked until Zagreb. Now we are waiting for the new location from our contact. … Altogether, for the trip Bosnia to Italy (with locations) you pay 700 USD if the trafficker is a rafiq [a friend or associate], otherwise 800 USD.
The chances are that somebody among the migrants gets a discount if he becomes a jelawro ('lead-the-way'), informally taking charge of a small group and keeping in touch with the smuggler network to enhance the group's possibilities of successfully arriving at  the next stage (and the smugglers' of getting paid in full). Recently, there have been press reports about an increase in the number of traffickers arrested by the Croatian police. According to CMS, many of these arrests have been made among migrants who had reached Rijeka or other places far from the border with Bosnia. This could point towards their real role, as jelawros, rather than real members of a smuggling network.
Besides providing a barrier on behalf of the EU at the border with non-EU Bosnia (it became a candidate country only in December 2022), Croatian police efforts seem directed at keeping pressure on migrants to move on once they are inside Croatia. Over the past few years, for example, the route from Zagreb to Rijeka (by train or bus), from Rijeka (by train) to the inland town of Buzet on the Istrian peninsula (the westernmost area of Croatia which bulges out into the Adriatic Sea), and from there on foot across Slovenian territory (at its narrowest point – around 15 km) and into Italy, had become well-established. Police crackdowns on migrants in Rijeka have recently caused part of the flow to shift towards Pula, a seaport at the tip of the Istrian peninsula: which would be a counterintuitive detour for those trying to get to Italy. The aim of this 'keeping migrants on the move' is probably to make sure one single route does not become too prominent and crowded, with the risk of it developing into a public scandal or something which could tarnish the image of the country advertised as a tourist paradise.
Crossing Croatia is not as gruelling as crossing Bulgaria with its higher levels of abuse and violence or an impassable obstacle such as Hungary. Still, it comes like a cold shower for migrants convinced that they have finally overcome the harshest part of their trip, that they are finally on the doorstep of western Europe and that with that, will come better standards of reception and human rights, as one man said:
In Serbia and Bosnia, the people are good and the police don't bother us migrants. In Croatia, we're treated like animals. Elsewhere, the violence, the hostile behaviour is on the border and once you've made it away from there, you're fine, people aren't hostile and the police don't bother you. So, once you've arrived here in Zagreb from the forests on the Bosnian border, you think you've come out of the jangal [the jungle, here used also in a figurative sense] and reached 'the city'. But then, you realise that the behaviour of the police here in the capital is the same as on the border. Actually, the police here mistreat you as you would expect someone to do in the jungle, while out there in 'the jungle' [referring here to the refugee camps of the Bosnian Una-Sana canton, located in forested areas] people were treating us in a more civilised way. 
The Zagreb government's hostile attitude is compounded by the migrants' own lack of interest in remaining in Croatia; hence, they seldom reach out to the very committed organisations which offer legal aid and other forms of support. The positive perception of police and Bosnian and Serbian people's attitudes noted by the two ex-soldiers from Mazar and many other migrants AAN spoke to reflected their personal experience, that is, of a relatively swift and smooth crossing. However, the full picture is not so rosy nor so simple in Serbia and Bosnia, which have been at the centre of the 'migrant crisis' for years, as the author discovered when he took a closer look at the situation of Afghan migrants still in Serbia.
Talking and walking in Belgrade
For many migrants, having experienced a first taste of the EU in Greece or Bulgaria, Serbia may look like a comparatively relaxed stage of the trip. Access to asylum-seeking is available, but not everywhere: according to members of a Serbian NGO providing legal and psychosocial support to migrants, Klikaktiv, the police do not easily provide the possibility to register outside Belgrade and even in the capital, this opportunity is not available at all times. Despite improvements in the reception capacity of the 17 camps active across Serbia, for which the EU is the major funder, not many possibilities are offered to those who apply for asylum besides accommodation. The wait to legally seek employment amounts to nine months and, before a positive decision has been made, according to migrants solidarity organisations in Belgrade, no language or professional courses are available. At any given moment, there are around 3,000 migrants hosted in the reception centres, but very few opt to remain in Serbia. Most move quickly on to Bosnia and Croatia.
Serbia's role is mainly one of transit, and in recent years, of an increasingly swift transit. According to the annual report by the Serbian Commissariat for Refugees and Migration, 124,127 migrants were registered and hosted in reception centres during 2022. On average, they stayed in the country for 16 days, a considerable decrease from the 30 days of 2021 or the 36 of 2020. Reportedly, over 73,000 migrants had already transited through Serbia's camps in the first six months of 2023. Afghans were the most represented nationality to pass through the Serbian reception centres in 2022, amounting to over 36 per cent of the total.
It is often vulnerable cases, families or people with medical conditions who access reception centres out of their own free will. They may need to stop for a short while in order to recover, while other migrants try to continue on their path almost immediately. Outside the official camps, there is indeed another migrant population in Serbia, estimated at between 3-4,000 and constantly flowing into and out of the country and thereby renewing itself. This is centred on smugglers' rented safehouses and the many squats located on the northern border with Hungary. At the western border with Bosnia, there is also a constant flow, but far less 'housing' because it is easier and quicker to cross.
The crossing into Bosnia is also the route generally favoured by Afghans, many of whom therefore end up stopping in Serbia for only a couple of days. According to both migrants and NGO workers interviewed by AAN, crossing into Bosnia is now relatively easy. From Belgrade, migrants move to minor border crossings near quiet towns in western Serbia such as Loznica. Migrants described wading or swimming across rivers – though crossing the Drina, which largely marks the border between the two countries, would require along most of its course advanced swimming skills – read here about migrants stranded mid-river. Different interviewees related also crossing rivers by bridges, either secretly, through a system of ropes hung under the bridge, or quite openly – just walking across. At some minor border crossings, such as Ljubovija, migrants can be taken across the river into Bosnia directly by car: according to the Serbian NGO, Klikaktiv, it is relatively common to see cavalcades of vehicles with non-local plates crossing this and other nearby 'sleepy' border towns. Some migrants may be picked up by cars on the Bosnian side. These 'all-inclusive' migrants who pay more and travel fast, stay with smugglers throughout, and are often brought directly to the Croatian frontier and even beyond.[8] The average migrant, however resorts to public transport once on the Bosnian side.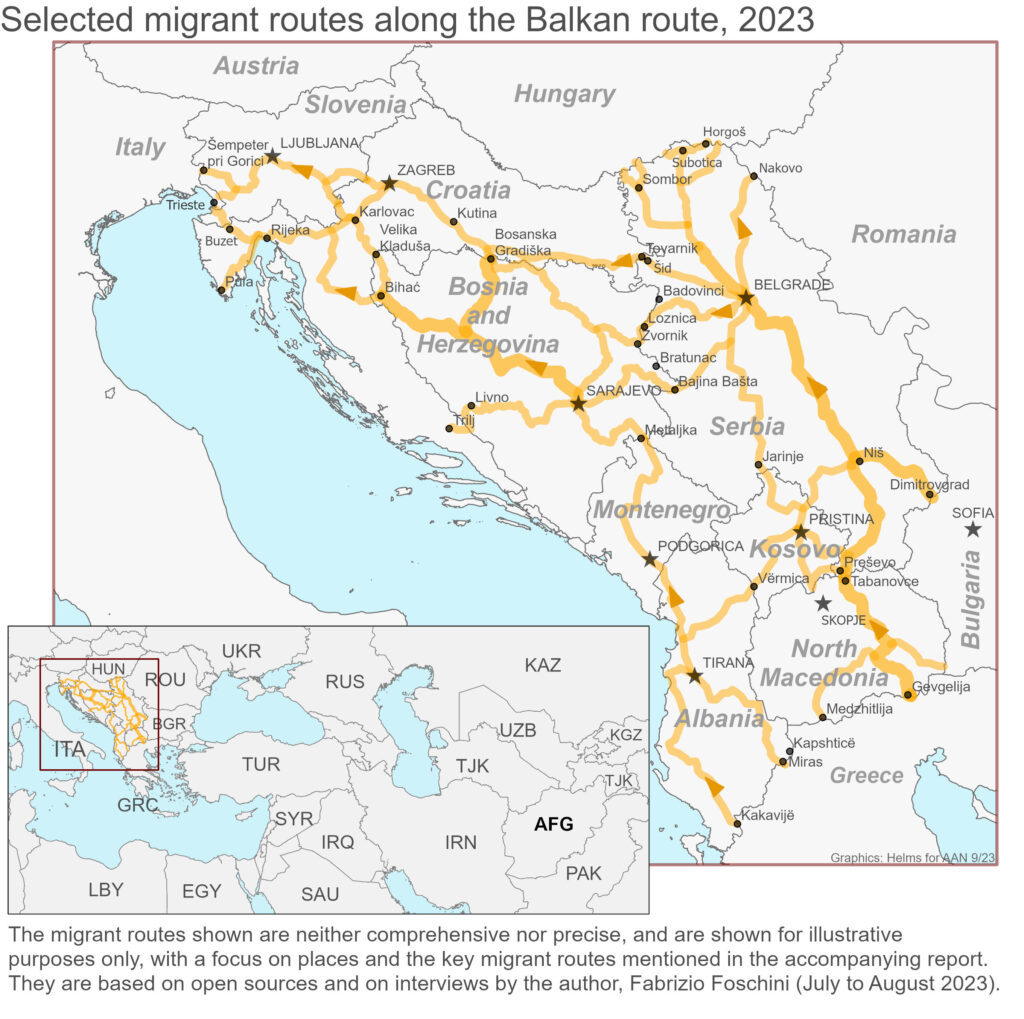 On both sides of the frontier, the police often opt to close their eyes to migrants' crossing, or can be bribed by smugglers if necessary. The lax attitude of the police in Serbia has often been commented positively on by migrants and looks to be a constant from AAN's previous visit to the country's migrant squats in 2016 (read this and the other reports from the series). However, things might be changing in this respect, as episodes of violent repression of migrants at border crossings have recently been documented and seem to be on the rise. Klikaktiv has also reported police pressure on migrants trying to use public transport to reach Belgrade from the south.
The shift in Serbian police attitudes is not happening only at the borders: a short walk in downtown Belgrade in the same places researched in 2016 at the height of the 'first Balkan Route crisis', showed that a lot had changed in the city as well. The area of the once dilapidated central train station in the Savamala neighbourhood, that has since been relocated, has been transformed into a new upscale Belgrade Waterfront project, radically changing the city skyline and profile of the neighbourhood. This means also that migrants' presence in the area, previously a 'natural' hub for those transiting, is nowadays less tolerated.
Around the remains of the old train station in Savamala (read here a report on BBC Serbian about its past glory, and last days), the absence of refugees is made more conspicuous by the signs of their previous presence: PCO shops, where people could phone home or contact smugglers, and kebabs once lining the main avenue are now shut, together with the cheap hostels that would accommodate families or migrants coming to Serbia in a more high-profile way.[9] Tents and shacks have disappeared and illegal squats inside the abandoned wagons near the old train station have been removed. Serbian police are known to raid such urban squats in order to destroy them and deport their occupants to the camps in Šid near the Croatian border or in Preševo near the border with North Macedonia (read this report by Klikaktiv).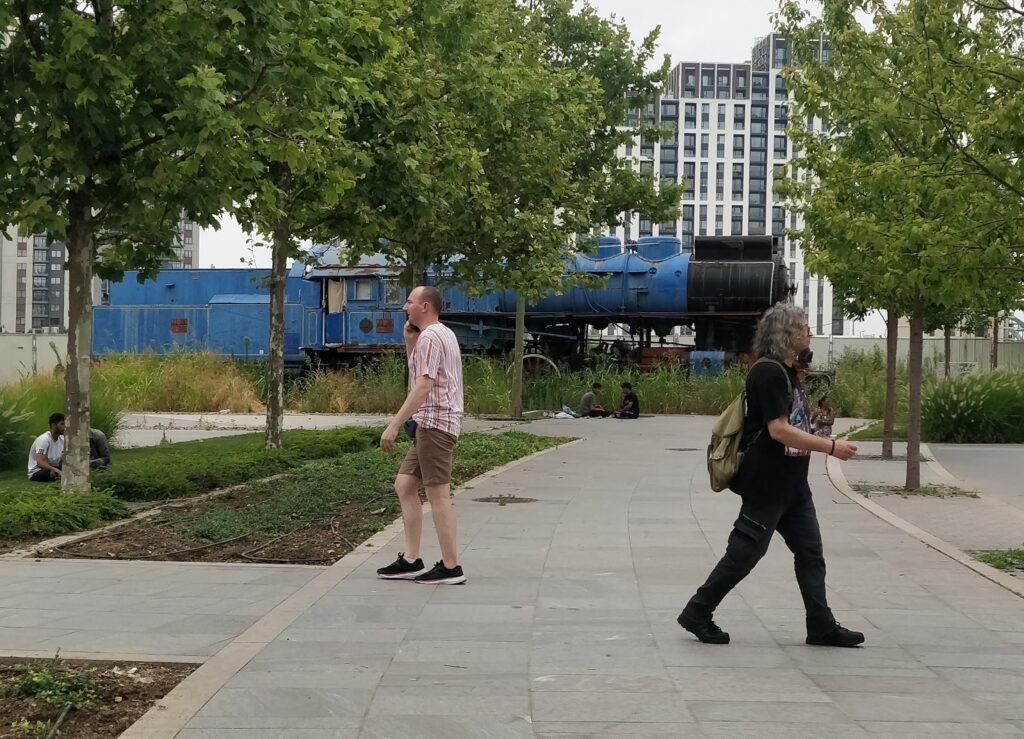 The nearby park, universally known by migrants as 'Afghan Park' since at least 2015, where smugglers used to hold court (read this instalment of the previous AAN series on Afghan migrants in Serbia) now looks to be only frequented by migrants part-time. With the coming of spring and then summer, it started to fill again with newcomer migrants arriving from the Bulgarian or Macedonian border, but they do not spend all their time there and are frequently rounded up and forcibly relocated by the police to camps far away from the city.
Arriving at Afghan Park one morning shortly after 11am, the author could witness from afar such an operation. Two dozen migrants, seemingly Afghans, had been made to sit on the grass while a dozen police agents counted and identified them in order to have them board a big police bus, already waiting by the side of the road. Some civilians stayed there throughout the process, possibly NGO workers who had come with their own translator to make sure the migrants were advised and accounted for and that none ended being pushed out of Serbia.
Moving a couple of lanes above the park, in front of a line of shops selling hiking gear, a few migrants were apparently waiting for the police operation to be over before moving out of cover. Three were Afghans from the southeast, speaking Pashto over the phone and a bit uneasy about speaking Dari to a stranger. They hurried to declare that they were already accommodated in a camp at the outskirts of the city and had only come to town to do some shopping.
Walking down another lane leading back to the park, there was another group of Afghans who had apparently left it in the wake of the police arrival. They were mostly Pashto speakers as well, with at least two very young boys among them. Although arguably keen to put more distance between them and the police bus on the other side of the road, they did not look over-concerned by it (the vehicle was also shielding them from the agents inside the park). However, the conversation with them was cut abruptly short by an old lady from a balcony above, who started protesting loudly that it was not permitted to talk to migrants (arguably taking the author for a local). She kept urging the migrants to go back and immediately report to the police in the park, as it was not allowed for them to stay in the city. Indeed, the Afghans did not look at ease stopping anywhere in the area and kept hurrying onwards, so the interview had to be continued while walking several hundred metres. It was a full reversal of how easy it was to spot and engage in conversation with migrants in Belgrade only a few years back. The information they provided was necessarily sketchy, but its interpretation made somewhat easier by the circumstances.
They had not been stopped by the Serbian police and had kept clear of the camps. Although they claimed they were sleeping in various city parks, they seemed to be following a clear leader – a tall, bearded guy walking a few dozen metres ahead of them – and had shopping bags full of food with them. They said they would stop to rest for a couple of days before hitting 'the game' towards Bosnia. When asked if they were 'khod-andaz' (migrants who self-organise their trip) or were with smugglers, they seemed to find the idea funny and replied "We're with smugglers, of course." They added that the police in the park did not see them and they did not wish to be seen, else the police might bring them back to the camps "two hours away [located in the south of Serbia." They complained that the Serbian police were making some problems for migrants, that people were forced to go to the camps and that the police sometimes sent some of their number back to Bulgaria.
On returning to the park, I found it deserted. The migrants had boarded the police bus, which seemed now ready to start. The whole process had taken around one and a half hours. A few more Afghans, altogether not more than half a dozen, were squatting or sleeping in the more secluded parts of the park esplanade in front of the old train station, now a restored monument, not creating even a visible trouble to passers-by. Ironically, above their heads, a big travel agency placard atop an unfinished building promised that with it: "Every day, you could go to Turkey".
Discussions with NGO workers and researchers at Belgrade University confirmed the impression that, regardless of the still significant numbers of migrants passing through Belgrade, they are much less visible in the city. The causes for this are the authorities' changed attitude, as well also the nature of the operations run by the smuggling networks in Serbia. Migrants constitute a minor source of concern for the Serbian government, provided they do not become too visible in central areas of the city. To disincentivise their presence, besides raids and forced relocation to camps out of the city, the authorities have discontinued the provision of services to migrants in the area. The main hub offering assistance to migrants in the city centre was Miksalište. It had been transformed over the years from a volunteer organisation to a state-run info point (read this paper on its history and the transformations of migrants reception in Belgrade), forced to relocate in 2016 due to the demolitions planned for the Belgrade Waterfront and was shut down for good on 31 December 2022.
The withdrawal of the state left a free hand once again to the smugglers, not only to arrange for the migrants to cross frontiers in a swift way, but to organise every other aspect of their stay in Serbia. Today, migrants who do not seek reception in the government camps are fully dependent on the smugglers for transport, accommodation, food and communications – hence the lack of need for PCO shops and food stalls. This of course, has its backlashes. Migrants who cannot pay smugglers can face serious abuses and are often exploited for labour or sex. Many such migrants have to work for the smugglers in assisting the accommodation or transport of other migrants and are kept in isolation and are very difficult to access, whether by NGOs keen to help, or the security forces. The situation is of particular concern for vulnerable categories, such as unaccompanied minors – Klikaktiv assessed that in the first six months of 2023, there were three times as many of these crossing Serbia compared to the same period last year.
Recently there have also been numerous instances of violence between smugglers, believed to be caused by competition between rival groups. The string of violence started in July last year, with a shooting between two rival groups of Afghan smugglers in a squat near the northern border with Hungary, which ended in one member killed and also caused serious injuries to an Iranian girl who was caught in the crossfire. The episode made some impression on the Serbian media back then, but this year, despite several similar incidents – at least five, including one recorded in March on the border with Bosnia which resulted in the death of an Afghan – they have not attracted much public interest nor police reaction. The fact that they happened in liminal places, such as migrants' squats or in remote border towns and did not involve Serbian nationals, has so far kept the profile of such crimes low in the eyes of the state and public. Klikaktiv, however, denouncing the threat posed by smugglers to migrants and NGO workers, indeed all citizens, lamented the lack of political will to deal with the problem on the part of the authorities (see their most recent report).
Where does the Balkan Route end?
During the 1990s, when the civil wars that resulted in ethnic cleansing and mass displacement across the territories of former Yugoslavia, the use of the old terms 'Balkanisation' and 'Balkanise' as pejoratives denoting fragmentation, chaos, insecurity and unlawfulness was revamped.[10] A joke about the Balkans' physical borders, told by people writing about the region at that time, suggested the impossibility of even ascertaining where 'the Balkans' started or ended, as no country coming out of the dissolution of Yugoslavia would accept being called part of the 'Balkans', and would cast the label with its now stained connotation onto its neighbour.
Nowadays, it could prove equally hard to define where the Balkan Route starts or ends, judging by the behaviour of the EU states. Is the situation faced by Afghan migrants at the supposed end of the route radically different? Legal provisions may be different, but the reality is not.
A long chain of push-backs of thousands of migrants, including many who intended to apply for asylum, from the Italian border near Trieste to Slovenia, and from there to Croatia and Bosnia, was ongoing between 2019 and 2021. The 'chain push-backs' were exposed only through the work of independent organisations and lawyers who investigated complaints made by some deported asylum seekers. The sensation the news made and a court sentence back then put a stop to such practices, but recently, authorities at the regional and national level have been openly advocating for their resumption.
Meanwhile, Trieste's train station, just inside Italy, and the square in front of it are crowded with hundreds of migrants, half of them transiting through the city on their way to further destinations, the other half waiting to access a reception programme after having applied for asylum in Italy. Waiting times for a place to sleep in the city can now last more than fifty days (read here about conditions in Trieste). A reception system made of small flats scattered across the city, that once worked very effectively, has been hampered by cuts to funding and the preference given to the creation of big hubs that relocate high numbers of migrants away from the cities. The identification of the venues for such hubs has, however, become a bone of contention between the administrations and their constituencies, as communities stand up and reject them, while political parties squabble over responsibilities (read reports in Italian and English). Transfers to reception programmes in other parts of Italy have been blocked since November 2022 because of the priority given to arrivals by sea over those who travel by land They have only just recently, sporadically, resumed in the face of the crisis.
Italy is not a lone example of controversial and ineffective policies. Austria has reinstated border controls with Italy and even fenced part of its border with Slovenia in 2015 at the height of the 'Balkan Route Crisis'. It has maintained these controversial measures, which are a de facto breach of Schengen, even in the face of diplomatic tensions, and despite the fact that most of its migrants currently arrive from Hungary (across a border which Austria also controls). At the other end of the Alps, France likewise reinstated border controls in 2015 and proceeds routinely to effect "entry refusals" against migrants coming from the Italian side of the border, even when they are traced well inside its territory (read about it in this AIDA report).
As for the Balkans, speaking in strictly geographical terms, they remain the battleground of choice for the externalisation of migration control strategies implemented by various EU countries or groups of countries (see this recent paper on the role of, for example, the Salzburg Forum, which brings together several  Central European states in a security partnership). Such externalisation of migrant control strategies is often done in a controversial or chaotic manner, despite the refugee crisis having been one of the EU's long-term concerns for over a decade now. The current trend sees an extension of the externalisation of such practices to non-EU countries in the region, such as Serbia and Bosnia (read this paper on the subject).
It is unclear whether a more comprehensive set of EU policies aimed at dealing with the migration crisis on its south-eastern borders will appear any time soon. It seems likely that, for the time being, the conditions met by Afghans crossing Serbia and Croatia will remain far from ideal. Serbia, with no obvious chance for a quick accession to the EU, will likely retain a somewhat permissive environment for transiting migrants. However, if the partnerships with the EU in border security and reception system were to be expanded, there might be a change in that equation. This would also depend on the levels of economic aid and/or political concessions that the EU is willing to make to get Serbia to act to block migrants moving westwards. On one hand, additional incentives could be created for migrants to apply for asylum in Serbia and have their cases processed there; this would include language and vocational courses and the possibility of being relocated to an EU country at a later date. On the other, Serbia could also become a country to which the EU could return unwanted migrants and failed asylum seekers, thanks to its position exactly outside of the EU and that it is not bound by the EU's legal framework. Such a development is already being reported for Bosnia, whose policy and attitudes towards migrants is even more linked to EU policies and funding (read about an agreement allowing Bosnia to repatriate Pakistani migrants).
As for Croatia, for the time being the possibility that it could itself become a target destination for Afghan asylum-seekers must be excluded, despite its entry into the Schengen area and the burgeoning touristic sector which could offer jobs. These potential attractions are countered by the unwelcoming attitude of the security and political forces, low wages, language difficulties and, even more so, the lack of a diaspora community to link up with. Until a thorough rethinking of EU migration policies comes into being or the Union's external frontiers are pushed somewhere else, the hostile reception given to migrants in Croatia is unlikely to change. Moreover, Croatia's long and tortuous border risks it being relegated to its role in the 16th to 18th centuries in the Hapsburg Empire, of being a Militärgrenze, a military frontier, where normality and the rule of law are sacrificed in order to protect the tranquillity of what lies behind – in exchange for dubious economic or political benefits.
Afghan migrants, trying to move from Turkey towards central and western Europe, are faced with a series of countries displaying varying policies and attitudes, from outright hostility and violence to laissez-faire and opportunism. Such inconsistency en route continues well beyond the Balkans for the many among the transit population aiming at destinations further afield, such as France, Germany or the UK. Theirs is not an experience of moving from the wild 'jangal' to the lawful 'city' – the Dari and Pashto word used by migrants, paytakht, 'at the throne's feet', conjures even more the idea of law and order connected to it. Rather, the experience of those travelling through the West Balkan route amounts to a rough introduction of what they will encounter deeper into the European Union, a set of migration laws and policies which are unclear and uneven from one country to another.
Edited by Jelena Bjelica and Kate Clark
References
References

↑

1
A reception system for asylum seekers of sorts in Croatia did exist in 2013, but it had only recently been expanded and become more effective. Croatia has received nearly 47,000 asylum requests since 2004, when the first laws about asylum were passed, of which more 40,000 were filed in the last seven years, after the announced 'closure of the Balkan Route', ie, the humanitarian corridor of September 2015 to March 2016, following Germany's Angela Merkel's announcement that Syrians fleeing the civil war could be welcomed. Only a tiny fraction of the asylum requests, 1,015, have received a positive answer, according to information given by the Centre for Peace Studies in Zagreb, 19 July 2023.

↑

2
Frontex data about the Western Balkan route refers to border crossings between EU and non-EU countries, between Bulgaria and Hungary and Serbia, Croatia with Bosnia and Greece with North Macedonia and Albania. It does not include Croatia's detection of irregular migrants deeper inside its territory – see an example of Frontex's methodology here.

↑

3
In the last few years, an alternative sea route has emerged from Turkey directly to the southern shores of Italy. More expensive than the land route to Italy, it is sought by those, including many families, who cannot contemplate the hardships of the land route. It is nevertheless no less dangerous, as the shipwreck off Cutro in February 2023, which cost almost one hundred lives tragically proved. Half of them were Afghans, but there were also Pakistanis, Syrians, Iranians, Palestinians, Somalis and others, reported AP.

↑

4
As further background readings on Afghan migration to Europe, see two AAN dossiers presenting several reports on Afghan migrants here and here.

↑

5
 Besides Porin, there exists a reception centre for vulnerable cases in Kutina, some seventy kilometres southeast of the capital, which has been recently renovated and can host up to 140 people; and two transit centres in Trilj and Tovarnik, close respectively to the borders with Bosnia and Serbia, where migrants caught crossing the border can be detained until moved elsewhere or readmitted to the neighbouring countries. Minors, among them many Afghans, are reportedly often hosted in structures meant for problematic minors, despite the objections raised against this practice by the NGO community in Croatia.

↑

6
A similar bilateral agreement permitted Slovenia to readmit a number of migrants to Croatia in past years. This practice has been diminishing since 2022, when Croatia started refuse further readmissions (see this report on Slovenia by AIDA).

↑

7
The Dublin Regulation is actually a series of treaties among EU countries aimed at combating so-called 'asylum-shopping' by migrants, that is, the attempt to reach deeper into central and northern Europe for what they consider more favourable destinations. The argument is that asylum-shopping creates undesirable volumes of illegal movement across the Union. However, by ordering that asylum seekers must be transferred back to the countries of first entry (and fingerprinting), the agreements have arguably increased such movements, as the so-called "Dubliners", usually after long and frustrating waits, relocate in order to avoid being deported to places they do not want to be, usually moving to third EU countries to try their chances there. A more common criticism of the Dublin Regulation is that, if implemented systematically, it would lay all the burden of the reception of asylum seekers and the processing of their cases on the southern and eastern countries of the EU.

↑

8
At official border crossings where document checks are regularly carried out, some migrants can also try to use forged documents to cross. However, only a small number of migrants can afford to buy such documents and their purchase and use are more often linked to attempts to travel via airports and seaports.

↑

9
Between 2017 and 2018, for example, Iran was temporarily granted a visa-free status by the Serbian government (read this report about its revocation). Back then, many Iranian nationals would travel to Belgrade only in order to proceed further to the EU and seek asylum there. As they were often traveling with their families many would rent cheap rooms rather than join the illegal squats.

↑

10
These terms with its pejorative meaning have been in use in English (and corresponding terms in German, French and Italian, among other languages) since the 1920s in reference to the Balkan Wars of the late 19th and early 20th centuries.