A refugee evacuated from Afghanistan says he now regrets leaving after living in a hotel for almost two years.
Sami, whose name we have changed, and his family were among thousands evacuated to the UK after the Taliban seized control of the country in 2021.
The refugees were promised support by then Prime Minister Boris Johnson as part of Operation Warm Welcome.
But thousands of evacuees who are still in hotels have now been sent eviction notices by the Home Office.
Sami was invited on to an evacuation flight because he could have faced reprisals for involvement in the UK's mission in Afghanistan.
He has since found a job, but said finding a new home had proved difficult due to landlords being reluctant to take on a tenant who is a refugee.
Sami said: "When we arrived at this hotel, we were told we'd be here for one to three weeks. My wife said three weeks would be boring.
"Now we've been here for two years. The British government helped us, but we didn't think we'd stay for two years in hotels.
"In two years, we haven't received a single offer of accommodation. In two years, why wasn't it possible to create accommodation with all the money they've spent?
"I regret leaving. If I'd known we'd spend two years in a hotel, we wouldn't have left."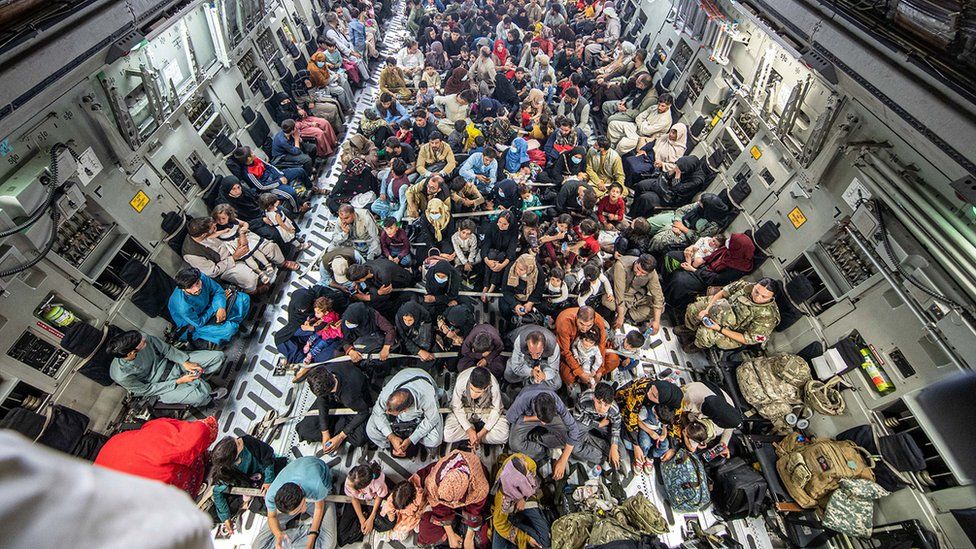 IMAGE SOURCE,LPHOT BEN SHREAD/MOD
Sami, who is living in one of the four hotels in the East Midlands used to accommodate Afghan evacuees, said not having a permanent home had been tough for him, his wife and their young child.
He added: "We can't cook. We don't have a home. My wife is very tired. It's very difficult."
He is happy the hotels are closing [to them] next month, but worried his family will have nowhere to go, as they have already applied to rent homes in several towns and cities without success.
Another Afghan evacuee said he had telephoned a number of landlords, but many of them end the call when he mentions the Home Office. One letting agent told him the Home Office process takes too long, so she would prefer to rent to other applicants.
Ali, whose name we have also changed to protect his family in Afghanistan, is a former British Army interpreter who is now in Derby with his wife and three children.
He said: "I am now in a house. It's going well. Everything is good. I've been in a house for one year."
However, even though Ali is settled, he said he was "still struggling", because he is relying on unpredictable agency work. He is now trying to pass his driving test, so he can work as an Uber or delivery driver.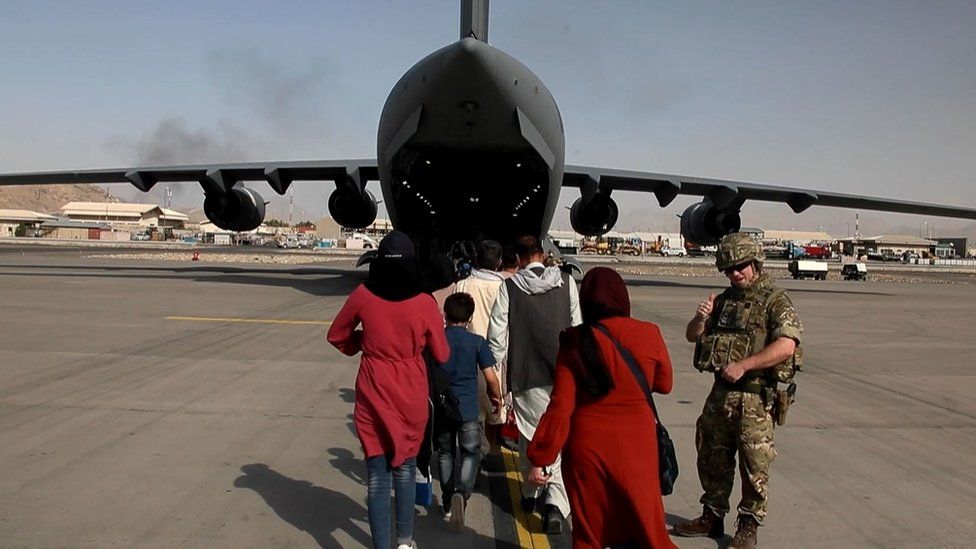 Local Authorities in the East Midlands have resettled 570 Afghans, but are still trying to find permanent accommodation for 321 Afghan refugees.
East Midlands Councils' executive director, Stuart Young, said housing every family by the end of August would be "very challenging" because suitable properties are in short supply, and they may need to consider "consolidating" bridging accommodation into one or two hotels.
He added: "The main thing is to make sure these Afghan people are not homeless because that's distressing for them obviously, but it will also lead to increased costs and pressure for local authorities because they have a statutory responsibility to stop homelessness."
'We owe them a huge debt'
During the announcement of Operation Warm Welcome in 2021, Boris Johnson said: "We will never forget the brave sacrifice made by Afghans who chose to work with us, at great risk to themselves.
"We owe them and their families a huge debt."
Veterans' Affairs Minister, Johnny Mercer, then said in March this year about 9,000 Afghans had been helped to find settled housing, but 8,000 were still living in bridging hotels and about half of those were children.
He announced £35m in extra funding to help local authorities move Afghan families from bridging hotels into permanent homes.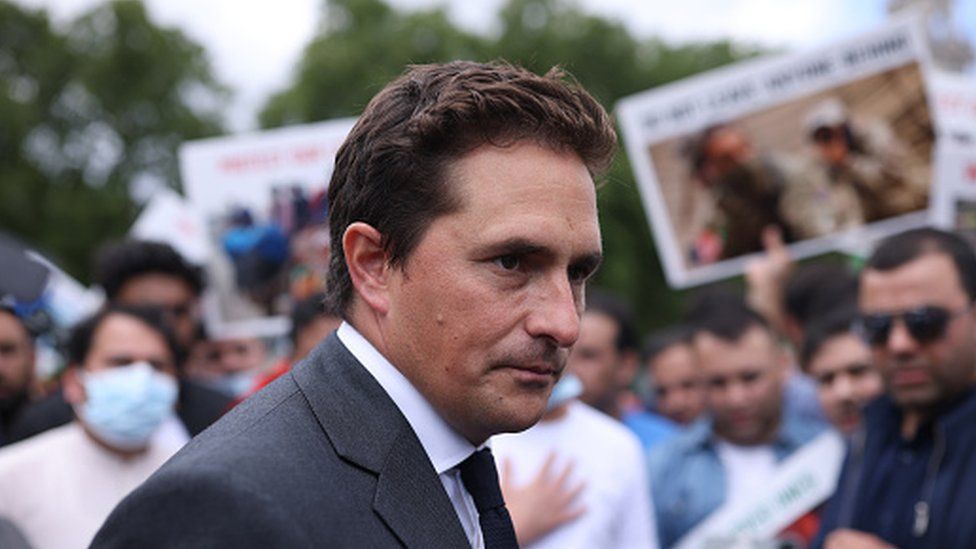 However those who remain in the hotels have now received eviction notices from the Home Office.
In a statement the Home Office said it was not in refugees' "best interests to be living in hotel accommodation for months or years on end", and it was now speeding up their resettlement into long-term homes.
It has also promised that local councils will help those affected with initial rent, furniture costs and deposits, and can support households who do not have a guarantor.
But some still living in hotels have rejected offers of rental accommodation, sometimes because they were too far away from their families or jobs.
Mr Mercer has told Parliament the refusal of homes cannot continue.
He said: "Where an offer of accommodation can be made and is turned down, another will now not be forthcoming. At a time when there are many pressures on the taxpayer and the housing market, it is not right that people can choose to stay in hotels when other perfectly suitable accommodation is available.
"We remain unbowed in our commitment to those who supported us at great personal risk in Afghanistan. The debt we owe them is one borne by our nation as a whole.
"There are veterans across this country enjoying normal lives today because of the service and sacrifice of that cohort who kept them safe in Afghanistan. It is a national duty that we have in communities up and down this country."