Voice of America
April 6, 2023, 6:53 PM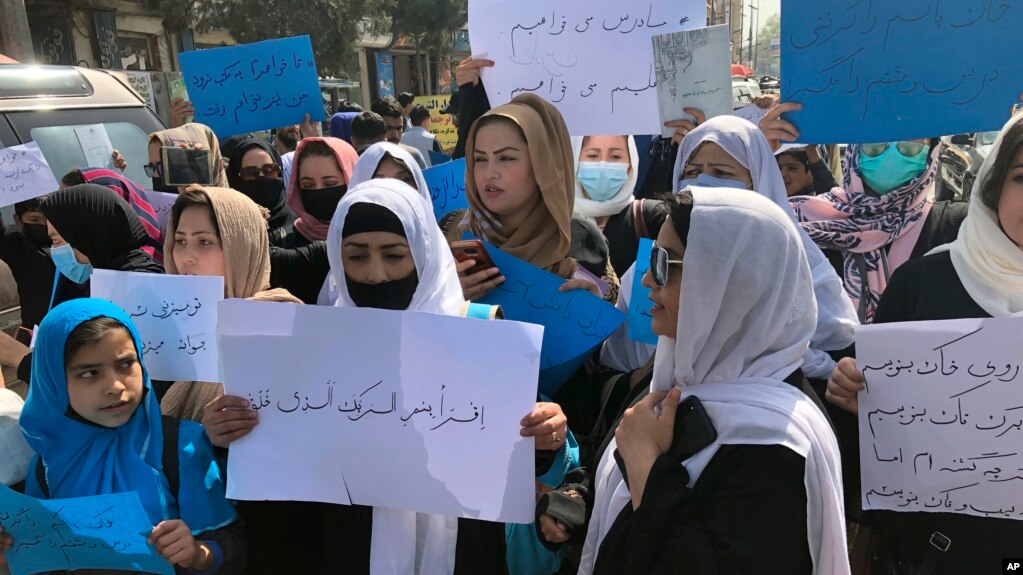 Afghan women and men who work for the U.N. Mission in Afghanistan stayed home Thursday while the United Nations sought clarification on the Taliban's statement ordering all local female employees to be fired because of their sex.
U.N. spokesperson Stephane Dujarric said in New York that the Security Council was briefed on the issue Thursday and that the organization was continuing to engage with the Taliban.
"Afghan women and men are essential to all aspects of the U.N.'s work in Afghanistan. Afghan women's meaningful participation is essential to reach safely and effectively populations in need with principled and quality assistance. Afghan women will not be replaced by men," Dujarric said.
This week's order by the Taliban to fire all female employees was the first time the world body has received such an order since its inception in 1945. The order followed the Islamist group's previous edicts terminating women's right to work, education and many other basic liberties.
"Banning Afghan women from working with the U.N. in Afghanistan is an intolerable violation of the most basic human rights," Secretary-General Antonio Guterres tweeted on Wednesday.
Some Afghan activists said the Taliban's latest order marked the time for the international community to take drastic action.
"United Nations! Stand with your female employees and suspend your activities in Afghanistan," said activists from a group calling itself Afghanistan's Women Protester Movements Coalition.
In a statement, the group said the U.N. should suspend its operations in Afghanistan until Afghan women were allowed to return to work.
'Don't abandon Afghans'
Afghanistan is the largest humanitarian operation in the world for the U.N., requiring a $4.6 billion appeal for funding this year.
UN Launches $4.6B Appeal for Afghanistan, Warns of Drop in Funding
More than half of Afghanistan's estimated population of 38 million suffers from severe hunger and 6 million of them are facing famine, the U.N. said.
"The world cannot abandon the people of Afghanistan at this precarious moment," Ramiz Alakbarov, the U.N. humanitarian coordinator for Afghanistan, said in a statement on Wednesday.
Despite Alakbarov's plea, the U.N. reported this week that it still was far short of funding its Afghan operations.
"Despite Afghanistan being the world's largest and most severe humanitarian crisis, the 2023 appeal has received less than 5% of its requirement, making it the lowest funded aid operation globally," the U.N. humanitarian coordination body said on Monday.
The drop in aid was anticipated and linked to the Taliban's bans on Afghan women.
Speaking at the U.N. Security Council last month, Roza Otunbayeva, the head of the U.N. Assistance Mission in Afghanistan (UNAMA), warned that "funding for Afghanistan is likely to drop if women [are] not allowed to work."
"The U.N. cannot and must not leave Afghanistan but instead [should] have a harder look as to why their approach and strategy in Afghanistan is failing," Heela Najibullah, a conflict resolution researcher at the University of Zurich, told VOA.
UNAMA still talking to Taliban
Established in 2002 immediately after the Taliban were ousted from power by a U.S.-led coalition, UNAMA, primarily a political mission with humanitarian and human rights priorities, has an annual budget of about $180 million, 22% of which is funded by the United States.
"Taliban rulers generally view UNAMA's role less as an impartial political mission and conduit with the world and more as a proxy mission under Washington's thumb," Javid Ahmad, senior fellow at the Atlantic Council, told VOA.
Not recognized by any government, the Taliban have also been denied Afghanistan's permanent representation at the U.N. in New York.
That has left UNAMA as the main international organization still talking to the group.
"UNAMA has been managing a nearly impossible task to be tough on the Taliban … while at the same time engaging in dialogue with the Taliban and avoiding being kicked out of the country," Scott Worden, director of Afghanistan and Central Asia programs at the U.S. Institute of Peace, told VOA.
Suspending all U.N. activities would seriously exacerbate the already dire humanitarian crisis in Afghanistan, but some still debate the pros and cons of suspending UNAMA's political mission.
"It may prove to be a forcing mechanism and focus energy toward a faster solution to the fundamental problems of Taliban governance," Worden said, adding that such a move could shock the conscience of some Taliban members who have quietly opposed the extreme decisions of their supreme leader.
Unseen Taliban Leader Wields Godlike Powers in Afghanistan
But Ahmad of the Atlantic Council said walking away could empower Taliban factions who seek international isolation.
"There are powerful elements among Taliban rulers who desire to establish an ideological hermit kingdom like North Korea in order to insulate themselves from external pressure in the face of internal dissent. UNAMA's disengagement will only expedite that process, something that could later become dangerously unmanageable," he said.
VOA U.N. correspondent Margaret Besheer contributed to this report.