Taliban ministers have told a senior UN official they plan to draw up new guidelines to allow Afghan women to work in some humanitarian operations.
Martin Griffiths told the BBC he had received "encouraging responses" from a wide range of Taliban ministers during talks in Kabul, even if last month's edict banning Afghan women working for NGOs is not reversed.
With Afghan women playing a crucial role in delivering aid, there is concern the ban is endangering urgent life-saving humanitarian operations in the country.
"It's worth remembering that, this year, Afghanistan is the biggest humanitarian aid programme in the world ever," Mr Griffiths, the UN's Under-Secretary-General for Humanitarian Affairs, told me in Kabul.
The aid arithmetic is staggering. This year, agencies will try to reach 28 million Afghans, more than half the population, including six million who are, Mr Griffiths says, "knocking on famine's door".
And winter's icy blast strikes a people already living, perilously, on the edge. Providing aid to Afghanistan is of epic proportions too.
In a mud-and-straw home perched perilously on a steeply-sloped hill blanketed in snow in Parwan province north of Kabul, we met one family whose complaints were as bitter as the cold.
"No aid agencies visit us here," lamented mother Qamar Gul, as the family huddled around a "sandali" – a traditional charcoal heater Afghans have relied on for centuries to keep warm. "No one came from the last government, no one from the Taliban government."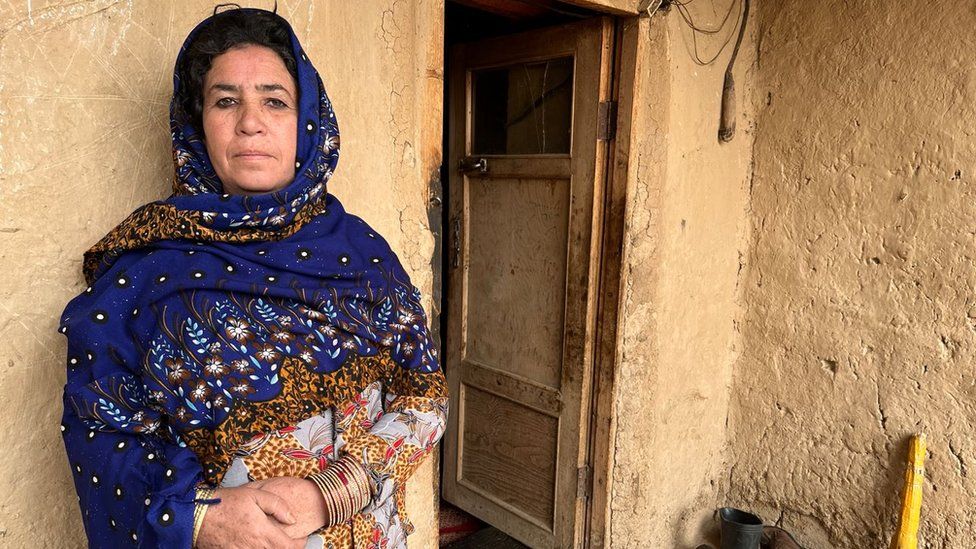 This week, as the government's military helicopters struggled to reach the most isolated communities completely cut off by colossal snowbanks and blinding storms, Mr Griffiths was holding back-to-back meetings in Kabul with senior Taliban government leaders about the new edict banning Afghan women from working with aid organisations.
"If women do not work in humanitarian operations, we do not reach, we do not count, the women and girls we need to listen to," Mr Griffiths underlines when we meet at the UN's sprawling compound at the end of his mission. "In all humanitarian operations around the world, women and girls are the most vulnerable."
An aid official with decades of experience in tough environments, including Afghanistan, he was cautious, but clear, about the results of his high-stakes mission.
"I think they're listening," he said of the Taliban ministers he had met, "and they told me they will be issuing new guidelines in due course which I hope will help us reinforce the role of women."
Mr Griffiths's visit comes on the heels of last week's flying visit by the UN's second-in-command Amina Mohammed, a British-Nigerian Muslim woman whose presence underlined the UN's growing alarm over a raft of Taliban edicts threatening to "erase women from public life".
She told us her conversations were "very tough". Some meetings were so candid, they were almost cut short. But she told us she was encouraged by a willingness to engage.
Mr Griffiths's mission – representing the Inter-Agency Standing Committee (IASC), the UN's highest-level forum to co-ordinate humanitarian aid – has been to delve into very specific details across a range of vital sectors from agriculture to sanitation and food deliveries.
No one realistically expects the ban, announced last month, to be reversed. But it seems to have many loopholes.
Mr Griffiths highlighted "a consistent pattern of Taliban leaders presenting us with exceptions, exemptions, and authorisations for women to work". So far, a green light has been given to crucial areas like health and community education where women's participation is essential.
But it's also clear the most conservative of Taliban leaders are not for turning.
"Men are already working with us in the rescue efforts and there is no need for women to work with us," insists the white-bearded cleric who heads the State Ministry for Disaster Management. When we sat down with him in his office, the acting minister Mullah Mohammad Abbas Akhund accused the UN and other aid agencies of speaking "against our religious beliefs".
"I'm sorry, I don't agree," was Mr Griffith's firm reply, emphasising that the UN and other aid agencies had been working in Afghanistan for decades. "We respect the customs and norms of Afghanistan, as we do in every country that we work."
The race to deliver urgently-needed relief has been slowed by this painstaking process of dealing with an authority ruled by the most senior, most strict Taliban leaders. Other senior figures question edicts but cannot quash them.
But Mr Griffiths pointed out that humanitarian access was significantly better now since the Taliban swept to power in 2021. Areas previously cut off by threats of Taliban attacks or US-led military operations were now much easier to reach. Last winter, 11th-hour humanitarian interventions in remote regions, including the central highlands of Ghor, pulled families back from the brink of famine.
It's a point Taliban officials constantly stress. The acting Minister of Foreign Affairs Amir Khan Muttaqi urged Mr Griffiths to share their "achievements and opportunities… instead of complaints and shortcomings".
But as the worst of winter closes in, the window is closing for an urgent relief effort. Several aid agencies, who rely enormously on their Afghan female staff have already suspended their operations.
"I cannot think of an international priority as high as this one to keep this extraordinarily important massive programme alive," is how the UN's top aid official summed up this moment.