UNAMA has published its first major report on human rights in Afghanistan since the Taleban came to power on 15 August 2021. It covers a multitude of issues, including detentions, torture and extrajudicial killings, the rights of women and girls and civilian casualties. One recurring theme is the arbitrary way the new administration often works and the unpredictability of its laws, punishments and procedures. Also underlined in the report, says AAN's Kate Clark, is the critical importance of 'fundamental freedoms', the right to peaceful protest and dissent, the existence of a free media and lively human rights organisations, in helping curb the arbitrary power of the state. These, the report documents, have been increasingly under attack in the last ten months.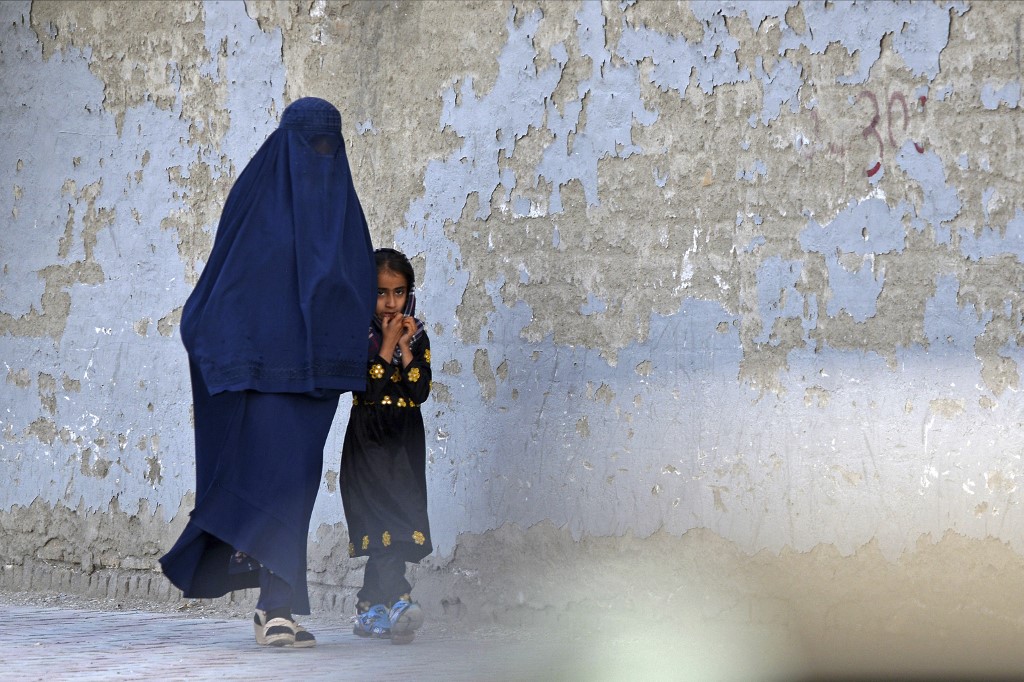 Taleban restrictions on the rights and freedoms of women and girls, says a new UNAMA report says, "has effectively marginalized and rendered Afghan women voiceless and unseen." Photo: Ahmad Sahel Arman/AFP, 7 May 2022.
UNAMA's new report, Human Rights in Afghanistan – 15 August 2021 to 15 June 2022, is comprehensive and authoritative, detailing violations of a wide range of human rights and freedoms by what UNAMA refers to throughout as the 'de facto' authorities. It also traces institutional and other changes which have made it harder and more dangerous for Afghans to seek redress, complain, document abuses, or even know for sure what the new administration's rules are.

This AAN report traces some of the areas highlighted by UNAMA's Human Rights Service (UNAMA HRS). They include new ways the state is violating Afghans' rights, for example, Taleban restrictions on women and girls' access to education, work and travel – although these echo the first Taleban Emirate's even more extreme curbs. There are also some very old and familiar violations, revenge attacks on members of the former regime, for example, or the methods of torture used by the Taleban's General Directorate of Intelligence (GDI). Anyone versed in the history of state torture in Afghanistan will recognise the use of kicking, punching and slapping, beatings with cables and pipes and the use of mobile electric shock devices on security detainees. (See AAN's dossier of reports on detentions and torture here.)
This AAN report also looks at what has facilitated these violations of Afghans' rights: the clamping down on human rights defenders and the media, the suppression of free speech and peaceful protest and changes in state institutions, which all help to make the deployment of arbitrary and unaccountable state power so much easier.
As always, for far greater detail, including accounts of individual incidents, and the Taleban's response to UNAMA's findings, the 58-page report is worth reading in full. There are also whole sections in the UNAMA report that this report has not covered, including civilian casualties up to the Taleban's seizure of power and since (a subject AAN hopes to return to), conditions in Afghanistan's prisons and the Taleban's use of excessive force at checkpoints.
Extrajudicial killings, arbitrary detention, torture, enforced disappearances, cruel, inhuman and degrading punishments 
UNAMA's monitoring has indicated a "clear pattern with regards to the targeting of specific groups by the de facto authorities." These include former members of the Afghan National Security Forces (ANSF), former government officials, individuals accused of affiliation with the armed opposition groups, the National Resistance Front (NRF) and the Islamic State in Khorasan Province (ISKP), journalists and civil society, human rights and women's rights activists and those the Taleban authorities accuse of 'moral crimes'.
UNAMA says the Taleban's general amnesty for former government officials and especially former members of the ANSF has been violated:
Between 15 August 2021 and 15 June 2022, UNAMA HRS recorded 160 extrajudicial killings (including 10 women), 178 arbitrary arrests and detentions, 23 instances of incommunicado detention and 56 instances of torture and ill-treatment of former [ANSF] and government officials carried out by the de facto authorities. These incidents occurred in almost all parts of the country and have affected a range of individuals with differing levels of affiliation to the former government: from senior officials to drivers, bodyguards and relatives of former government and [ANSF] members. 
In the first two months of the new administration, UNAMA says, there were reports of groups of individuals being killed, for example, 17 people in Kandahar city between 14 and 15 August, and 14 members of the ANSF who had surrendered in Khedir district of Daikundi province on 31 August. From October 2021 onwards, UNAMA says, it is individuals, rather than groups, have been targeted, often with a person taken out of their house and summarily shot. The list of examples includes two former female Afghan National Police Officers who were reportedly arrested in Kabul and whose bodies were found on 13 November by the side of a road in Gardez, capital of Paktia province. UNAMA has also tracked the arbitrary detentions and torture, not only of former ANSF and government officials themselves but also their relatives.
Since the Taleban capture of power, UNAMA has also documented the new administration targeting Afghans they accuse of being members or supporters of the National Resistance Front. UNAMA has recorded 18 extrajudicial killings, 54 instances of torture and ill-treatment, 113 arbitrary arrests and detentions and 23 cases of incommunicado detention of people accused of being linked to the NRF, mostly in Panjshir and Baghlan provinces. On 31 May, in the Khenj district of Panjshir, for example, "de facto security forces reportedly arrested 22 civilians accused of supporting the NRF. Three were reportedly released following mediation by community elders, while the remaining 19 were transferred to Dashtak prison and then to an unknown location."
Afghans with alleged links to ISKP have been the focus of some particularly gruesome abuses. UNAMA says it has documented 59 extrajudicial killings, 22 arbitrary arrests and detentions and seven incidents of torture and ill-treatment by the authorities of individuals accused of ISKP affiliation since 15 August, mainly in Nangrahar province and especially in Chaparhar district and Jalalabad city. Extrajudicial killings in the region, it says, reached a peak in October and November 2021.
The incidents followed a similar pattern – bodies, often dismembered and/or beheaded were found, sometimes hanging from trees. Often the victim had been arrested by de facto authorities one or two days prior to the discovery of their body. In some instances, the circumstances around the killing – including the perpetrator – remains unknown, with bodies being found accompanied by notes stating that the individual was killed because they were an ISIL-KP member. 
One of the examples UNAMA gives is the discovery of the body of a tribal elder on 15 November in Chaparhar district.
He had been arrested by the de facto authorities from a mosque the day prior, and was allegedly targeted for suspected [ISKP] affiliation. His body was dismembered, beheaded and his eyes had been gouged out. He reportedly also had bullet wounds. 

UNAMA has also looked at the punishments given to those accused of violating moral or religious codes and has documented 217 instances of cruel, inhuman and degrading punishments since 15 August 2021. They range from shopkeepers in Lashkargah city in Helmand being slapped and kicked in April because they had not gone to pray in the mosque to a man in Tirin Kot, Uruzgan province, convicted of adultery and sentenced to public flogging on 21 February by representatives from the Departments for the Propagation of Virtue and Prevention of Vice, of Information and Culture, and of Justice, judges and the provincial governor. In Badakhshan, a woman who had accused her brother-in-law of sexual assault on 10 October was herself arrested by the provincial chief of police; both she and her alleged perpetrator were sentenced to lashing and were then ordered to marry. On 14 February, in the same province, in Nusay district, a woman and man were publicly stoned to death, accused of having an extramarital relationship, having reportedly been sentenced by the district governor.
The UNAMA report singles out the Taleban intelligence agency, the GDI, for violations, saying it has recorded instances of killings – both in the form of extrajudicial killings and as a result of severe torture – of detainees. On 19 December, for example, in Meskinabad village in Dasht-e Archi district, Kunduz, "a former Afghan Local Police officer was arrested by de facto GDI outside his house. On 22 December, de facto GDI summoned his relatives for a meeting where they handed over the man's dead body."
Arrests and detentions by the GDI, the report says, often appear to be arbitrary, with individuals reportedly not informed of the specific charges against them, family members not informed of their whereabouts or denied visits, not granted access to defence lawyers and only seen by a doctor after having been tortured or ill-treated. In some instances, it says, detentions were based on an individual's role as a media worker or civil society activist.
Curbs on dissent, protest and reporting
Importantly, the UNAMA report also traces a gradual clamping down on the right to protest and other 'foundational freedoms'. It points to the campaign of largely unclaimed targeted killings of human rights defenders, journalists and media workers in late 2020 and early 2021, which had already created a climate of fear by the time the Taleban came to power. Many journalists, human rights defenders and activists then sought to flee Afghanistan, fearing a crackdown by the new administration and indeed, since their takeover in August 2021, says UNAMA, the new authorities have:
Increasingly limited the exercise of human rights such as freedom of peaceful assembly and freedom of opinion and expression, cracking down on dissent and restricting civic space in the country. The arbitrary arrests and detention of journalists, human rights defenders, protesters have had a chilling effect on freedom of the media and civic activism. The absence of due process in the arrests and detention carried out by the de facto GDI puts individuals outside the scope of judicial supervision and increases the risk of extended pre-trial detention periods. The increasingly intrusive role and activities of the de facto [Ministry for the Promotion of Virtue and Prevention of Vice] have compounded such concerns. 
UNAMA documents the Taleban's increasing crackdown on peaceful protest, including pursuing activists with house searches, arbitrary arrests and incommunicado detention, all especially problematic for women. Meanwhile, the "once rich Afghan media landscape" has also been under attack, with arbitrary arrests (122 cases, one concerning a woman), incommunicado detention (12, all men), torture and ill-treatment (58 cases, one concerning a woman) and threats or intimidation (33 cases, three concerning women) documented. The report said interlocutors "have increasingly highlighted the role of the de facto GDI in exerting pressure on media entities and journalists through threats, arbitrary arrests, incommunicado detentions."
As for civil society actors and human rights defenders, the UNAMA report says, they have "stopped their operations in most provinces, fearful of repercussions and restrictions imposed by de facto authorities," while journalists have "increasingly resorted to self-censorship to cope with the new media environment."
All in all, says UNAMA, the human rights situation "has been compounded by the measures taken by the de facto authorities to stifle debate, curb dissent and limit the fundamental rights and freedoms of Afghans.
Facilitating abuse
By curbing both protests and dissent and the documentation and reporting of violations, the Emirate has made it easier for further violations to be perpetrated. The Emirate has also facilitated abuses by its officials in other ways. One theme running through the UNAMA report is the arbitrary nature of the new administration, of how rules are decided and enforced and violations punished by Taleban officials and agencies.
One example is the role of the newly re-established Ministry for the Promotion of Virtue and Prevention of Vice (commonly referred to as the vice and virtue ministry), whose mandate, the UNAMA report says, "seems to include a mix of policy setting, advice, monitoring, complaints management, and enforcement authority on a range of issues connected with the de facto authorities' interpretation of what is needed to ensure the propagation of virtue and prevention of vice." (See AAN's recent report on the thinking behind the new ministry here.) Over the first ten months of the Taleban administration, UNAMA says it has noted increased instructions from the ministry whether prohibitions, for example, on music, displays of images of women, and the use of cosmetics, or ordering, for example, face-coverings for women, mahrams (close male relative) to chaperone women in public and public prayers for men, or advice "on a seemingly open-ended set of other issues (including but not limited to the length of hair and beards; restrictions on women's practicing sports, driving, access to public bathing establishments)."
Many of these instructions, says UNAMA, involve the "curtailment of fundamental human rights such as freedom of movement, freedom of expression and right to privacy." Their legal nature is also uncertain, and often they are "simply announced by a spokesperson in a media interview or via Twitter, leave the system open for interpretation and abuse." There has also been wide variation in what provincial departments of the ministry have instructed citizens locally to do or not to do. Moreover, the scope of the instructions, UNAMA says, "seems to be purposefully vague, which poses concerns in terms of compliance with the principle of legality, and the element of specificity."
UNAMA has documented cases where ministry personnel have punished people for violating advice or when they had not actually broken rules. For example, in January 2022, in Taloqan, capital of Takhar province, city, vice and virtue officials "verbally abused a group of three women who were shopping in the bazar with their young children because they were out of the house without a mahram" while in April, in Lashkargah in Helmand province, officials verbally abused a group of women who were shopping in the bazaar without mahrams and beat male shopkeepers for allowing the women to be in their stores unaccompanied; the police subsequently arrested 12 shopkeepers. Yet, the official rule for women is that a mahram is only required for journeys of more than 78 kilometres, while the instruction for women not to leave the house unless necessary is advisory only.
The vice and virtue ministry is also the avenue where citizens are supposed to be able to make complaints through a telephone hotline and a three-stage adjudication or referral decision-making process. UNAMA does not report on how well this is working, but does say that the Taleban's abolishment of the Afghanistan Independent Human Rights Commission (AIHRC), an A-status national human rights institution under the Paris Principles, on 4 May 2022 "leaves a void that will be difficult to fill. Notwithstanding the establishment of some avenues for citizens to submit complaints to various de facto governmental entities, the absence of an independent national human rights institution will inevitably affect human rights accountability in Afghanistan."
Violations of the rights of women and girls
"Despite prior assurances during negotiations in Doha and at a 17 August 2021 press conference in Kabul," writes UNAMA, "that assured women of their rights 'within the framework of Sharia law'" and that there will be "no violence (…) and no discrimination against women," women and girls have seen the progressive restriction of their human rights and freedoms. These, it says, stem from the Taleban's "conservative theo-political position on the role of women."
Most fundamentally, there are no women in the Taleban's cabinet or indeed any decision-making forums at national or sub-national levels, denying them the opportunity even to be consulted on matters that affect them and their families. Restrictions, either de facto or as official orders or 'advice', specifically on the lives of women and girls include: the ongoing closure of girls' schools beyond sixth grade; forcing women to have mahrams outside the home, including only allowing women to leave the country if they are with a mahram; orders for women to cover their faces outside and only leave the home if necessary; gender segregation of parks, gardens, and picnic venues in Kabul and; bans on employment by the government except in key roles, for example, health, education and some policing. Widows, the report says, and other women heading households are particularly affected by many of these orders, given that many are predicated on women having male 'guardians' to support and represent them.
Afghanistan's often poor record on violence against women has worsened, with "the dissolution of dedicated mechanisms established to deal with cases of violence against women and girls." Even where the Taleban have promoted some rights for women, for example, Mullah Hibatullah Akhundzada's 3 December 2021 decree on women which upheld their women not to be forced into marriage and for widows to enjoy their inheritance rights, UNAMA said it had recorded instances where the authorities – including judges, provincial governors and others – had broken this ruling.
For example, on 15 February, in the Tarin Kot district of Uruzgan province, a woman and her brother were summoned to court regarding her rejection of an offer of marriage, reported UNAMA.
The judges of the de facto Primary Court tried to force the woman to accept, and when she refused they beat her and her brother severely. They were forced to flee their home, fearing further retribution, and her other brother who stayed behind was subsequently detained by the de facto authorities in an attempt to get the woman to accept the proposal.
In another example, from 27 April, a 15-year-old girl told UNAMA she had been sold to an older man by her father, whom she did not want to marry and from whom she had run away with another man whom she married. After her father filed a complaint, the police locked her up, ordered her to divorce her husband and marry the man of her father's choosing. She remains in detention, with her case reportedly before the court.
For any woman or girl facing domestic violence or sexual assault, the restrictions on their basic rights and freedoms – to work, go to school, travel, and leave the country – and their absence now from decision-making and as judges and lawyers in courts, all make it easier for violent perpetrators to abuse their victims unhindered. It also makes it less likely for victims to get redress. And for women as a whole Taleban restrictions on their rights and freedoms, says UNAMA, "has effectively marginalized and rendered Afghan women voiceless and unseen."
Conclusion
UNAMA Human Rights Service is now the only extant, on-the-ground, nationwide body documenting human rights violations and trying to hold the new administration to account. It is also one of the few bodies that continues to engage with the Taleban at central, provincial and district levels, bringing, as it says, credible reports of human rights violations to the attention of relevant ministries and departments and raising awareness of human rights standards, instruments and mechanisms.[1] UNAMA says it has appreciated "the willingness of the de facto authorities to engage on various issues, including reports of human rights violations." It has provided a critical public service in producing and publishing this report.
The report ends with an almost philosophical defence of human rights and how respect for them is integral to Afghanistan's future:
Ten months after the Taliban takeover, Afghanistan still faces uncertainty over its political, security and socio-economic future. The economic, financial and humanitarian crisis, exacerbated by the sanctions and suspension of non-humanitarian aid flows, continues to negatively affect Afghans' human rights, including to an adequate standard of living. 
Afghan women and men legitimately expect from the de facto authorities an inclusive governing vision that fosters peace, social cohesion and economic development. It is imperative that such a vision is based on fundamental human rights, as without them people's participation in public affairs is limited, security is ephemeral, and development is not sustainable. Human rights are not only about complaints being heard, but also about different voices being able to be expressed without fear and being valued as enriching social life. 
Edited by Roxanna Shapour
---
References