The economic crisis and the country's hardening stance towards irregular migrants are making Turkey a less hospitable destination for Afghans fleeing persecution or searching for livelihood opportunities abroad. In the first part of this report, Fabrizio Foschini looked at trends in Afghan migration to and through Turkey and how migrants have faced increased bureaucratic obstacles since the economic crisis of 2021, and hostility by broadening sections of the Turkish public opinion. In this second part, he explores the livelihoods and locations of Afghan communities in Istanbul, their role in the Turkish economy and how they are perceived in Turkish society. Through the voices of those interviewed, he looks at the difficulties and risks facing Afghans when travelling to Turkey and when trying to leave it, given both Turkish security forces and those of neighbouring European Union countries have tightened their control of borders.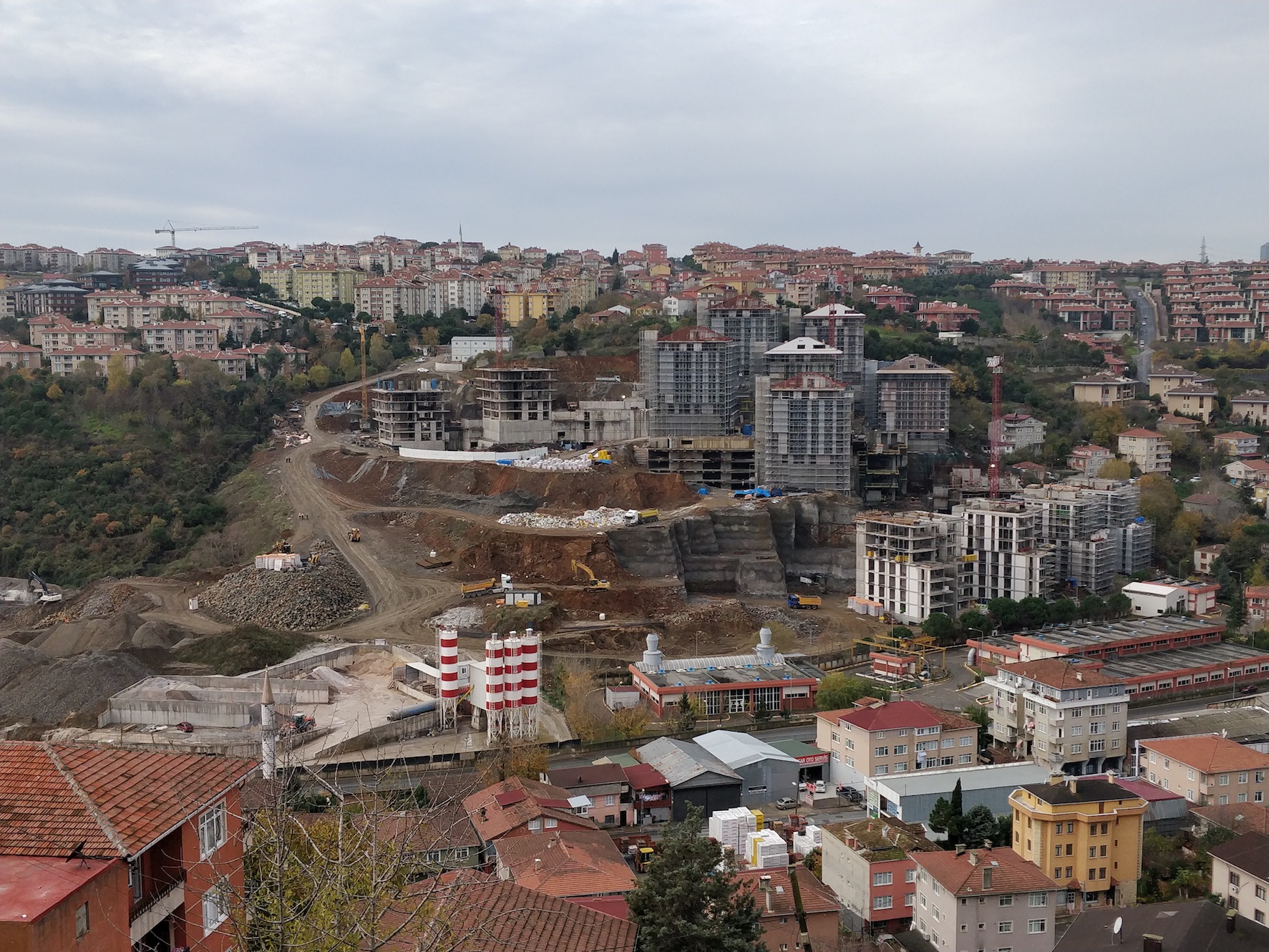 Construction site in Kucuksu, seen from Yenimahalle, Instanbul. Photo: Fabrizio FoschiniThe first part of this report can be read here.
From scraps to blocks
The 2021 Turkish movie Kağıttan Hayatlar (Paper Lives) tells the story of Istanbul's çekçek workers, the rubbish collectors. They contribute to keeping the megalopolis reasonably clean by pulling around bulky handcarts filled with anything that might be profitably recycled. The movie explores the plight of a group of rubbish collectors, portraying them as street kids abandoned by their parents. Determining the nationality of the individuals in what is depicted as a brotherly community of underdogs is certainly not the primary objective of the movie. Yet the story could have been realised with a cast and characters composed mostly of Afghans. Instead, despite the true-to-life portrayal of their squalid living conditions and young age, there is no overt mention of their status – only hints that they might be undocumented migrants, such as whenthey are told by their minder: "Don't get caught by the cops."
Afghan çekçek collectors – most often, young or even underage boys – are a common sight across Istanbul, from the peripheries to the more upmarket areas. Indeed, in central neighbourhoods like Galata or Cihangir, they are likely to be the only Afghans one will meet. Collecting rubbish is typically the first job newcomers can get as they don't speak the language or have any documents. This can be a transitory occupation, ranging from a few months to a few years, or it can become a lifelong occupation. AAN met an elderly Faryabi, who, despite having lived some 15 years in Turkey and having learnt the language perfectly (helped by his native Uzbek), was still working collecting rubbish, having been promoted only in a minor way, from the streets to the depot where the rubbish is sorted. He was still undocumented and his remark as to why – "Kasi mara kar nadarad" (nobody bothers /cares about me) – somehow reflects the attitude of the Turkish state towards those carrying out this unregulated yet vital economic activity.
If çekçek collectors are active all over the city (see here), other prospective jobs for Afghans are more closely connected to specific areas. Two neighbourhoods where most Afghans in Istanbul seem to live provide a snapshot of their lives.
Zeytinburnu, a large municipality on the western side of the city, is the most famous of the two. It features a veritable Afghan enclave. Its southernmost area close to the Marmara Sea hosts the most visible and sizeable Afghan community in Turkey.
Contrary to common assumptions about immigrants filling dilapidated neighbourhoods or second-rate areas, Zeytinburnu, although not central, is reasonably tidy and very well-connected by public transport. Indeed, the completion of the Marmaray railway in 2019 made it one of the best-connected suburbs to downtown Istanbul's tourist and business areas.
With its long-settled population of Uyghurs and people from Central Asia, the Caucasus and former Soviet republics, Zeytinburnu has long been a multi-ethnic neighbourhood in a multi-ethnic metropolis. Afghans first settled there some three decades ago, and although it was only a small community back then, they have since become a useful bridgehead for more recent arrivals.
Those early pioneers of Afghan immigration now hold Turkish citizenship and own real estate in the area, which they are keen to rent out to their compatriots. Many Afghan families, arguably most of those present in Istanbul, reside in Zeytinburnu, where one can find the highest concentration of community-oriented services and shops – Afghan associations, restaurants, bakeries, call centres, ice-cream sellers, supermarkets displaying cricket bats, dastmals (scarves), green tea, national flags and other items that make life in exile more bearable. As such, Zeytinburnu is where many Afghan newcomers would more naturally have connections or acquaintances, and where those with little hope come searching for help, shelter or information on how to proceed further. The neighbourhood tends to become home both for the Afghans who settle in Turkey and those who are only transiting, as it is the best place to keep in touch with Afghan communities spread between their homeland and Europe.
Afghans in Zeytinburnu tend to be busy with 'typical' Afghan chores, such as baking naan and roasting kebabs, or employed in jobs more specific to the place they inhabit. The neighbourhood is dotted with small textile factories, often single, street-level rooms, easily recognisable by the number of young Afghans, Syrians and other foreigners grouping around them for a tea-break or the call to prayer. Indeed, the import of food and provision of services directed to fellow Afghans is a sector expanding, along with with the size of the migrant community. Most store or restaurant owners, however, were either early settlers or individuals who recently moved there, but had enough capital at their disposal to invest in permits, rent and imports.
Then there are those who, either less connected or hoping to resume an onward trip to Europe, resort only to occasional jobs. On the seaside quay of Zeytinburnu, lined with a carefully tended public park, groups of young Afghan children can be seen wielding reflex (SLR) cameras and taking pictures. This is not an NGO project to allow migrants to document their lives. These children are professional photographers, asking passers-by to have their pictures taken (to be shared by USB or WhatsApp). The cameras are all identical (Canon 600D, mounting a 70-200mm medium zoom lens, brand Ultrasonic). Although some of the children AAN interviewed claimed to have bought them for 5,000 TL (around 370 USD in December 2021's exchange rate), the cameras may have been given to them by local street stall vendors in exchange for a share of their earnings. Except for weekends, when locals crowd the promenade and families picnic on the grass, they seem mostly to take pictures of their Afghan friends. However, given they charge only 2 lira (around 0.17 USD) per picture, the treat of a seaside portrait taken with a professional camera – a welcome change from the endless series of clumsy selfies – is attractive to a much broader range of potential clients.[1]
Moving away from the centre, Beykoz is a remote municipality compared to the well-connected Zeytinburnu. Holed up along the Bosphorus on the Asian side, it features two neighbourhoods with a strong Afghan presence: Küçüksu and Yenimahalle. The historic fin de siècle palace and park are reminders of Küçüksu's past as a leisure resort outside the city. As the name 'little water' suggests, a small creek flows through the neighbourhood to the Bosphorus. Its well-watered valley, sheltered from the winds and close to the waterfront, is home to many villas and plant nurseries. A few hundred metres inland, in front of a mosque at a crossroads, Afghan daily labourers gather every morning hoping for a day's work. On a hill on the right-hand side, recently-built middle-class homes and several new residential projects are starting to host the city's ever-expanding population. The opposite hill, on the northern side of the valley, is a patchwork of older and shabbier buildings. This is Yenimahalle, where most Afghans live when they are not busy working on construction sites. The neighbourhood was originally developed in the 1960s and 1970s as an informal settlement by migrants from the Black Sea region and eastern Turkey, including those of Kurdish origin. Newcomers would mostly squat on what was back then state-owned land and build makeshift houses. They would later claim the property as their own and try to regularise their tenure with the municipality. The area is nothing close to degraded, but unclear land property documents, the availability of old houses and apartment blocks and poor public transport links contribute to keeping prices down. Several years ago, some Afghans made their way here to work in the construction sector and more have since followed in search of affordable housing and jobs in the continuing construction boom – Istanbul's growth has expanded into this area of small orchards and hilly scrublands, slowly encroaching onto the forested areas to the east.
Local Afghan residents claim they currently number 10,000 (albeit with only 50 to 60 families among them), while the municipality says there are just over half of that figure (see a short documentary on migration in the area here). Be that as it may, despite Afghans constituting the main foreign residents in the area, their presence is much less visible here than in Zeytinburnu, as are community-oriented services. Indeed, the area only has one Afghan shop and community association, which consists of a desk with a young, educated Uzbek Afghan sitting behind a laptop inside a storehouse filled with imported rice and cooking oil for sale. The majority of the Afghans here are young men – undocumented despite having been here for several years – from four of Afghanistan's northern provinces, Faryab, Balkh, Jawzjan and Samangan. At the time of AAN's visit, the number of Faryabis, in particular, seemed to exceed all other groups. This influenced the pattern of community interactions, enhancing not only various types of solidarity, but also some forms of exploitation, such as sub-letting houses to high numbers of people and facilitating the quest for jobs or permits in exchange for a cut of the future earnings.
Indeed, when AAN interviewed them, a large group of migrants from Faryab had just convened over a meal of qabuli pilau (an Afghan rice dish made with carrots, raisins, and meat) to discuss fundraising to refurbish a historic mosque back home in the Shirin Tagab district of Faryab province. AAN spoke to Faryabis from different ethnic backgrounds and all said they had come to Yenimahalle/Küçüksu to be near their fellow Faryabis. However, as they also corroborated, an Uzbek or Turkmen background, greatly enhance the ability to learn Turkish, access the job market and be accepted in Turkish society – at least until recently.[2]
Despite having arrived in 2019, A young Pashtun boy from Faryab was still seen pulling his çekçekon a steep hill. His limited Turkish had prevented him from finding a better job, not that those employed in construction, which is to say most Afghans, fare much better. Never certain of finding regular work, they risk injury on the construction sites if they do get work, while knowing that they cannot access the public healthcare system if they need it. Contracts are only for those with a kimlik (Turkish identity card) who can find legal employment in closer and higher-profile construction sites around Küçüksu. Undocumented workers only have access to 'shadier' sites, less concerned about safety, especially in Umraniye. They can earn as much as 200 TL/day (around 15 USD) if hired for short periods, but when they are hired for longer periods their earnings never exceed 4,000 TL (300 USD) a month.
Labourers reported to AAN that this would normally have been enough to send as much as 50 per cent of their earnings to their families back home, but since the devaluation of the lira and growing inflation, they can hardly earn enough money to cover their own expenses.
Other categories of workers may have more steady employment, but are paid even less. A boy from Kapisa in his early twenties working in a textile workshop in Zeytinburnu since 2016 reported making 3,500 TL (263 USD) a month. Other textile workers said they were only earning 700 TL (52 USD) a week. A Kabuli who had arrived only six months earlier and worked as a shawgerd (assistant) at an Afghan restaurant in Zeytinburnu earned 2,400 TL (180 USD) a month, not nearly enough to help with his sister's medical expenses back home.
As for the child photographers, one of them claimed to be able to make as much as 4000 TL (300 USD) a month, but his earnings included managing a street stall. For the others, taking pictures must represent a small-time occupation suitable for the winter months to help cover their costs when an onward journey to Europe is not possible due to bad weather.
"Difficult to proceed, unthinkable to go back"
Gone are the days when the security forces at the Iran-Turkey border largely let Afghans pass through unmolested (see AAN report here). They now seem determined to catch and detain all migrants they can in Turkey's eastern wastelands. Yet, even a three-metre-high concrete wall cannot prevent Afghan migrants from crossing. There will always be areas too steep or rocky to be walled and always migrants fit enough to jump over or dig underneath the wall or able to offer bribes too tempting for truck drivers to turn down. Security, however, was reinforced along the border in the months following the fall of Kabul in August 2021 and the authorities seem able to catch most migrants soon after they enter Turkish territory, or during their journey to Istanbul and the western border.
According to an Afghan researcher based in Turkey and interviewed by AAN, as many as 95 per cent of the Afghans who cross from Iran these days are likely to be stopped and detained by the Turkish police. Reportedly, it now takes up to a month for migrants to travel between Van and Istanbul, with internal checkpoints and police cordons now positioned not only close to the eastern border, but also all across the country and up to their final destinations in western Turkey. This makes the journey slower and more risky. Those detained are either sent directly back to Iran (see a New York Times report here) or put into exceedingly overcrowded detention centres. From there, they are either deported to Iran or, if they are caught in the western part of Turkey, brought to the Bulgarian (or Greek) borders and let go.
One Afghan from Helmand arrived in Istanbul in late November 2021, one and half months after escaping Afghanistan and recalled crossing the Iranian-Turkish border and his subsequent journey on to Istanbul with bitterness:
When we were near Maku in Iran, moving towards the border, we met four or five Afghan migrants coming back towards us, all bruised and battered. They told us they'd had a car accident. We said that judging by the nature of their wounds, it was impossible it had been a car accident. Clearly, they'd been beaten. They told us the smugglers had told them what to say, but that indeed it had been the Turkish police. Our own smugglers then told us not to relate the incident to the other people at the khabgah [safehouse].… The route in Turkey is very bad now; at every khabgah they [the smugglers] were beating migrants and asking for more money, more than what was due to them.…
I was on this truck with maybe another hundred people, not under the tarpaulin or in a container, but in an open trailer. The police stopped us and everybody started to rush to make good an escape. I said to myself: I'm not going to run and have the cops chasing or firing at me. I've only entered this country without documents, I haven't committed any crimes against it. But the cops didn't give me any paper and instead took me to the Bulgarian border. There was a barbed wire wall and a human wall of Bulgarian cops. Not even a fly could pass through. So I turned around, walked a few hundred meters towards Turkey and…there was a line of parked cabs waiting to bring migrants who had been deported there back to Istanbul! I paid 1,600 TL (118 USD) for the ride, it's nearly three times the normal cost, but I didn't know that then. Now, I can't even go out to the streets for fear of the police.
Why would the Turks not take all the data they need and register me? Take a biometric scan, but give me some sort of paper? What do you think I came here for?  Leisure? If I'd wanted to come to Turkey, would I have waited until now? America has played with us and now we don't have a country anymore. Four years at the police academy, three years of service and suddenly everything has vanished.
While some details of this story reveal the uneasiness of the smugglers and their accomplices, thousands of whom had reportedly been arrested in 2021 (see an article by Politico here), it is migrants who suffer the worst of the police crackdowns, as the former policeman went on to describe:
[Turkish security forces] are bad with Afghans. Especially with the Hazaras they are really nasty. I have been in a detention camp with people from fifteen provinces. They'd slap me in the face, but they'd kick a Hazara in the mouth with their boots. They'd stop short of treating us too badly because we are Sunnis, but they'd discriminate against Hazaras because they're Shi'a.
The Turkish authorities' aim ­– to make sure Afghans did not remain in Turkey – was apparent:
They would ask us many times where we were headed. They wouldn't let us go until they were satisfied that we planned to continue toward Europe and not stop in Turkey. I was detained in Sakariya. I was on a truck with more than 100 other migrants. They took my fingerprints and I was sent to a camp in Izmit and detained incommunicado for three days. When I told them I was going on towards the EU, they sent me to the Edirne camp and after a couple of days, they took me close to the Bulgarian border and left me there.
Police raids against undocumented Afghans also occur in Istanbul. However, Zeytinburnu offers some degree of protection for undocumented migrants, given the long-term and large presence of Afghans. The Afghans in Yenimahalle, on the other hand, were very afraid of the possibility of being rounded up and deported. Even in Zeytinburnu, many interviewees said that the police were now acting on political orders, the danger of being detained was becoming more real. A young father of three from Takhar who was unable to register his family described such an experience:
I'd just came back from the Bulgarian border. I was deported there by the police after one and half months of detention in Malatya [a city in Turkey's Anatolia region]. They picked me up from the bridge connecting Zeytinburnu to the seafront promenade. It was not the local policemen – I know them and we are on good terms, but the migrant police who has their HQ in Tuzla and periodically carry out raids.…
At the Malatya camp, food distributions were barely sufficient. The police would pose with beverages, food packages and hygienic kits provided by the EU, taking pictures as if they were distributing them, but would later pocket part of them, giving only a small share to the 300 of us detained there.… I'm not upset by the hardship, but concerned they may pick me up again. Who will support my wife and kids if I'm in jail?
Another cause of concern for Afghans is the hostility of the Turkish population. An Afghan researcher interviewed by AAN recalled that when he first arrived, around a decade ago, and was sent to live in a small town on the Black Sea and Afghans were then a rare occurrence. Locals, especially elders, would inevitably associate them with positive images of the nation that had stood by Turkey during the Balkan Wars of the early 20th century and in the aftermath of Word War I. As their number grew, their image deteriorated. Nowadays, they are often labelled as uncouth, lowly and even dirty.
In previous years, Afghans were not linked with the negative assumptions associated with some other refugee groups, namely Syrians. Turkish perceptions of Syrians, near neighbours and former subjects of Turkey's Ottoman empire, have been shaped by age-old stereotypes about Arabs. The fact that Syrians came with their whole families has also served to bolster negative views of them, as pervasive presence of Syrian women or child beggars across the city is not easily condoned by Turkish society.  Afghans, who are typically single men, have tended rather to be seen as hard workers (when work is available). However, what previously worked in their favour has gradually transformed as the economic crisis hit into accusations of Afghans stealing jobs from Turks. Even the Afghans who traditionally applied for lower-level jobs compared to Syrians are now seen as competitors by Turks.
The predominance of single young men has also, however, brought with it concerns of possible involvement in criminal activity or violence, as it does in European societies. As an academic research paper, Two Worlds Meeting in One Neighborhood, about the Yenimahalle neighbourhood of Istanbul documented, many Turkish residents feared that undocumented individuals from a war-torn country were potentially dangerous. Occasional remarks by Turkish citizens to the author – even by those with little or no actual contact with Afghans – confirmed this unease.
These perceptions, that Afghans are dangerous, are a mirror image of the actual danger migrants are in, given their vulnerability to local criminals, security forces and exploitative employers and landlords.
The cost of staying and the price of leaving Turkey
Despite all the other deterrents, ultimately, the single most important factor capable of scaring Afghans away from Turkey is the economic crisis there. Turkish salaries are ceasing to become attractive at a time when being able to send home remittances is more needed than ever.
In a way, the situation is similar to what happened previously in neighbouring Iran, where hundreds of thousands of Afghan migrants had similarly lived and worked until the economic crisis and depreciation of Iran's currency there made their presence unattractive for either Afghans or Iranians. Afghans have repeatedly had to employ mobility to stay resilient and survive. Despite its many advantages, such as geographic, cultural and for some even linguistic proximity, the moment Turkey can no longer guarantee minimum earnings that would enable Afghan migrants to support families back home, it will not be worth going through all the risks and hardships that an 'illegal' life there implies.
The costly services of an association or a lawyer to try to get permit, most likely one forged nowadays, adds to the burdens. Who would spend USD 2,000 for a counterfeit kimlik, when he can save the money for the next stage of the trip?
The teenage photographers on the Zeytinburnu shoreline have no doubts about this. They point to the boats anchored offshore as though they, and not the smaller yachts or fishing boats in Izmir, would be the ones to take them past Greece and straight on to Italy. One young boy from Kapisa has pinned his hopes on the boat trip since he failed to cross by land shortly after he arrived in the summer of 2021:
I left Afghanistan in June, travelled across Iran, arrived here and made it to the Greek border to cross by land, but I was stopped by Turkish police in the last mile and taken to a detention centre in Edirne [a province located in Turkey's European part]. I thought they would certainly deport me, but while I was there, Kabul fell to the Taleban and so they couldn't. After a couple of weeks, they let me go. I will never try again by land. Next time I will get on a boat and reach Italy. These boats stay away from the coastline in open waters. If the Greek police catch the boats, they can either send them back or ignore them and let them go through. It's very dangerous now, and it has mostly stopped because of winter, so I will wait until spring.
He said smugglers wanted around USD 8,000 for the trip to Italy, while other Afghans claimed it could cost as much as USD 10,000. Other reports on Europol's crackdown on smuggling rings, such as here, put the price at 5,000 euros (USD 5,650)
Investigations by Europol claimed that over 1,100 migrants had been smuggled to Italy this way, while also reporting that in three shipwrecks in December 2021, over 30 migrants may have lost their lives in Greek waters (read this Reuters' article). What is clear from talking to Afghans in Zeytinburnu is that, despite the high costs and as yet unclear dangers of such crossings, this relatively new route is quickly becoming the option of choice for Afghans as an alternative to the long stopovers, risks of pushbacks and abuses along the Balkan Route (see a report by ECRE here).
This is the case for those who can afford the sea route. Others, many of whom are unable to save the money needed, do not entertain hopes of going to Europe this way. Rather, they will have to face the first of the many obstacles along the Balkan Route, crossing the heavily-guarded borders into Bulgaria or Greece. Given the smugglers' difficulty in guaranteeing results and the high cost of the trip, an increasing number of migrants seem to be opting to act on their own, without the help of a smuggler network, a practice known as khod-andaz (to throw oneself or self-launched). Such was the case of a man in his thirties whom AAN met in an Afghan nanwai (bakery) in Zeytinburnu. He used to work with foreigners in Kabul's Green Village (a heavily-guarded international residential and commercial compound on the outskirts of Kabul) and left the city in a hurry a few days after the Taleban takeover, arriving in Istanbul in late October:
Since I arrived, I've already tried four times to cross into Greece. Every time the Greek police stopped me, stripped me to my underwear, beat me, stole my phone and money and sent me back. Every time I buy a cheaper phone, maybe one day I will have to do without altogether.
Police abuses and pushbacks constitute a real danger. The practice of forcibly stripping migrants of their clothes may have caused the death of 19 people, who in early February froze to death close to the Greek border (responsibility for the episode is still argued over between Greece and Turkey, see here). However, the harshness did not seem to deter the man who used to work in Green Village:
I will try until I succeed. I have to go to Germany. What am I supposed to do here? There's no work I can do in Turkey and there's no way Turkey is going to work for me.
Even for those with an official kimlik, the dire economic situation has now brought their long-term plans into question. The young Uzbek baker, in Turkey since 2020 and already speaking a very fluent 'urban' Turkish, shook his head as he listened to the Kabuli traveller's stories and waited for the next batch of sambosa (samosa) to be ready to take out of the oven. After a while, he ranted against his fellow compatriots:
This would be such a nice country to stay in. Why are my compatriots moving on? They should stop here – register, create a community, make business and do not give the Turks the impression that we Afghans are desperate, backward, poor.
Yet, as he looked at his customers coming back from the mosque after prayers, he did not look entirely convinced and added:
It's not their fault. They cannot think straight right now. It's all because of this economic crisis and what is happening in Afghanistan.
Afghans have appreciated Turkey's strategic location over the past years. Although unsuitable as a destination for seasonal labour in the way Iran had been for decades for many impoverished Afghans, Turkey was close and accessible enough to allow for a return journey home every couple of years or so. Sometimes, Afghans would even use deportation as a chance to travel home without incurring costs. Now, as the country seeks to turn into another migrant-proof fortress, this advantage has gone. To be sure, few Afghan labourers will opt to go back for good to an impoverished homeland where living conditions, despite the end of the conflict, are only getting harsher.
Even the two young men from Keshem who featured in the first part of this report, who had returned from Afghanistan legalising their status are now caught in this impasse. With a work permit, they have been able to access better-paid jobs and start their own business. However, they still could not bring their wives legally and doing so illegally would be too risky and too expensive. Their choice now is between earning as much as they can to send substantial remittances before going back, or moving elsewhere where they can hope to be reunited with their families. The depreciation of the Turkish lira and the political and economic woes that have befallen Afghanistan seem to have made up their minds:
I work and I am a shareholder in a shop in Zeytinburnu. We import items for consumption by refugees, such as rice from Pakistan, etc. On average, I make around 3,000 TL a month (around 226 USD), but this job is better than others because I have no one above me to order me around and I can decide my daily workload myself. Still, I want to go to Italy and from there to Germany. Two of my brothers are there. They've been accepted there, one in Munich and one in Frankfurt. Once there, I will be able to reunite with my family
First young man from Keshem
I work as an audio technician with the production of Turkish comic TV serials. I had no previous background in that, but I improvised myself as one once here. I earn good money, 4000 TL/month (300 USD), and work is guaranteed. As soon as one series ends, another one starts.
Second young man from Keshem
Apparently, this second young man had found a way of life in Istanbul that suited him, but the devaluation of the Turkish lira had made it less attractive. Now, he too, plans to travel to Italy and beyond. Questioned on his priorities, about whether to first earn in Turkey to send some money home (in the face of the tough times ahead), or to get to Europe to try to bring his wife there, he narrowed them down to one: "I am thinking only of getting out of Turkey, one problem at a time."
Conclusion
The worsening inflation in Turkey threatens the country's overall economic growth and is denting the major construction boom that has been ongoing for over a decade. This may have major repercussions on how refugees fare in Turkey. Until now, the large informal sector has meant that the market has been able to absorb the social and political costs of hosting high numbers of Afghan migrants (read a Manara article here), but this equation could be permanently altered in the event of a continued crisis. In this case, the temptation to blame Afghans and other foreigners for part of the country's economic woes and ramp up the crackdown on them could prove too much for the government to resist, especially in the lead up to the June 2023 elections.
Turkey's continuing interest in playing a role in Afghanistan in the near future probably also reflects the country's intention to resume deportations of Afghan migrants in cooperation with its counterpart in Kabul – albeit this time a Taleban one.
The Turkish government may also be trying to hit the jackpot by once again turning a problem into an opportunity. One aspect of the current Afghan crisis – refugees – will remain a core concern in European countries. The recent displays of Turkey's efficiency in securing its eastern border (see a Politico report here) are probably meant for the benefit of both internal and international audiences, and to pave the way for further economic deals along the lines of those brokered in 2016. However, as President Recep Tayyip Erdogan himself warned the past summer (see here), walls and closures will not stop Afghans from trying to get to Europe, especially as the situation in their own country is so much worse than any of the obstacles they might encounter along their journey. Increased stakes, such as the pressing need to reach Europe and secure remittances for families left in an ever poorer and less serviced Afghanistan as well as a hike in prices exacted by smugglers, will simply mean further dangers and costs for the Afghan migrants.
Edited by Roxanna Shapour and Kate Clark
References

↑

1
The economics of this business – large outlay for small returns – seem to make little sense, but it is probably related to the wider smuggling business, as it allows the kids to make small earnings and cover their costs while awaiting the next stage of the journey.

↑

2
Based on the 1934 Settlement Law, which prioritises people who share the same Turkic ethnic and cultural background, the first Afghan refugees in Turkey in the 1980s – a hundred or so Kirghiz from the Pamirs, followed by small numbers of mostly Uzbeks and Turkmen – were granted asylum and settled in accommodation in towns across central and eastern Turkey: Tokat, Kırşehir, Sivas, Şanlıurfa, Van and Hatay. They mostly relocated to Istanbul or Ankara after some years. Despite this shared Turkic background, the recently deteriorating perception of Afghans among the Turkish public includes those speaking Turkic languages. Likewise, migrants from Turkic-speaking Central Asian countries, despite having constituted numerous communities in Turkey for longer and being better integrated within Turkish society compared to Afghans, still experience varying degrees of discrimination.
REVISIONS:
This article was last updated on 12 May 2022