Kate Clark and Roxanna Shapoir
Afghanistan Analysts Network
9 October 2021
In this second part of this interview, former Minister of Finance Khalid Payenda talks to AAN's Kate Clark and Roxanna Shapour about the reaction of the Republic's leadership to his plans to get the economy back on track and fight corruption and whether it was already too late to effect meaningful change. He gives a candid account of his interactions with president Ghani, including what ultimately led to his resignation, and speculates about the veracity of rumours that Ghani fled Afghanistan with 169 million USD in cash. He looks at how much the Taleban could potentially raise in customs revenues, the future outlook for the Afghan economy and what can be learned from the donors' engagement over the past 20 years. He discusses the fragmentation, the short-termism and how some of their policies sustained the inclusion of grafters in the country's leadership structures.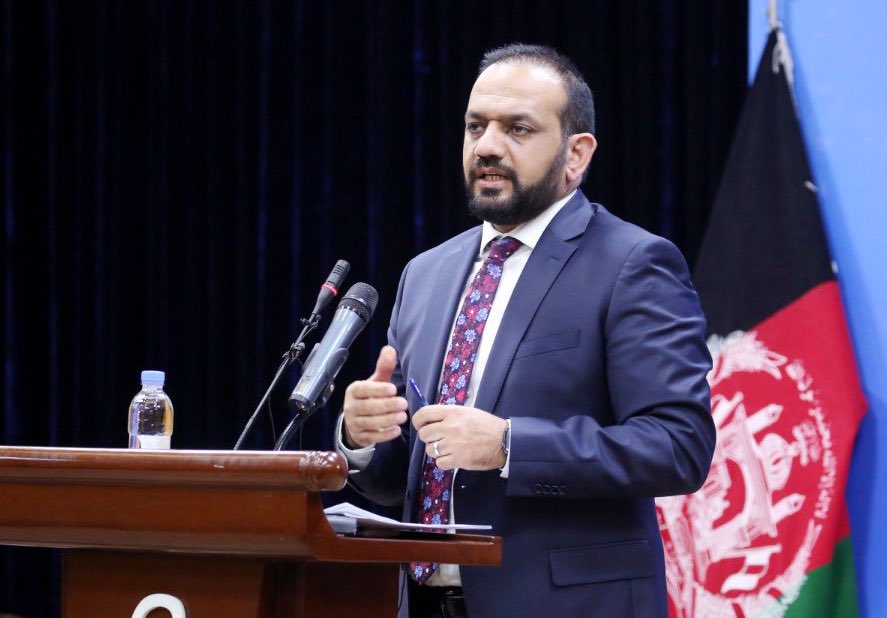 Khalid Payenda addressing the Government of Afghanistan and United Nations joint humanitarian appeal on 11 July 2021. Photo: Khalid Payenda Twitter (@KhalidPayenda), 11 July 2021
Khalid Payenda announced that he was stepping down as minister of finance after only seven months on the job on 10 August 2021, in what turned out to be the dying days of the Republic. While he was criticised at the time for abandoning the government at such a critical time, he told AAN he had no idea that the government was about to fall. In this part of the interview, he recounts a last-ditch effort to get the economy back on track and explains why he decided to resign. His insider's view on why reform efforts failed and how donors were sometimes part of the problem are important for not only understanding what went wrong with the Republic but also the dynamics that powered the previous government's engine. This, in turn, helps draw important and nuanced lessons from the past that can help inform the future as Afghanistan enters a new era of Taleban rule.
This is part 2 of our interview with Khalid Payenda. Part 1 can be found here.
AAN
Do you know if there is any money left in the treasury? I just wondered how much the Taleban may have to play with now.
Khalid Payenda
Before the collapse, there was around six or seven billion afghanis [approximately 90 million dollars] of unrestricted money. But then there was some restricted money, meaning money in 'special accounts' that the government could not spend until the respective donor okayed it. It was mostly for security by CSTC-A [Combined Security Transition Command – Afghanistan] and World Bank projects. I don't know the exact amount; about 260 million dollars of the World Bank/ARTF's [Afghanistan Reconstruction Trust Fund] money, mostly project funds. This money was sitting in designated [bank] accounts waiting for documentation and invoices so that the funds could be released [to the project partners]. In total, the World Bank had to receive documentation and reporting for almost 600 million dollars from the government, but only 260 million was in cash with the treasury. The rest [of the money] had already been disbursed, but the documentation and reporting had not yet been sent to the World Bank [when the government fell]. The World Bank was very worried about it. I believe they are still worried about making sure the money is accounted for.
So in total, there was around 260 million dollars of the World Bank/ARTF and six or seven billion Afghanis of unrestricted funds, as the treasury [reported] to me, so based on that [the total] estimate would be around 350 million dollars.
AAN
I'm asking because I'm sure you've seen the Twitter thread that [former governor of the Central Bank] Ajmal Ahmady posted. [1] According to Ahamdy, on the day of his departure, DAB had nine billion dollars in assets, mostly (seven billion dollars) on deposit at the US Federal Reserve.)) Is that a realistic accounting?
Khalid Payenda
Yes, it's close enough. He's talking about the international reserves, but the six or seven billion Afs [approximately 90 million dollars] of the government's [money] on deposit with the Central Bank is also part of the nine billion dollars [accounted for by Ahmady]
AAN
Does the government have deposits elsewhere, other than the Central Bank?
Khalid Payenda
We shouldn't, but I know that a few ministries had accounts with private commercial banks. The government has money with the state-owned commercial banks; I don't know how much. It depends on how you define 'government'. If it is the central government and on-budget [2] [funds], then mostly no. But if you include broader government, the state-owned enterprises, for example, DABS [Da Afghanistan Breshna Sherkat, the national electricity provider], Afghan Telecom and Ariana, and municipalities, then yes.
AAN
What do you think the state of the customs revenue will be for the Taleban?
Khalid Payenda
The Taleban were not implementing the [official] tariffs initially. They used a very simplified rudimentary tariff for how much should be collected per truck. Let's say you were trading in fuel; you would have had to pay, for example, 50,000 afghanis per fuel tanker. I have heard that they started implementing the official tariffs as of 11 September [2021]. Which should bring in significant customs revenues, assuming the trade doesn't shrink significantly and that there is no corruption and collusion with the traders.
A while back, I said that if there were no trade diversions [smuggling] and all goods were assessed with 100 per cent transparency, then customs could potentially collect up to seven or eight million dollars a day. But now, with the economic collapse and uncertainty, trade has drastically reduced to basic necessities, food and fuel, so the potential custom revenues have also gone down. I would say, if the old [tariff] rates are used, customs revenues could potentially amount to at least 200 to 300 million Afs [about 2.5 to 3.7 million USD] a day. I hear that, right now, the Taleban are collecting between 100 to 200 million afghanis [about 1.2 to 2.5 million USD] per day. I am not going you give you dollar figures; when the banks closed [on 15 August], the official rate was around 81 afghanis to the dollar. The more the afghani depreciates, the more customs collections increase because imports are mostly in US dollars.
AAN
You launched an ambitious PFM [public financial management] [3] plan to get the economy on track when you were a director-general and then a deputy minister. This plan was disrupted when Qayoumi became minister and you left the finance ministry. I know one of your priorities was to get this back on track, with anti-corruption being one of the main components. I heard that you presented a plan to the president and others, including the first VP and that the reaction was quite startling. Could you tell us what happened?
Khalid Payenda
We had developed an extensive diagnosis for national accountability based on one of the ten state functions that the president identifies in his book Fixing Failed States. [4] It was aimed at seeing corruption through a public finance lens and by following the money through the budget cycle to see where and how misuse happens. [5] We wanted to present it to the president first and then to everyone else in his core team. But he called for a meeting in July with all of them, and even a wider [group] than that. I think we were a bit too technical, so maybe understanding it was an issue, but we did not get the support [we expected]. It was seen as a plan to reform the Ministry of Finance. But it wasn't about reforming the Ministry of Finance. I tried to explain, but the president would not allow it. The reaction was that it's the Ministry of Finance's problem and they told me to go fix it. They said: If you don't have the political will, don't complain to us. It was a weird meeting. I don't know what was going on in the president's mind. He was under a lot of pressure from the security sector. The first VP said some well-intentioned but completely irrelevant [things]. Our presentation was named "A Ceasefire on Corruption". After the meeting, the Chief Justice said: Remove this title. It has a very bad connotation, it means there hasn't been a ceasefire on corruption for the previous 20 years. I responded: Sir, this is exactly what we meant by that title.
After the meeting, I met with the president and he said: You were too technical. I'm with you. We'll fight this, but you [have to] work on communicating this better. I get his point, but it wasn't too technical. Most of these people knew what we were talking about, but I think they thought: [It's] not my problem. We could see that it was going to be extremely difficult to create political consensus. It was our last effort to save the Republic, but I think the seriousness wasn't there. They either did not see [corruption] as an existential threat or had their escape plans ready or had already given up. Maybe they saw the handwriting on the wall; I don't know. But I still believe that the president was caught off guard. He sincerely wanted reforms, and on most issues, he was a staunch supporter of reforms regardless of the political costs, but he did not know most of the realities and the facts and the overall environment was very tough and he was under pressure.
AAN
Do you think it was already too late anyway by then?
Khalid Payenda
I don't know. But I don't think it was too late – we still had control over almost all the provinces, at least their centres, and all the border crossings. However, I did not see any urgency in my colleagues' 'business as usual' approach or maybe they did now show their emotions. It was 20 years late, but not too late. I still believe that the situation could have been salvaged. The moment I thought it was not doable, that's when I resigned. Let's not forget that the US government's deal with the Taleban without the involvement of the Afghan government had already sealed the fate of the Republic.
AAN
You said you feared being scapegoated. What exactly did you think that would involve – just reputational damage or something worse?
Khalid Payenda
One of the issues with the president, unfortunately, was that it was never his fault. When he was the minister of finance, it was all Karzai's fault. When he became the president, it was [Eklil] Hakimi's fault, then it was Qayoumi's fault, then it was Arghandiwal's fault and it was going to be my fault. In my first meeting with the president, I told him my reservations about the unrealism of the budget, especially the unrealistically high revenue target. I also told him I didn't think it was the right time to make substantial changes to the budget because it had already been rejected twice by the parliament. My game plan was to adjust it downwards in the mid-year review. He agreed.
Then in my last week in office, he criticised my team and me for the budget that he himself had prepared at the start of the year. He was proud that he had chaired all the budget hearings, but now he was criticising the budgeting process and calling the budget an eftezzah [catastrophe]. People who were not involved in the details [of the process] saw me as the problem. The midyear review had come at a difficult time when we had lost 3 or 4 key custom houses. We had extensive discussions on the budget and the mid-year [budgetary] review. We discussed different scenarios with him. He chose the worst-case scenario, the one with almost no custom revenues for the rest of the year. He said: Assume that all your custom offices will fall and you won't have revenues, slash the development budget and leave me some room for additional security sector spending. We did that. Before tabling the mid-year review budget at the cabinet, I sent him a ten-page document, with every major decision, for him to approve, not approve, and provide guidance. This briefing detailed the impact of the midyear review on the NTA [National Technical Assistance] staff, [6] reducing the development budget, stopping payments against contracts with contractors and accumulating arrears. He read and signed every single one and told me to go ahead. It was going to be tough. We would have had to lay off 12,000 to 13,000 NTAs across the government. People would not have received [their] salaries on time. We would have had to cut the development budget to zero and give priority to security spending. He said: Fine – this is a matter of our existence and we must make these tough choices. However, the following week, when we stopped payments as we were running out of cash, he was shouting: Why have you stopped payments? I said: But you knew we were stopping payments; we will run out of cash otherwise.
At the same time, the reforms were starting to take hold. The treasury, while it still had massive problems, had never been as effective, efficient or transparent in the previous 20 years. I could share with you the system-generated reports that we gave to the president. 96 per cent of payments were made on the same day. You could bring your payroll [to the ministry] and it would be paid by the end of the day. Everything was either paid or, if there were problems [with the documents], rejected within 72 hours. 98 per cent of all payments were [processed] within two days. Only two to three per cent were rejected. But in the very last meeting that I had with him – the deputy finance minister and aid management director were there – he said: We lost 40 commandos in Herat because of the Ministry of Finance. I thought he'd completely lost it because they had never had any budget issues in Herat and the finance ministry had nothing to do with commandos.
He also asked about an invoice from this Lebanese company that had not been paid for one and a half years, Khatib & Alami. [7]) This was a problematic payment. People said the firm had links with Rula Ghani and her brother, who had brought this design company [to Afghanistan]. I believe somebody had complained to the First Lady's office and that's why the president was angry. But the invoice was not with the Ministry of Finance; it was stuck [first] at the Ministry of Urban Development and Land and then the AoP [Administrative Office of the President]. But he said: You guys are damaging my reputation. Actually, he said something sad and funny. He said: You're damaging my reputation back home. He was referring to Lebanon, and here I was thinking that he was Afghanistan's president and not Lebanon's.
My dad, who is not a PFM [public financial management] expert, told me: You've lost all your custom offices. What kind of a finance minister are you [going to be] from now on? Leave this job. No matter how well you perform, you will be scapegoated. People will be angry and who are they going to be angry with? The Minister of Finance.
But the situation was totally out of my control. The security sector did not even make an in-vain attempt to re-take one of these customs offices – not Islam Qala, not Torghondi, Aqina, Shirkhan Bandar or Farah. I knew I was going to be scapegoated because, with the president, it was never his fault. It was always somebody [else] who'd done him wrong. Unfortunately, he never took responsibility. We saw this in his speech from exile. There was still no remorse, no apology, nothing. He justified and rationalised his escape by saying that he was taken out, not even allowed to wear his shoes. All nonsense. It's true that some of these people around him misused [their positions], but he was a dictator. He didn't listen to anybody, so for him to say he was pushed out or say that the minister of finance did not provide him with the right information is hard to stomach.
It's horrible that the Republic collapsed. In retrospect, I should have been very clear [about] why I resigned – publicly. But I did not want to damage the government which was already in a fragile situation. I kept silent. I said that it was personal priorities, but it wasn't entirely personal priorities. I should have said that the president and his close group [of advisors] were the issue. We all pay the price of our loyalty. I did too.
AAN
If you had an opportunity to say why you resigned, what would you say?
Khalid Payenda
I knew the challenges that the job entailed before I took it [and I stayed] as long as I had the president's backing. But in the very last week, I felt that [his] support was not there anymore. The trust that the president had in me had been eroding. He didn't see me as his minister. I think he saw me as a competitor and compared what he did as a [finance] minister against what I was doing. The punch in the gut came from the president's office asking for the corrupt deputy minister that I had fired to be made CEO of the state-owned airline. I no longer believed the president was incorruptible. Interference from the Palace and a lack of urgency and seriousness on corruption reforms were also getting tiring. The president's micromanagement in personally following up payments of the Lebanese company and blaming MoF for the death of 40 commandos in Herat was the final nail in the coffin. Then and there I decided that I could not work one more day and that is why I sent my resignation that night. I also sent a personal note to the president. I wrote that I was sorry that I could no longer do the job or fulfil his expectations. Maybe I didn't even know what his expectations were or maybe what he was expecting was unrealistic.
AAN
Almost immediately after President Ghani left the country, there were allegations and media reports that he had taken 169 million dollars with him. [8] This was followed up in recent days with reports that the Taleban had recovered vast sums of money, I think over 12 million dollars, from the homes of former senior officials. [9] Do you think there is any truth to these reports? And if true, why would somebody have that amount of cash on hand?
Khalid Payenda
There are two parts to this question. First, I want to clarify the 169 million [dollars] which, based on what I know, could not have come from the national budget. It's a very large sum. Even [the budget's] contingency code 91, which was at the president's disposal, carried only a billion [afghanis, or approximately 12 million USD] at the start of the [financial] year. So 169 million [dollars] is far more than what would have been available in contingency code 91. Also, there is no other place in the budget where this [amount of] money could have come from. I signed off on all major payments until I left and I don't recall anything of this magnitude. Four or five days after I left, my successor made one payment to the National Directorate of Security for two billion afghanis. It was for the fight in the provinces – the Popular Uprising Forces – but that money should have gone to the NDS, and it was not more than 30 million dollars. If the 169 million dollars figure is correct, it could not have come from the budget even over one year.
Assuming that the 169 million figure is correct, there might be other sources, like some of the shady appointments and problematic contracts. A lot of funds were channelled from [line] ministries to the National Development Corporation [10] that had serious transparency problems. But honestly, until the day he left, I never thought the president would leave everything and flee, and I also never thought he could be financially corrupt. A part of me still strongly believes that the president would not be involved in financial corruption. It could be that he took some money because, if based on the manifest disclosed by some media channels, 53 people left [Afghanistan] with him, [11]) he would have needed some money to sustain expenditures when abroad. The fact that he first went to Uzbekistan tells me that he did not know where exactly he was going. So, he needed some money, but 169 [million dollars in cash] is a bit of a stretch.
To answer the second part of your question about the sums of money [recovered] from officials' homes. I have doubts [about] the money they [the Taleban] say was recovered from Amrullah Saleh's house in Panjshir. Even if he had access to that sort of cash, he would have taken the bag of money [with him] when he fled. I think it's part of Taleban propaganda to defame him. Regardless of what he did in the government and how he played the game, I think his move, even if it was symbolic, to show resistance, salvaged his reputation. I think the Taleban and the ISI [Pakistan's Inter-Services Intelligence] wanted to damage his reputation. I don't believe that the amount of money that they reported was right. They also reported, for example, that they recovered many bottles of wine from a cellar in Rabbani's house; it turned out to be a western embassy. [12] So this is part of a propaganda campaign. But having said that, people who were involved [in corruption] were very savvy. [They would] not have kept large sums of cash in [their homes] nor [would they have] used the banking system. The money was already transferred [out of the country], possibly through the money service providers, the sarafs [hawaladars or currency brokers] who would keep it for them.
AAN
A lot has been said about the role of the donors – proponents point to the achievements of the past 20 years and detractors argue that ill-conceived donor policies and programmes were largely to blame for the failures of the past 20 years, including corruption. Where do you land in this discussion?
Khalid Payenda
In the immediate wake of the tragedy, let's not forget that a lot was achieved in Afghanistan in 20 years with the help of donors that has not been achieved elsewhere when you look at it globally. Obviously, when you have 40 donors and everyone has their own interests and beliefs and thinks their approach is the right one, it becomes very difficult to have a coherent overall strategy even with the best intentions. Having said that, I believe the amount of money that flew into Afghanistan with few checks and balances in place was obviously going to be difficult to account for. The effectiveness of aid and making sure that it [was used for its] intended purposes could have been improved. The ownership could have been improved. One important thing, while it's all over now, it's still important to note that not every donation that came to Afghanistan went through the government. So, holding the government accountable for all of it, which is mostly the case, is unfair.
Donors chose to funnel large sums of development assistance outside government channels. This not only undermined the legitimacy of the government but also caused serious issues with alignment with national priorities, priorities that were prepared in consultation with and endorsed by the donors. While on-budget financing was put under so much scrutiny, off-budget was not subject to the same level of examination. A few years back, the Ministry of Finance carried out an institutional assessment with USAID to help identify the problems and weaknesses in our systems to be fixed, so that more budget could be channelled through the national budget. SIGAR got a hold of this assessment and this was used as an excuse not to channel funds directly through the national budget, instead of it being used as a baseline to build upon and improve.
There were programmes [about which] there was clearly no consultation or engagement with the government. The donors chose to do it through their contractors. What comes immediately to my mind is the 300-million-dollar USAID women's empowerment PROMOTE programme. [13] The government introduced a 20-million-dollar national programme for women's empowerment [which was] presented and endorsed by the donors at a big conference. But the US had already started PROMOTE and its funds went through off-budget mechanisms, which meant that the [government's programme] was not funded and neither programme achieved very much. [14] So donors also bear part of the blame.
At times, the government was confused between fighting corruption and the coalition [building] that the big donors stressed. Some people, especially the warlords whom the government was encouraged to bring in, had a background of corruption, abuse and human rights violations, and most of it was overlooked – for example, the strongmen in the north or south and their role in siphoning off revenues. But [the donors] still pushed for them to be part of a coalition, even though they all knew how corrupt and involved in illicit trade these men were. Coalitions forces, in some cases chose to overlook allegations of child abuse made against some Afghan allies because they were staunch supporters in the fight against the Taleban.
The more structural issue, which I think was a missed opportunity, was caused by focusing more on the prosecution side of corruption rather than system-building, which could have prevented most of it [the corruption] from getting a foothold. We talked of accountability and reporting, but not much was done to develop the government's capacity to report, audit and hold people to account in a holistic manner. The donors chose to sort of ringfence their own donations and financing that they channelled through the government. But trying to ringfence [part of the funds] in a bigger budget doesn't really work. For example, in a four or five billion dollar budget, it didn't mean much when the ARTF monitoring agent only looked at ineligible expenditures for [their own] one billion dollars.
In all my ten years of engagement with the World Bank, I don't recall them telling us: Okay, let's talk about fixing the whole accountability system so that [in the future] we will not need the monitoring and supervisory agents. I think building better systems should have been part of it. We advocated looking at corruption through a public finance lens. The donors were interested in projects rather than [fixing] the whole system. So fixing some parts of the budget process, amending the external audit law was all the donors wanted to do. They did not see the entire picture – how things worked and did not work – and whether it [the system] worked for the people. These things were overlooked and it was where the donors could have played a stronger, more assertive role.
Some donors tried to 'projectise' institution-building based on their own internal organisational arrangements and priorities. For example, there was a time when the ministry of finance had four different projects financed by the World Bank/ARTF – one department at the World Bank managed the treasury and audit [project], another department the customs [project], a third department oversaw civil service reforms and administration and a fourth worked with the budget department. Each department had its own PIU (project implementation unit) working with the relevant department. This [approach] caused a lot of fragmentation and did not help us create state institutions that functioned as a whole. With so many different donor projects, government institutions, such as the Ministry of Finance, had become a collection of fiefdoms. But this was the case in nearly all key ministries. For example, in 2018, the Ministry of Agriculture had around 48 PIUs. The Directors-General saw the World Bank's TTL (Task Team Leader) or the UNOPS Project Director, not the minister, as their immediate supervisor.
In 2016, we eventually managed to convince the World Bank and the ARTF donors to support a holistic government approach covering all of the finance ministry and even the Supreme Audit Office and the National Procurement Authority. But it quickly became evident that the World Bank's different departments were not very good at getting along with each other – every TTL wanted [his or her] own separate project.
Key appointments were also a place where a more assertive role [for the donors] was warranted. Unfortunately, all these 20 years, some people, some ministers, with bad reputations were tolerated by the donors, especially since their salaries were coming directly or indirectly from donor funds. I know that it's really difficult for some donors and they [don't want to] overstep into political issues. Still, their embassies who deal primarily with politics could have [taken it on] and given feedback to the government that this person is not acceptable or that person has an issue in his background. These were the things that the donors unfortunately tolerated in Afghanistan.
AAN
What about all the incentives from the donors, the mutual accountability frameworks and the conditionalities? Were they effective or helpful in addressing these issues?
Khalid Payenda
Some programmes were very effective, for example, the World Bank's ARTF Incentive Programme. It was isolated from wider politics, focused on key reforms and conditioned financing to [achievements]. Doing it for not one year only, but over three years, allowed us to take a systematic, chained and sequenced approach to reforms. If you wanted [to implement] a big reform that needed three steps, it was possible to use an ARTF incentive programme because you could deliver the first condition in year one and then build on it in the second and third years. The IMF was also very important. They supported a limited area – macroeconomics, monetary and fiscal stability and some  specific anti-corruption measures, such as asset declarations of senior government officials. The EU's [European Union] State and Resilience Building Contract is another good example.
But when it comes to the big conferences and aid based on mutual accountability [frameworks], that's when things started to get murky because some of these benchmarks and indicators were too vague and became a bit meaningless. They were political. When we look at the very last one in Geneva, [15] you read the [commitments] and it's difficult to understand how you would measure them and if you can't measure [something], then it's vague and not useful. So, the accountability [framework] and conditioned financing was a mixed bag. In some places, specific ones worked brilliantly, but it became a bit difficult when politics got involved.
AAN
If you had to do it all over again, what would you recommend to the donors? How could they be more effective in their support to system building, fighting corruption and getting state institutions on track?
Khalid Payenda
Honestly, I don't know how to give an answer that takes the entire picture into account. Anyone who says that they have an across-the-board answer to this [question] is deluded. One thing that is not primarily an aid or development issue but a prerequisite to getting it right was the political structure after [the 2001] Bonn [conference]. [16] Leaving out the Taleban and giving it all to the Northern Alliance was a big, missed opportunity. That could have been the basis for a more inclusive [government]. The cost of development with an ongoing conflict became incredibly high. Another critical area was decentralisation of authority. The presidential system in Afghanistan gave so much power to the centre and the presidency. On fiscal matters, the provinces had little or no say in the revenues collected or allocation of budgetary expenditures. Everything was controlled from the centre. Governors were appointed from the centre. But when you come to these specific issues, I don't think anyone [in the international community] thought they would be engaged in Afghanistan for 20 years. So, the programming was usually very short-term. For most donors, programming was seen from within their assignments – a USAID chief wanted to see results by next July when he was leaving. In retrospect, you can see that [while] we had 20 years, we did not have the longer horizon thinking and perspective that I think was needed [because] when you have that perspective, you invest more in state institutions and try to fix systems rather than create parallel structures that become problematic in the long-term because they siphon capacity away from existing institutions.
In the first few years, a lot of money flew into Afghanistan and the problem was how to spend it – the burn rate was an issue. Maybe keeping it in a trust fund such as the ARTF or another pooled fund [for the long-term], rather than trying to burn as much as you can in the short-term, would have been a better idea. Too many priorities were pursued in an incoherent manner with every donor doing it themselves. Some of these are lessons that you [can] pick up from any international aid development [text] book. Unfortunately, [these lessons] – building systems of accountability, investing in the government, holding the government to account – were not applied, or applied too late, in Afghanistan. Just to summarise, a long-term perspective was needed.
AAN
Do you know how much of the aid was off-budget? What percentage?
Khalid Payenda
We don't know the exact amount because the off-budget was never fully reported, but it was always more than the on-budget [support], which never went above 50 per cent [of the total amount]. Some years, the [combined] ODA [official development assistance] and defence expenditures were 100 times more than the national budget, for example, during the surge in 2009 and 2010, the US spent 108 billion [dollars] on security in Afghanistan but [contributed] less than 3 million to the [national] budget. In recent years, it's been maybe 40:60, with 60 per cent off-budget.
AAN
I think the question on everybody's mind is the future of aid to Afghanistan. Since the government fell and the Taleban took over, Afghanistan assets have been frozen and the donors have suspended aid. They're re-thinking the scope of their assistance to Afghanistan. 1.2 billion in humanitarian aid has been pledged, but development funding hangs in the balance. How do you think the donors should proceed with their future support to Afghanistan?
Khalid Payenda
We are facing an unfolding catastrophe in Afghanistan. So many people have been plunged into poverty. Let's not forget the harsh impact of Covid-19, particularly in the third wave, the drought and [conflict] displacement all hitting the country at the same time and finally, the total collapse of the state. It's a really bad situation. Some of our achievements and the gains, the ones we've been saying should be preserved and built on – the human development indices for education and health – were entirely dependent on donors. The basic package of health services that [provides medical] care to all Afghans in all 34 provinces and the education services to get nine to ten million Afghan kids into schools were all financed by donors. I believe those need to be continued. Any disruption will harm ordinary Afghans. They [the donors] do not have to go through the Taleban government. The community development, health services and education could still be done through non-governmental organisations. The government only supervised and made payments [using] ARTF funds. This could still be done by the World Bank directly or maybe by a UN agency. I think it's very important to keep these.
But on the reserves and monetary issues, I have a slightly different view than many experts, who think funds and assets should be unfrozen. I don't support an immediate unfreezing of all assets because I don't see a clear and direct link to the people and their wellbeing. Then there is the morality of giving our country's assets to an organisation [many of whose] members are designated as terrorists and are on watchlists.
Given that the donors and West seem to have abandoned Afghanistan, our reserves and financial assistance are the only leverage we have [in the absence of] soldiers and a military. These [funds] should be released against some measurable benchmarks that relate to [improvements for] the Afghan population and, in particular, women's rights. For example, why are girls not allowed to go to school? We could unfreeze a portion of the aid and reserves based on the Taleban's willingness to restore those rights. The inclusivity of the government, which was apparently agreed between the US and the Taleban, is another issue. You could use [the funds] for that as well.
These key services, like getting food and medicine to people, are critical, and you don't need to go through the government or the Taleban. What you need is an assurance that they will not hinder your operations as service providers. If they give you these assurances, then we should get food, healthcare and [other] key services to the population. That is what the international community should do, but I'm a bit sceptical about what percentage of the 1.2 billion will eventually benefit the recipients – because the overhead costs of these operations are sometimes unreasonably [high]. So much goes on procuring Land Cruisers, big salaries and flights first and only what's left goes to the people. It is crucial to have a mechanism to ensure transparency.
Also, I need to look into the details of the pledges – for how long and for what purpose. But when a national budget of three to four billion and another four to five billion in off-budget security and development spending have totally collapsed, then 1.2 billion is sufficient only for a few months. But it's a start before more could come. Afghanistan still has, I believe, the commitments from Geneva that could continue. It's only the matter of changing the modality of [the aid].
AAN
In your opinion, what's the future outlook for the economy in Afghanistan in the short and medium-term?
Khalid Payenda
I think it's going to get worse because everything is slowing down. I haven't run any forecasts, but it would not be an exaggeration to say there will be a 30 to 40 per cent contraction in the economy this year. Next year could be worse. A thriving economy cannot run on subsistence imports and donations from neighbouring countries. There has to be more than that. Purchasing power is an issue, people don't have money and they are going to suffer. Unfortunately, we've seen this movie before in the late 1990s. If you visited Kabul, then, as I did during the Taleban regime, you would have seen extreme poverty and destitute. We could expect the same but hope that the humanitarian assistance continues and that the international community uses its leverage to make sure that some sort of a coalition government that is acceptable to Afghans and the world is built. Otherwise, the current trajectory does not provide for an optimistic forecast for the future.
AAN
Do you have any regrets?
Khalid Payenda
Yes, taking the job. But I also think had I not taken the job [of finance minister] I would have had regrets later at an old age and it would have been too late by then. At the end of my life, I would have thought that I could have done something for my country and I didn't. At least I won't have that regret. I tried to do as much as I could in the six or seven months [I was minister]. But when you look at it now, I failed. We started a lot of fundamental reforms that needed time and the results were not yet visible. The customs and also budget reforms were crucial and fundamental. We had a digitalisation project to integrate our fragmented systems. We had a new revenue system to replace SIGTAS [Standard Integrated Government Tax Administration System] and a new AFMIS [Afghanistan Financial Management Information System] ready to go, fully developed by Afghans. My team worked with NSIA [National Statistic and Information Authority] for hours, my team and I did a lot of technical work that had not been done before by my predecessors. We were going to fundamentally overhaul the budget process to address serious rent-seeking opportunities and ensure that the budget worked for the people and not the elite. The new budget process for 2022 was going to introduce unprecedented transparency and accountability. We had recently abolished repetitive processes that caused confusion and provided opportunities for corrupt practices such as the allotment process. [17] We abolished the allotment process and reduced the payment process from 18 steps and many weeks and months to a few days and just four steps.
The Ministry of Finance was starting to set an example for public access and accountability by an open door [policy] and walk-in public meetings for the minister and the leadership group to hear people's complaints and address them on the spot. I had dedicated Tuesday evenings to do live Facebook sessions and answer questions from citizens. But we have nothing to show for it. It was all undone in a matter of days and weeks. It does not mean there weren't issues at the ministry; the corruption in revenue collection, the quality and speed of service delivery and the corporate backbone all needed a lot of improvement.
When I see the bigger tragedy, I think the importance of my work and my team's work pales in comparison – people are losing their lives, people are losing their rights. Millions went from a respectable living standard to into abject poverty overnight.
My heart is shattered for the youth of Afghanistan. These bright young women, who had ambitions and were going to make a difference for the whole country, are now confined to their own houses. In one week, they suddenly went from young hopeful Afghan females to nobodies who cannot go outside without a chaperone. It's devastating. By choosing to flee, the president might well have secured a particular hatred in history for himself, but we all bear responsibility. Everyone who had a hand in the affairs of the past 20 years bears a responsibility. It's true, the end was shockingly fast and unpredicted, but it was in the making for 20 years. Every donor agency, every political office, every minister and governor had a role to play. I see myself as part of the problem, part of a corrupt bureaucracy that had 20 years and all the world's attention to secure a better future for Afghanistan but instead betrayed its people.
References

↑

1
See former governor of Central Bank Ajmal Ahmady's 18 August 2021 Twitter thread that provides a breakdown of national reserves managed by DAB (Da Afghanistan Bank).

↑

2
On-budget funds are included in the national budget and processed through the state's planning, expenditure and accountability mechanisms. Off-budget funds bypass the national budget altogether. This type of aid does not allow for any government control and often weakens the state's ability for 'whole of government' planning and action.

↑

3
The Transparency International topic guide defines PFM as:

Public financial management (PFM) is a central element of a functioning administration, underlying all government activities. It encompasses the mechanisms through which public resources are collected, allocated, spent and accounted for. As such, PFM processes comprise the whole budget cycle, public procurement, audit practices and revenue collection. Sound, transparent and accountable public financial management is a key pillar of governance reform and of vital importance to provide public services of good quality to citizens, as well as to create and maintain fair and sustainable economic and social conditions in a country.

↑

4
See Ghani, Ashraf, and Clare Lockhart. Fixing Failed States. Oxford: Oxford University Press, 2009.

↑

5
See Andrew Laing's Development Practice Note "Follow-the-Money Corruption Cycle: Revealing National Accountability Failures," Institute for Effectiveness here.

↑

6
The National Technical Assistance (NTA) programme was established alongside the Capacity Building for Results (CBR) facility and both were funded by the World Bank managed Afghanistan Reconstruction Trust Fund (ARTF). The programme was designed to build technical capacity in Afghanistan's civil service by hiring skilled technical staff contracted outside the formal civil service structure to work at state institutions. Individuals engaged under the NTA scheme were paid donor-funded 'super-sized' salaries, which according to the government and donors, were market-competitive and designed to attract highly skilled workers to the public sector (see the original 2012 plan here and the harmonised plan here). In 2018, there were some 20,000 staff working for the government, prompting the World Bank to raise the alarm on potential issues in financing the wage bill of this "Parallel Civil Service". The NTA programme was a perennial source of controversy, especially during the standoff for the 1400 (2021) national budget, with MPs citing it as a barrier to creating parity in the salaries of civil servants. For its part, the government, while acknowledging the need to reform NTA hiring practices, argued that NTA staff provided critical technical know-how to the government (see, for example, this Tolo News programme).

↑

7
Khatib & Alami is a Lebanese "multidisciplinary design consultancy which operates primarily across the Middle East & Africa, Levant, Central and South-East Asia, and Europe" (see here). Its founding members Dr Zuheeri Alami and Professor Mounir Khatib, were both faculty members at AUB. In 2017, the Kabul-based news website Pajhwok reported that seven high-ticket infrastructure projects were awarded to Khatib & Alami without being put to tender. Allegations that then president Ghani's brother in law, Raid Saada, had a beneficial relationship with Khatib and Alami were strongly refuted by the technical deputy minister of public works, Ahmad Wali Sherzai. According to Tolo News, Sherzai and Riad Ghani met when they were both students at AUB and have remained friends since (see here) (See also this Tolo News programme.

↑

8
In an 18 August 2021 press conference, Afghanistan's ambassador to Tajikistan, Mohammad Zahir Agbar, claimed that Ghani had fled the country with 169 million dollars. The former president of Afghanistan has denied the allegations (see here and here).

↑

9
On 13 September 2021, pro-Taleban social media accounts started reported that 6.5 million USD in cash had been found in Amrullah Saleh's home, including video footage of men counting two suitcases filled with US dollars and gold bars and money scattered on the floor. The footage, which could not be independently verified, went viral on social media and was reported in the Afghan and international media (see, for example, here, here, and here). A Central Bank source confirmed that the "mentioned cash and gold have been turned over to Da Afghanistan Bank," according to a report by Pajhwok news.

↑

10
The Operation and Support Office of the President for National Development (commonly referred to as the presidential operations unit, see the archived website here), and its subsidiary the National Development Corporation (NDC), were managed by president Ghani and involved in major development projects, from building dams to rebuilding monuments. The creation of the NDC in January 2020, when the then president merged eight state entities into a single one, drew strong condemnations from the parliament and the construction sector, including the Afghanistan Builders Association (ABA), who accused the government of impeding their ability to successfully bid for infrastructure projects in a process that they say is already rigged "against them". (see ToloNews here). The controversial allocation of 9.7 billion Afs (about 1.2 million USD) to the Presidential Operations Unit and the National Development Corporation was one of the issues raised by lawmakers when they rejected the 1400 (2021) national budget. MPs claimed these units compete with the government proper and the private sector, taking away precious government jobs and weakening the private sector. They also said that because these entities were not budgetary units (a ministry or other state entity that, by law, can have allocations in the national budget), they were not obliged to account to parliament for their spending. The speaker also accused the Palace of undermining government institutions by transferring "All projects from sectoral ministries to the [presidential] operations unit." (see video here and ToloNews' Mehwar here).

↑

11
On 18 August 2021, Afghanistan International television released what it said was the manifest for the flight that took president Ghani and 51 others from Afghanistan to Tajikistan (see Sobbh-e Kabul news website's report here and a copy of the purported manifest here.

↑

12
On 13 September 2021, Pamir News tweeted video footage of what it said was a cache of alcohol discovered by Taleban fighters in the home of former foreign minister and Jamiat-e Islami leader Salahuddin Rabbani. This claim was later refuted AFP Fact Check, which reported that the location was the Czech embassy in Kabul.

↑

13
See the USAID website here and this Christian Science Monitor report.

↑

14
See this 2018 SIGAR assessment of the USAID PROMOTE program, the New York Times report about the assessment and SIGAR's February 2021 report "Support for Gender Equality: Lessons from the US Experience in Afghanistan." For more information on the Women's Economic Empowerment national priority programme, see this World Bank report.

↑

15
See the Afghanistan Partnership Framework adopted at the 2020 Geneva Afghanistan Conference in Geneva 23-24 November 2020 here.

↑

16
See the Agreement on Provisional Arrangements in Afghanistan Pending the Re-establishment of Permanent Government Institutions (Bonn Agreement) here.

↑

17
The allotment process was a second budgetary allocation system used for cash management purposes after the national budget had been approved by parliament to give funds to line ministries. Under this process, a ministry's annual allocation was not released in one go but in tranches whereby the state entity would make multiple requests throughout the financial year for funds. This process gave grafters multiple opportunities to seek bribes and led to financial losses for the government.
REVISIONS:
This article was last updated on 13 Oct 2021