J.P. LAWRENCE
STARS AND STRIPES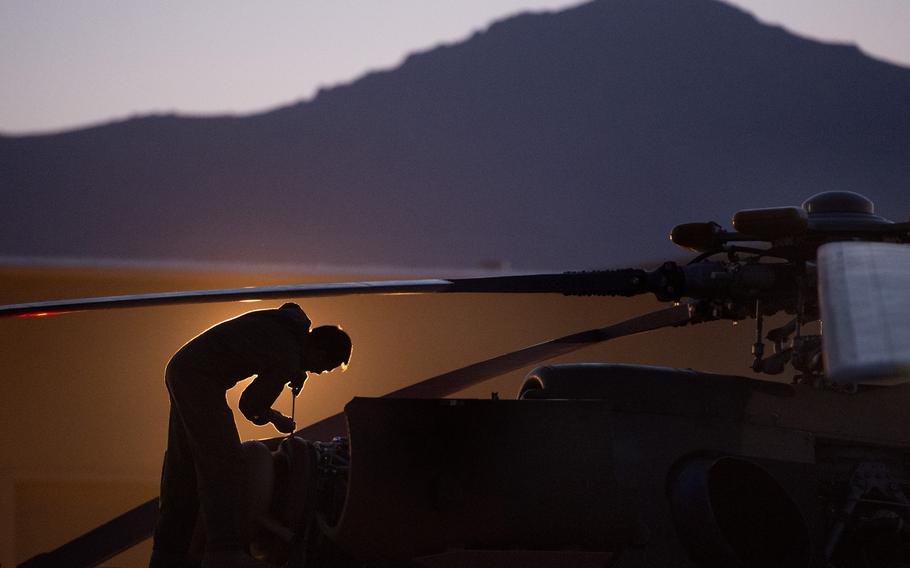 KABUL, Afghanistan — Afghans who maintain the country's military aircraft have been learning to fix damaged aircraft over the past two months via videoconferences with U.S.-funded contractors just a few rooms away.
It's practice for the day when the American contractors will leave the country, said Col. Abdul Fatah Ishaqzai, head of maintenance for the Afghan air force. The future of the country's air force, one of Kabul's chief advantages over the Taliban, may depend on calls via Zoom.
The arrangement is worse than face-to-face assistance, due to spotty internet and other communication issues, Ishaqzai said.
"We have had some problems," he said. "But we have to solve this."
When exactly the contractors will depart remains uncertain. While U.S. forces are likely to be mostly withdrawn from the country well before the White House's Sept. 11 deadline, an Afghan delegation that visited the U.S. last week was reportedly told that hundreds of contractors supporting the Afghan air force would remain in the country at least until September.
Without contractor support, "no airframe can be sustained as combat effective for more than a few months," the Lead Inspector General for Operation Freedom's Sentinel said in a February report to Congress.
The Afghan air force has lost almost a quarter of the operational aircraft in its inventory over the past year, February's report said. Three or four aircraft have been shot down in the four months since that report, Ishaqzai told reporters at Kabul's airport Tuesday.
The aircraft are seen as essential for holding back the Taliban, which have overrun numerous districts in recent weeks. A fleet of over 160 helicopters and fixed-wing aircraft provide air support, logistics and medical evacuation.
Asadullah Wafa, a member of the country's special security forces who has been fighting near Kabul, recalled missions in which air power helped them prevail in pro-Taliban villages and where local insurgents knew the terrain better than government forces did.
"If we have proper air support, we can be successful," Wafa said Tuesday.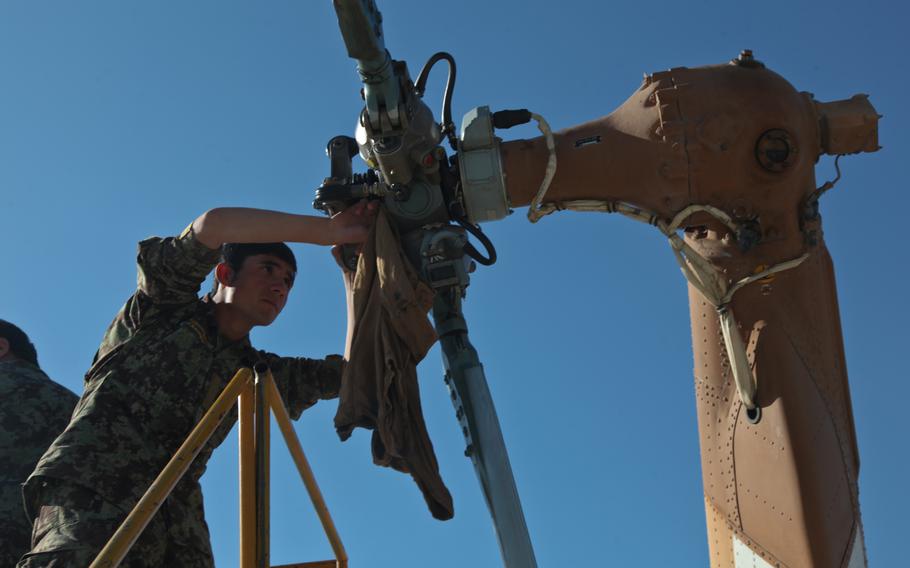 In recent weeks, when aircraft return from mission damaged, Afghan maintainers have been sending details about their issues to contractors and receiving technical assistance over video calls, Ishaqzai said.
During a visit by Afghan President Ashraf Ghani to meet with President Joe Biden in Washington last week, the U.S. reassured Afghanistan that it will continue to financially support government security forces after the withdrawal, said Ajmal Omar Shinwari, spokesman for the country's defense forces.
The U.S. will provide 45 UH-60 Black Hawk helicopters and seven A-29 attack aircraft soon, Shinwari said Tuesday. He also believes contractors will continue to operate out of Kabul in some way even after the deadline, he said.
Earlier this week, citing unnamed sources, the country's Tolo News reported that the U.S. had pledged it would keep 200 contractors in the country at least until sometime near the withdrawal deadline.
A spokesman for the U.S.-led coalition was not immediately available to comment on the report Tuesday.
The Pentagon said in an April report to Congress that Afghanistan's conventional air force and the Special Mission Wing that supports its commandos are unlikely to be weaned off contractor support anytime soon. The A-29 and MD-530 attack aircraft rely on contractors to maintain their combat capabilities, it said.
While an aircraft maintenance development center in the country "is training sufficient numbers of maintainers to create a more organic maintenance cadre," the report said, the air force and SMW "will realistically not be able to fully manage their fleets organically, just as the U.S. military relies on (contractor logistics support) to sustain its aviation fleet."
Zubair Babakarkhail contributed to this report.