Afghanistan Analysts Campaign
The United States envoy for Afghanistan Zalmay Khalilzad has floated the possibility of a 'new Bonn' conference that could cancel or sideline the intra-Afghan peace talks in Doha. 'Bonn 2' appears to have been discussed in some allied capitals and various Afghan leaders, although it is unclear how much buy-in the proposal has from them. President Ashraf Ghani has already again rejected any plan for an unelected government. The proposal appears aimed at ensuring a US troop withdrawal that would not look like Washington is cutting and running. Yet any new power-sharing agreement reached as a 'quick fix' to the conflict would be inherently risky, including of it breaking down and conflict renewing, with the loss of whatever stability and systems Afghanistan now enjoys. AAN's Thomas Ruttig, who was at the first Bonn conference as part of the UN team, argues that the situation in Afghanistan in 2021 is anyway so very different from those in 2001 that calling for a Bonn 2 conference to resolve the conflict is disingenuous. Here, he summarises what has been reported so far on the proposal and discusses conceptual and practical problems of the proposed route.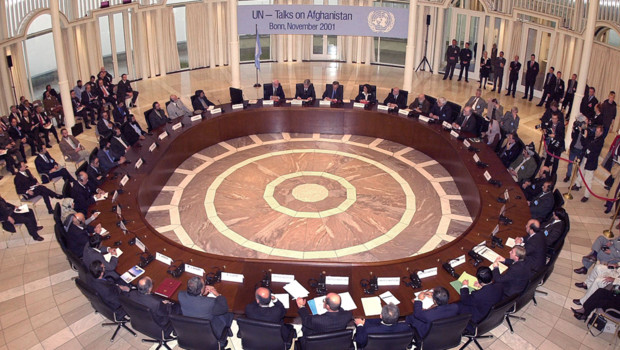 A good model for an Afghan peace deal: plenary session of the 2001 international Afghanistan conference in Bonn? Photo: AAN archive.
What has so far transpired about a new 'Bonn-style conference'
Over the past few days, Afghan and international news outlets have reported that US special envoy to Afghanistan Zalmay Khalilzad held discussions in Kabul during his 1-4 March visit on "ways to accelerate the peace process" (see for example here). Tolonews described a new "participatory government plan" that Khalilzad reportedly pitched to Afghan leaders:
According to the sources, the US envoy told the Afghan politicians that the peace talks in Doha will be sidelined and that a Bonn Conference-style meeting will be held at the international level to discuss the prospect of a participatory government that would include the Taliban. "A grand international conference that will be similar to the Bonn Conference will be held, in which the Taliban and the republic side will participate at the leadership level. At the same time, the international community, including the United States and the regional countries, will reach a political agreement that will take its legitimacy from the international community. However, the national legitimacy (agreement of the potential conference) would take its authority from the traditional Loya Jirga," said Shahzada Massoud, a close aide to former president Hamid Karzai.
Kabul daily Etilaat-e Ruz published the most detailed report on the proposal, quoting "sources familiar with the Afghan peace process" who said Khalilzad had carried a special letter from the US Secretary of State Antony Blinken to President Ashraf Ghani and Dr Abdullah Abdullah, Chairman of the High Council for National Reconciliation (HCNR), calling on them "to speed up the peace process and build an internal consensus to negotiate with the Taleban on a new level," and to prepare for a "Bonn model" conference with the Taleban, hosted by Turkey in Ankara "as soon as possible." (A deputy chairman of the HCNR told AAN in the meantime that the newspaper had misreported on certain points: first, that Ghani and Abdullah had received a letter with the attached proposal before Khalilzad's visit to Kabul; second, that the leaders mentioned in the report were parts of the meeting of the High State Council, not that they are ready to attend a Bonn 2 conference – amended on 7 March 2021.]
Although not explicitly mentioned, the new plan seems inspired by the desire to meet the short, albeit formally conditional, timeline that was established by the year-old US-Taleban agreement for the withdrawal of US and other troops by 1 May 2021. Khalilzad's hope, apparently, is that a Bonn-style conference could result in a quick power-sharing agreement (or, similarly to the approach to that before the February 2020 Doha deal with a Taleban, with a 'framework' agreement as a first step). His proposal would appear to mean the end or sidelining of the intra-Afghan talks in Doha where the Taleban and Islamic Republic of Afghanistan (IRoA) have yet to agree on an agenda, so the talks hardly got off to a flying start. Still, it would be remarkable if Khalilzad was giving up on the talks which he negotiated already, after less than five months.
His proposal might be primarily aimed at providing cover for the US troop withdrawal by 1 May, or alternatively include conditions for a delayed final withdrawal. Such an agreement would also allow the new US government to sidestep the thorny issue of whether the Taleban have fulfilled their commitments to the bilateral February 2020 Doha deal, with regard to cutting ties with al-Qaeda. There is, understandably, little appetite to still have troops deployed against the Taleban's will (see also AAN analysis of the Doha deal here).
According to Etilaat-e Roz, at least ten political leaders have "agreed" to the plan. There has, so far, been no word from most of these leaders of what they think of the Bonn 2 proposal, and it is highly unlikely that this is correct with many of them.  [1]
The newspaper wrote that Khalilzad's proposal includes a handover of power from the current government to a transitional one, after "agreement on basic issues" in Ankara and in the presence of US and NATO military forces "in order to maintain political stability." The transitional government, the article said, could include leaders from the Islamic Republic of Afghanistan (IRoA) – which encompasses the current government and the domestic political opposition – and the Taleban. It is not clear how the transitional administration would become a permanent government. According one source quoted in the Tolo report quoted above, a "traditional loya jirga" would have to confirm the deal but as we have reported before such bodies are no panacea to conflict, or necessarily represent consensus, not even involve honest of open debate. [2] Moreover, there is no detail on what would happen after that.
In the meantime, the High State Council (Shura-ye 'Ali-ye Dawlat) met for the first time on 27 February. Its establishment was part of the May 2020 Political Agreement between President Ghani and his former coalition partner-turned-for-the-second-time-election rival, Dr Abdullaha and was meant to be comprised of "political leaders and national figures" who would "build political consensus" and advise the president on "crucial national issues." The council's exact size and composition has never been publicised and up till now, it had remained dormant (read AAN analysis here). Khalilzad met many of its members while he was in Kabul, either in person or online (in Hekmatyar's case, for example), and also talked with, as described by US Embassy tweets, "peace activists" and "women leaders."
Before Khalilzad arrived in Kabul, he had a stopover in Berlin. Germany, with host Qatar and Norway, is one of the co-organisers of the Doha talks, so it is likely Khalilzad discussed this plan before heading to Afghanistan. His next stop after leaving Kabul was Doha, where on 4 March he met the IRoA delegation to the intra-Afghan talks and will also fill in the Taleban on his new idea. The US State Department also announced that Khalilzad would be visiting "additional regional capitals."
Prologue to the 'Bonn 2' plan: the 'interim government' proposal in January 2021
Khalilzad has repeatedly proposed an interim or transitional government since beginning his role as US envoy. As we reported ahead of the presidential elections, it helped undermine that poll, as Afghanistan's political class were not sure whether they would go ahead or not. Most recently, the proposal has again had an airing, in January 2021 (see in this AAN analysis). An 8-page draft paper entitled "Agreement on a Political Settlement in Afghanistan between the two parties at intra-Afghan peace negotiations" dated 9 January 2021, was first described by Frud Bezhan of the Gandhara blog. He said it had been "floated privately by U.S. officials and (…) supported by the Taliban, Pakistan (…) and some Afghan opposition figures." Later, a full copy was leaked to Afghan social media. It was reportedly discussed during Khalilzad's previous trip through the region in January 2021, when he met the Afghan delegations in Doha, Pakistani military leaders and visited Kabul, but was reportedly not received by Ghani, due to "scheduling issues and health concerns."
The paper laid out options for an interim power-sharing government "between the two Parties to the intra-Afghan talks" and that would "exist until it transfers power to a permanent Islamic Government following the adoption of a new or amended Constitution and national election.". The new government is alternately referred to as an "Islamic Power-Sharing Government" or "Islamic Peace Government." The term 'Islamic' could refer both to Afghanistan's current official name, as well as to the phrasing in the US-Taleban Doha deal that envisaged a "new post-settlement Afghan Islamic government" as the outcome of the peace process.
The draft paper lays out two options on the composition of an "executive administration" with a president and, in one option, a prime minister, an unspecified number of deputies for both, and a list of 24 ministries and six ministry-level bodies. On the parliament, it has three option: to add Taleban representatives to the existing a bicameral parliament or to "suspend" or "disband" it for the tenure of this interim government. It further suggest to establish:
a 15-member "High Council of Islamic Jurisprudence (Islamic Council)" to "provide Islamic guidance on social, cultural, and other contemporary issues"
a "Political Leadership Council" consisting of "the President, [the Speakers of Parliament], the Chief Justice and the Head of the Islamic Council, along with [10] other influential figures" (square brackets in the original). This resembles the just convened High State Council. It would "meet on matters of national importance to province guidance and advice" to the new government, a function that constitutionally so far been given to a loya jirga.
a Joint Military & Police Board
a commission for amending the constitution
a commission to monitor a ceasefire (including three UN-nominated international observers) and
a "National Healing Commission."
This is elaborate, and even more detailed then the 2001 Bonn agreement. The additional councils seem particularly designed to accommodate the Taleban but also other conservative religious forces linked with IRoA. It would give leaders of armed factions on both sides of the current war's frontline a dominant role in the future Afghan system. The new councils could create a strong counterweight to the elected bodies, somewhat resembling the Islamic Republic of Iran's system of elected bodies overseen by unelected councils of Islamic scholars.
According to two Tolo reports published on 12 January and 7 February, the paper was also seen by, at least, former minister Ismail Khan and former vice president Ahmad Zia Massud, both senior members of Jamiat-e Islami party, and an aide to former mujahedin leader Abdul Rab Rassul Sayaf. Gul Rahman Qazi, a judge and advisor to Karzai, who reportedly met Khalilzad, told Tolo that three options were discussed:
The first [option] is to include the Taliban in the present government, the second option is to merge this government with the Taliban (…). The third option was to establish an interim and inclusive government.
Ghani rejected the power-sharing plans. In a CNN interview on 9 January 2021, he said that his "main goal" was to "hand over to an elected successor." Ross Wilson, acting US ambassador in Kabul, stated on 13 January that "We have not advocated, and the US is not advocating, an interim government."
It is possible that this document has been altered or even entirely dropped in the meantime and is not part of the proposal now being pushed by Khalilzad. A 5 March 2021 White House statement (quoted here) said that "The United States is not making any formal proposals and is continuing to review all relevant options for future force posture—and all means all.'' However, it is not conceivable that Khalizad would go into talks about the new plan without clear-cut ideas, particularly given that the pressure from the 2020 February Doha deal troop withdrawal plan is still there.
However, sources close to Abdullah and Karzai told Tolonews after Khalilzad's recent visit to Kabul that the US envoy had handed them a draft on a "participatory government" and asked for comments. This new term was no explained but it can be assumed that ir refers to the two Afghan parties in Doha.
Reactions to the new plan
A first indirect reaction from the Afghan government to the Bonn 2 proposal came late on 3 March, from National Security Adviser Hamdullah Moheb, who said the government was "holding discussions about a wide range of alternatives" with various factions to achieve peace in the country. He said any option needed "guarantees" from the international community and the Taleban. On 6 March, however, when opening the spring session of the Afghan parliament, Ghani indirectly rejected parts of the new US plan in a speech, particularly ideas of a non-elected government. He reiterated that the transfer of power through elections was "a non-negotiable principle for us" and, as the dpa news agency paraphrased, that the constitution would determine the country's future, rather than other people's plans. He also said, however, that he was "ready to discuss the holding of a free, transparent, and countrywide election under the management of the international community" and that "[w]e can also talk about a date and reach a conclusion." (quoted here). Ghani did not refer to the idea of holding of a new international conference.
Some factional leaders currently in opposition to the government and feeling underrepresented in the administration have reacted positively to the plan. Former vice president and senior Jamiat figure Qanuni reportedly said in a speech on 4 March that "the reconciliation process will have some changes in terms of its … format and shape." He also insisted that peace "without [the] government" was "not possible" and that "reconciliation" would not make sense without [the Taleban."]
There has been no official Taleban reaction beyond a bland tweet by their spokesman Muhammad Na'im after their representatives met Khalilzad in Doha on 6 March (quoted here) that "[b]oth sides expressed their commitment to the Doha agreement and discussed its full implementation. Likewise, the current situation of Afghanistan and the rapidity and effectiveness of the Intra-Afghan negotiations were discussed." While a 'full' implementation of the Doha deal would include the intra-Afghan talks in Doha, the fact that the 'effectiveness' of these talks was discussed may be an indication that Khalilzad had tabled his new plan.
The impossibility of a Bonn 2: Why 2021 is not 2001
It is interesting that Khalilzad chose to frame his plan as a 'Bonn-style' agreement, deliberately suggesting that it is possible to turn back history, press the restart button, deal the cards again – largely with the same factions, in some cases even the same individuals, but this time, with the Taleban at the table too. Many authors and commentators, in hindsight, have described the fact that the Taleban were not included in Bonn 1 as one of its main mistakes. [3]
Yet 2021 is not 2001, and conditions are so completely different now that Bonn 1 cannot be replicated by simply adding the Taleban to a power-sharing formula. It is unrealistic to expect that, as in 2001, a few days of intensive and facilitated conferencing can result in a new roadmap and a new transitional government and the thing that most Afghans want and the Afghan government demands, an immediate and permanent ceasefire.
In 2001, Afghanistan was not in the middle of a civil war. The Taleban had just been defeated. They were leaderless and ready to capitulate on the condition that they would be allowed to live in peace. Those who had not been killed or fled abroad were, as the Afghans call it, khana-neshin, sitting at home and waiting to see what would happen – to themselves and in general with the country. This could have been a reason to include them and give them a role in the process, either individually or as one (not very strong) group among others, but there was such certainty that the Taleban were defeated for good and the Bonn process would work, as well as a strong US refusal to deal with 'terrorists' and their supporters, that this was not even contemplated.
Also, and importantly, Bonn 1 was not a peace conference. As former Personal Representative of the UN Secretary-General and European Union Special Representative to Afghanistan, Francesc Vendrell, recently wrote: "Its participants were not in armed conflict with each other. Bonn was an urgent political meeting designed to establish a road map to bring about some kind of normalisation to Afghanistan." The four groups that were invited had not been fighting each other. [4]
The Bonn Agreement was essentially a power-sharing deal that brought a number of non-'Northern Alliance' representatives into a Northern Alliance-dominated administration. Dominant within the alliance was Jamiat-e Islami, which had captured Kabul in November 2001, [7] and was still officially representing what was called "the Islamic State of Afghanistan" at the United Nations. Interim head of state Hamed Karzai was initially seen as its fig leaf in the interim administration, for instance by the Rome group that had coalesced to support the former king, Muhammad Zaher. The group had initially fielded another candidate even though Karzai, and his murdered father before him, had been active in their group.
Moreover, on the power-sharing issue, there would appear to be an inherent ethnic problem for a Bonn 2 deal if appointments were shared 50:50 between the multi-ethnic IRoA and the Pashtun-dominated Taleban, given that ethnic power arithmetics are so central to political thinking in Afghanistan. [5]
It is critical to recognise that, after the Bonn conference, the potential for armed conflict again breaking out was relatively small, unlike today. In 2001, Afghanistan remained largely peaceful for several years, albeit violence never entirely stopped, either clashes between factions in the government or small-scale attacks by nascent insurgents. This was not only because the Taleban were in disarray and their backer Pakistan was under immense US pressure to cooperate with the new arrangement, but also because the warlords, who may have wanted to assert their power, feared the US B-52s. Like many Afghans, they actually believed Western announcements that democracy would be established.
In 2021, by contrast, the two parties to be invited to the envisioned peace conference, the IRoA and the Taleban, are in the middle of a bloody war. Each side has its strengths and weaknesses. The Afghan government is internationally recognised and funded and its troops are in control of most population centres (although surrounded in many). Yet, its unity is fragile and the loyalties of some of those in its forces, particularly in the police, are still more to the factions that fought the Soviets and later the Taleban, than the government. The Taleban, on the other hand, backed by Pakistan and with fall-back positions there, are militarily strong and have been bolstered by the diplomatic recognition given to them by Khalilzad and the Doha process and by official, government-like receptions in Islamabad, Tehran, Moscow and Ashqabad. Yet neither side appears to recognise itself as incapable of winning – or surviving – continuing conflict. That recognition of mutually-hurting stalemate is what many think is necessary for real negotiations to take place to end a war. This would appear to be why the intra-Afghan talks have been entered to with such little enthusiasm and it is hardly likely that a Bonn 2 would fare any better. The potential for renewed conflict on the back of what would be a hastily cobbled together power-sharing administration breaking down would be high, indeed likely.
Furthermore, there was considerable regional consensus in 2001 that the Bonn agreement could lead to peace in Afghanistan and stabilise the region. Iran, Russia, Pakistan and others constructively supported the process. Iran shared intelligence with the CIA over Taleban targets to bomb. Pakistan was cowed by the sudden catastrophic downfall of its clients in Kabul. [6] Today, with sharp competition over global hegemony, there is a considerable chance that Beijing and/or Moscow might wish to undercut anything that could look like an American foreign policy success. Also regionally, with the unresolved nuclear issues in Iran and the ever-lasting India-Pakistan conflict, there is not much of a "neighbourly concert" to support a peaceful solution in Afghanistan these days – to borrow a phrase from Kristian Berg Harpviken's analysis, one of the most sober analysts of that region.
Every single one of these factors makes it impossible to replicate Bonn 1 in 2021. Even more than that though, it should be emphasised that even though conditions for an enduring peace were far better in 2001 than they are now, the Bonn process did not result in an end to the war, working state institutions and sustainable reconstruction. The legitimacy of government institutions was undercut by factional capture, both at the central and sub-national levels unopposed by the US, by only partially implemented disarmament of the factions who used the remaining weapons to influence elections and by the fact that the US manipulated institutions and elections in favour of their favourites. The option they pushed for has produced an inflexible presidential system that does not reflect the diversity of political and ethnic forces in the country and was unable to deal with political crises.
Conclusion
The plan to hold new "Bonn-style conference" prioritises US interests and timelines even more than the Doha agreement did. Even if the Taleban agreed to a 'Bonn 2 formula', this would leave the causes of conflict unaddressed. It would hand the implementation of an agreement to parties who so far and to varying degrees have not been willing to seriously negotiate with each other or share power. To only have armed factions at the negotiating table would again undercut the principle of broad participation, including of women's organisations and other civil society groups, and would limit the chances of a peaceful future. It would repeat a major mistake of Bonn 1 where civilian political forces were not invited to the table.
At the same time, if both sides could be brought to agree to a deal and even some form of truce, and troops withdrew, with the departing soldiers would go much of the remaining international attention on Afghanistan. The international powers would have even less leverage on the Afghan parties, but might also have less interest, once their military engagement was over. (There is already widespread 'Afghanistan fatigue' in parliaments and governments of many donor countries.) One can imagine that Afghans would be blamed if fighting broke out again.
Peace processes in Colombia (AAN analysis here) and the Philippines (for example see this collection of ICG reports) show that it often takes years, even decades, to make progress towards a stable peace, step by often difficult step. A hastily agreed 'Bonn 2' government could leave behind an even more dysfunctional state than we have now. The Taif agreement in Lebanon and the Dayton agreement on Bosnia-Herzegovina are other examples that produced dysfunctional states, with the potential for new violence breaking out.
Bonn 1 was not a peace conference. It did not bring warring parties together to thrash out an end to conflict. It was able to divide up ministries and government positions between parties relatively quickly because they were not at war with each other. It is difficult to see how this could possibly be a good model for ending the Afghan conflict today. In the words of old Afghanistan hand Michael Semple in an AAN report on why the international powers failed to save the Bamian Buddhas – incidentally blown up by the Taleban 20 years ago – the Bonn 2 proposals seems another one of those "approaches which seem good in international fora but which do not actually work on the ground in Afghanistan."
Edited by Kate Clark and Martine van Bijlert
↑

1
The paper names President Ashraf Ghani, along with his two deputies, Amrullah Saleh and Sarwar Danesh, Abdullah Abdullah, former president Hamed Karzai and factional leaders Muhammad Mohaqeq (until recently in opposition to Ghani but now appointed his advisor), Muhammad Karim Khalili, Abdul Rashid Dostum, Abdul Rab Rasul Sayyaf and Yunes Qanuni.

The article added that there was a possibility of also including Salahuddin Rabbani, Gulbuddin Hekmatyar, Ismail Khan and Atta Muhammad Nur. The possible inclusion of Rabbani, Ismail and Atta reflects the fragmented state of Jamiat-e Islami, the leading political party largely in opposition to Ghani, but would also give it overrepresentation.

↑

2
On the different forms of loya jirgas used after 2001 – and the reasons to use the different forms – see here and here.

↑

3
See, for example, in this 2011 appraisal of Bonn 1 published at the US National Defence University.

↑

4
By far the strongest group militarily was the 'Northern Alliance' (officially called United Islamic Front for the Salvation of Afghanistan). It had been fighting the Taleban and provided local forces in support of the US-led military invasion. The three other groups were militarily insignificant, although a few non-Northern Alliance field commanders were sympathetic to the (former King's) Rome group. The Rome group at least had somewhat of a structure and a political plan, including a series of loya jirgas as a transition mechanism to elected government bodies, which the UN used as it designed the next steps at Bonn. The 'Cyprus group' had no formal structure at all and had mainly held a series of conference in Nicosia (hence the name) with some Iranian funding and an ever-changing attendance. The fourth group, the Peshawar group, was formed just before the Bonn conference to accommodate Pakistan and was mainly composed of commanders loyal to Pir Sayed Ahmad Gailani who was otherwise very close to the ex-king and could have easily been a part of the Rome group. Before Bonn, the 'Northern Alliance' told the US that it "did not consider the Peshawar Group or the Cyprus Group of Afghans as negotiating equals to King Zahir's group" (quoted here, p13).

↑

5
There is a widespread conspiracy theory that the plan to share power between the current Pashtun-dominated government, the still overwhelmingly Pashtun Taleban (despite some marginal inroads in to other groups) and the Pashtun-dominated Hezb-e Islami of Gulbuddin Hekmatyar with which the government already concluded a peace deal in September 2016 that has been hailed by some as blueprint for a deal with the Taleban (AAN analysis here) is actually a plan to re-establish a pre-1978 Pashtun domination in the country by US envoy Khalilzad who is also Pashtun.

↑

6
A document on good neighbourly relations and non-interference in Afghan affairs that was signed by these countries at Bonn soon became waste paper, after the US snubbed Iran, naming it as part of the 'axis of evil' and focussed on the 'war on terror', rather than reconstruction and institution building.

↑

7
Subsequently, the Bonn decision to demilitarise Kabul to allow for a new pluralistic administration to be installed was not implemented. When AAN colleague Kate Clark interviewed the Afghan Ministry of Defence spokesman in the first weeks of 2002, he assumed the new British-led ISAF would force the Shura-ye Nazar (the Northern Alliance's military wing) and Ettehad-e Islami factions of the Northern Alliance which had captured Kabul in November 2001, to withdraw. Yet the international powers, fearing conflict, avoided antagonising them and bowed to threats that they would 'go back to the mountains' These forces were allowed to stay and re-name themselves as police and army, getting new uniforms and government salaries.
REVISIONS:
This article was last updated on 9 Mar 2021