Afghanistan Analysts Network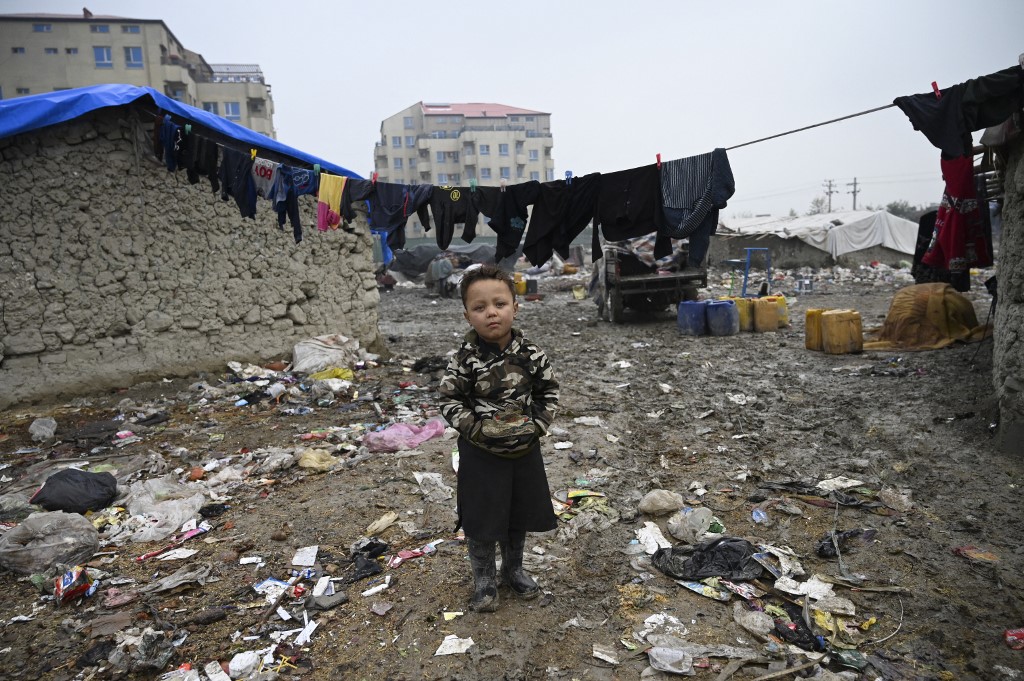 A boy, displaced by the fighting, stands outside his temporary mud house at a refugee camp in Kabul. Photo Wakil Kohsar/AFP, November 2020
UNAMA's 2020 report into the Protection of Civilians can be read here, as can all previous reports. AAN's analysis of civilian casualties from 2009 to 2019 were collected together in: "Thematic Dossier XXIV: Ten years of reporting on civilian casualties, still no ceasefire". More recent reporting is noted in the text. 

The statistics: 2020 compared to 2019
8,820 civilian casualties (3,035 deaths and 5,785 injured), representing an decrease of 15 per cent;
1,146 women casualties (390 deaths and 756 injured), a five per cent decrease from 2019, although an increase of 13 per cent in deaths;
2,619 child casualties (760 deaths and 1,859 injured), representing a decrease of 28 per cent.
Since UNAMA began systematically recording civilian casualties in 2009, it has documented 110,893 civilian casualties, of which 35,559 civilians were killed and 72,334 injured.
How civilians were killed and injured
Who was responsible for civilian casualties
Insurgents, including the Taleban, Islamic State – Khorasan Province (ISKP, also known as Daesh), and other Afghan and foreign insurgent groups, caused 62 per cent of all civilian casualties in 2020, in total 5,459 (1,885 killed and 3,574 injured), representing a 15 per cent decrease compared to 2019.
Pro-government forces, including the Afghan National Security Forces (ANSF), international forces (only the US has a declared combat mission in Afghanistan with military forces and CIA present), and pro-government armed groups, were responsible for 25 per cent of all civilian casualties, in total 2,231 (1,906 killed and 1,232 injured). This was a 24 decrease in civilian casualties compared to 2019.
Analysis
A year ago, Afghans were enjoying a 10-day 'reduction in violence', ahead of the Taleban and United States signing their agreement in Doha on 29 February 2020. There were hopes the agreement could usher in a more peaceful Afghanistan (see AAN reporting on the deal and responses to it. While there was an overall reduction in the numbers killed and injured in 2020, the new UNAMA report maps out just how much the violence has morphed and ultimately increased in response to the agreement and the subsequent intra-Afghan talks. Many of the new dynamics seen in the conflict in 2020 can be traced back to what was agreed in Doha a year ago.
That agreement bound the US and Taleban not to attack each other, but left the Taleban free to attack government forces. The Afghan National Security Forces (ANSF) assumed, for several months an 'active defensive' posture, that is only responding if attacked, before returning to 'business as usual', especially in the autumn. The Taleban, by contrast, from the day after the agreement was signed asserted their 'right' to attack government forces and (civilian) officials (see quotes in this AAN report from March 2020). This was in contradiction to US assertions that the insurgent group had agreed verbally to maintain the reduction of violence. The Taleban said it had voluntarily decided on some restrictions, including not attacking major population centres.
Throughout the year, the movement appeared to calibrate their military efforts, ramping up violence, gradually and in ways calculated to see what they could do without attracting the US military – and, in particular, US air strikes – back into the war. By the end of the year, they had launched major offensives in Helmand and Kandahar provinces, displacing thousands of families.
The other major dynamic still affecting the conflict was the weakening of ISKP after the onslaught on its territorial bases in Nangrahar by US and Afghan government forces and the Taleban in recent years.
The consequences of the US-Taleban agreement are reflected throughout UNAMA's report. The near removal of the US military from the battlefield from 1 March onwards meant almost no civilian casualties resulting from US air strikes following the agreement and the disappearance of a whole section of the annual reporting normally given over to the deaths and injuries caused in search operations by the CIA-supported NDS Special Forces and Khost Protection Force and Shahin Force, and to the detailing of those groups' practice of carrying out summary executions, torture and the destruction of civilian property. [1] These groups did begin to restart their activities towards the end of the year (more on which later). There were also far fewer casualties resulting from suicide and complex attacks, mainly as the Taleban refrained from launching these and partly because of the weakening of the ISKP. [2]
Together these three factors – fewer US airstrikes, fewer operations by CIA-proxies and fewer mass-casualty suicide and complex attacks – as well as three periods when violence was reduced (the ten-day Reduction in Violence in February and ceasefires over the two Eids) brought the overall number of civilians killed and injured in the Afghan conflict in 2020 down. That 15 per cent drop should be relatively good news. However, other dynamics in the conflict are far less hopeful. 2020 saw the usual, albeit unannounced, Taleban 'spring offensive', restraint by the ANSF (not popular in the ranks) and then the sharp rise in violence in the last quarter of the year, especially by the Taleban, but also by government forces. UNAMA has never seen this pattern in all its 12 years of systematically documenting civilian casualties. Typically, fighting falls off in the late autumn and winter months. Instead, in 2020, the violence intensified. Compared to the last quarter of 2019, there was a 45 per cent increase in civilian casualties in October to December 2020. As UNAMA has noted, this was just after intra-Afghan talks in Doha got underway (on 12 September).
Two insurgent tactics were responsible for the bulk of the fourth-quarter increase – IEDs and targeted killings. The figures are stark. There was a 69 per cent increase in civilian casualties from IEDs and a 62 per cent increase in civilian casualties from targeted killings in the last quarter of 2020, compared to the same period in 2019. October was the bloodiest month of the year in 2020. November was the worst November since UNAMA began its systematic recording in 2009. There were 2,792 civilian casualties (891 killed and 1,901 injured) in October-December 2020 compared to 1,931 (726 killed and 1,205 injured) in the same period in 2019.
Also significant was who was targeted in the killings seen at the end of 2020 (and continuing into 2021): healthcare workers, judges and lawyers, civil society activists, NGO workers, human rights defenders, journalists and civilians working in the government. Also killed as collateral damage were the civilian family members of police and army members who have also been heavily targeted both on and off-duty (one estimate from a security source in Kabul put the proportion of ANSF officers targeted in the capital in recent months as about two–thirds of the total of those killed in targeted killings).
There has been much discussion of who is responsible for these killings, given how few are claimed. Of those targeted killings included in its 2020 Protection of Civilians report, UNAMA attributed nearly two-thirds to the Taleban – 761 civilian casualties (459 killed and 302 injured) – a 22% per cent increase from 2019. [3] In general, the Taleban have been far more reluctant to claim attacks than in previous years. We tracked this in a report in August, "War in Afghanistan in 2020: Just as much violence, but no one wants to talk about it", but UNAMA has now quantified this trend further. Civilian casualties from attacks claimed by the Taleban fell by 85 per cent in 2020 compared to 2019. At the same time, the number of civilian casualties which UNAMA attributed to the Taleban from incidents which were unclaimed rose by 16 per cent; in these incidents, 3,700 civilians were killed (1,426) and injured (2,274). Overall, there was a 158 per cent increase in casualties caused in insurgent attacks the authors of which UNAMA could not determine – 826 civilians killed (202) or injured (624).
The fourth-quarter upsurge in violence brought together several worrying dynamics: the dearth of claims and tactics which, in UNAMA's words, "exacerbated the environment of fear and paralysed many parts of society." The Taleban may have judged that picking off individuals, rather than launching large-scale mass casualty urban terrorist attacks would be less provocative to the Americans, while having a similar impact in cowing the population and undermining the government. Not claiming attacks also ensures the Taleban can deny culpability – as they did indeed do on 1 February 2021.
The timing in the fourth-quarter upsurge was also significant, after the Taleban had secured the freeing of 5,000 prisoners held by the government (as per the US-Taleban agreement) and the reduction in US troops, it put pressure on the civilian population even as the movement was supposedly starting negotiations to end the war. For an authoritarian movement like the Taleban, 'watchdogs' such as journalists and human rights defenders may appear a major threat. Silencing them may be aimed ultimately at 'softening up' the population, whether the Taleban are actually intent on negotiations or trying to win power through military victory.
The ground war continues
While the end of most direct US engagement in the conflict meant it caused far fewer civilian casualties, fighting between the Taleban and ANSF continued. Ground engagements were the tactic responsible for the most deaths and injuries in 2020 – for the first time since 2016. UNAMA castigates both the Taleban and the ANSF for using difficult-to-target indirect fire, including from artillery shells, mortars and rockets, in populated areas. That casualties caused by the Taleban in ground engagements decreased in 2020, UNAMA attributes only to the group causing particularly high levels of casualties last year in attacks related to the presidential election. Meanwhile, civilian casualties by the ANSF in ground engagements rose by 15 per cent this year, with a 27 per cent increase in those killed and injured by indirect fire. The majority of all civilian casualties caused by the ANSF were in ground engagements. September, October and November were the months with the highest number of civilian casualties attributed to the ANSF.
A dynamic which we reported in March 2020 and especially in October 2020 was also observed by UNAMA: the reckless response of the ANA to Taleban attacks:
Often, the Afghan National Army used indirect fire in populated residential areas, frequently in defence against Taliban attacks, repeatedly harming entire families when artillery shells or mortars landed on their home. As a result, seven out of 10 civilian casualties from the use of indirect fire by the ANA were women (22 per cent) and children (48 per cent).  
70 per cent of all civilian casualties attributed to the ANSF in ground engagements came from the ANA. They killed and injured 42 per cent more civilians than in any previous year documented. In contrast, fewer civilian casualties were caused by the ANP (down by 17%), ALP (disbanded from September onwards and causing 33% fewer civilian casualties) and NDS, including its special forces (down by 80%).
As with the ANA, the Afghan air force is also killing and injuring more civilians – twice as many civilians in 2020 as in 2019 – particularly in strikes on people's homes. That meant that of the total number of civilians killed and injured by its air strikes, 45 per cent were children and 19 per cent were women.
Also beginning again in the fourth quarter were operations by NDS Special Forces, and two pro-government armed groups which also fall outside Afghan command, the Khost Protection Force and the Shahin Force, which operates in Paktia. Given their reported chain of command to the CIA, it was unsurprising that operations by these groups fell away after the Taleban-US government agreement. However, the Khost Protection Force and Shahin Force are again killing and injuring civilians, UNAMA reports. In the last three months of 2020, 12 civilians were killed in eight incidents, which included deliberate killings during search operations and ground engagements. They included the Khost Protection Force beating a civilian man up in front of his family and then taking him outside and shooting him dead in Khost Matun district of Khost province on 14 October.
Unlike 2019, however, in 2020, most civilian casualties from pro-government armed groups not allied to foreign forces, in particular those operating in the north and northeast. Pro-government forces in Balkh, Faryab, Kunduz, Helmand and Baghlan together caused half of all civilian casualties caused by such forces, mainly during ground engagements and through targeted killings.
UNAMA has also documented deliberate harm to civilians by members of the ANSF or pro-government armed groups. Often, it said, these happened after verbal dispute related to the refusal to pay bribes or carry out "illegitimate requests." For example, on 5 September, a member of the ANP working at a security checkpoint in Qalat district, Zabul province, shot and killed a civilian man who refused to pay money to pass the checkpoint. UNAMA also documented cases of civilians killed by the ALP and pro-government armed groups because of perceived links to the Taleban or to rival pro-government armed groups. On 4 February, for example, an explosion in a pharmacy in Argo district, Badakhshan province, killed the owner and injured another civilian; allegedly the pharmacy was targeted because of a dispute with the owner's father, the commander of a rival pro-government armed group.
Attacks on healthcare and education
As AAN has previously documented, the parties to the various phases of the conflict since 1978 have generally respected health professionals and recognised that targeting them is self-defeating – because their fighters or soldiers or the civilians they claim to represent also need treatment. Yet, 2020 saw a 20 per cent rise in attacks on healthcare staff and facilities, causing extra strain on top of the Covid-19 pandemic.
Incidents included both direct attacks and threats against healthcare facilities and personnel, and indiscriminate attacks resulting in civilian casualties and damage. Eight health personnel were killed in 2020, 11 were injured and 36 abducted. UNAMA attributed 73 of the 90 incidents to insurgents, including 71 incidents to the Taleban. The majority of such incidents occurred in the eastern (22), northern (18) and southeastern (14) regions. UNAMA gives several examples, including the Taleban planting IEDs outside a health centre in Daikundi treating women – because they were unhappy with non-Muslims funding the care and an IED attack inside a pharmacy after the pharmacist refused to pay money; eight civilians, including a child and a doctor were killed. Health-care centres in Paktia province in February 2020 after the NGO running them refused Taleban demands to provide ambulances and supplies and to hire Taleban members as clinic staff. A similar refusal by the provincial health department in Badakhshan led to the Taleban forcing the closure of 17 health centres in the province. The worst single attack was, of course, the still unclaimed mass shooting of women and workers in a maternity ward in a hospital in Dasht-e Barchi in Kabul on 12 May;, the armed men entering the hospital killed 23 civilians and 23 injured, including women in labour and those who had just given birth in an apparent sectarian assault on Shia Muslims.
Attacks on teachers and schools and madrassas, while fewer than in 2019, were still all too many: three education staff were killed and five wounded, along with 30 students were killed and 53 wounded. Most of the incidents were in the east (16), northeaster (14) and northern (10) regions.  UNAMA attributed 22 of the incidents to insurgents, including 17 direct attacks by the Taleban and 20 to pro-government forces, all but two collateral damage. An example was the Afghan air force's 21 October airstrike against a madrassa in Hazara Qarluq village in Takhar; nine children, five boys and four girls, aged between five and nine years old were killed and 16 injured, along with the mullah.
Conclusion
"After the February 'reduction in violence week' provided further evidence that the best protection for civilians is to stop the fighting," UNAMA has written, "civilian harm began to rise again in March." The US-Taleban agreement and the launch of an Afghan 'peace process' has had an impact on the conflict, but not to cool it down. It has taken the US military out of the conflict, but the Taleban response to the near-exit of its most dangerous military enemy has been to ramp up the violence. This also, eventually, brought a counter-response from the ANSF. The upward curve of violence since the US and Taleban signed their agreement a year ago has been fairly relentless and the surge in violence at the end of 2020 – now continuing into 2021 – a grievous blow to hopes Afghans might have had for peace.
Edited by Rachel Reid
↑

1
One of UNAMA's recommendations is:

Bring the National Directorate Special Forces, which appear to fall outside of the official Governmental chain of command and to be coordinated with foreign actors, under full control of the National Directorate of Security; immediately disband and disarm all pro-Government armed groups, including the Khost Protection Force and Shaheen Forces, or formally incorporate their members into the Afghan national security forces following a robust vetting procedure.

↑

2
For the second year in a row, ISKP killed and injured fewer civilians than the previous year. Even so, the havoc it wreaked was still horrifying: more than 95 per cent of civilian casualties caused by ISKP in 2020 were in mass incidents in the cities of Kabul and Jalalabad and a suicide attack in Kuz Kunar district of Nangrahar province. Also, more than 80 per cent of casualties were in attacks deliberately targeting civilians, including students, Shia Muslims and Sikhs.

↑

3
UNAMA notes that it has likely underestimated the number of conflict-related targeted killings because, in many instances, it could not attribute an attack to a party to the conflict and therefore could not establish a conflict nexus (connection). For this reason it issued a separate special report on 15 February, detailing all targeted killings of human rights defenders, journalists and media workers.