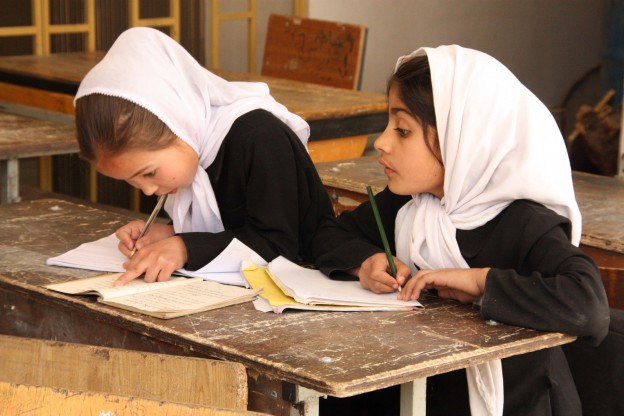 Following the Geneva Conference, the government will also publish the National Peace and Development Framework for 2021-2025 (ANPDF II) that provides a wider perspective of goals for governance and the overall development of the country. Photo: Christine-Felice Roehrs
What is the Geneva conference about? 
A. Programme
This 2020 Donor Conference for Afghanistan on 23 and 24 of November is a ministerial-level pledging event that takes place every four years. The conference brings together the Afghan government with its international supporters in order to commit to joint development goals for the period from 2021 to 2024 and secure financial support for the administration in Kabul. It is co-hosted by the Afghan and Finnish governments as well as the United Nations. More than 70 countries as well as international organisations and agencies are expected to attend. Given the start of the intra-Afghan 'peace talks,' there were discussions among donors and the government in Kabul about whether to include the Taleban in some fashion. However, their formal attendance seems out of the question, with the Taleban not acknowledging the Afghan government as legitimate. The government on the other hand is irate at intensifying Taleban violence and not interested in boosting their status by affording them quasi-governmental rights by allowing them to take part in the conference.
The conference was initially meant to be held in Geneva, but owing to Covid-19 restrictions in the Swiss city, it was changed to a hybrid format first (in-person and online attendance) and finally to an entirely virtual conference with little more than two weeks' notice. Now, only a small secretariat of representatives from the organising entities will operate in Geneva itself. The format will inevitably reduce opportunities for interaction and advocacy efforts, especially for the Afghan civil society (see question 3). To provide more transparency, the organisers are offering a live stream.
As usual, the conference will begin with side events on the first day, with the main event, the pledging part, on the second day. The three high-level side event sessions of 90 or 120 minutes each will be held live online. Registration is possible until 18 November here; however, the capacity of the online platform is limited, and observers are encouraged to follow the webcast. Viewers are supposed to be able to take part in these discussions by posting comments and questions on Twitter which will be forwarded to the speakers. [1] The first will be on "sustainable peace building." It will have two segments, one on "human rights and women's participation" and one on the "reintegration of refugees and returnees" (see the organisers' concept note, background info, and event details here). In addition, there will be a meeting each on "institutional and societal methods for fighting corruption" and on "economic priorities and aid effectiveness."
On the main day of the event, donor governments and organisations can give short, three-minutes statements (a number of which will be sent in as pre-recorded statements), divided into two sessions. These will include general assessments of the Afghan government's performance during the past aid cycle as well as expectations for the future, with some messaging surely geared towards the Taleban. Pledges may be announced then or later. There will also be a report from the side events of the previous day, with five minutes allocated for a joint Afghan civil society statement. The closing session will see the adoption of a joint political communiqué.
In their own slot, the Afghan government may address the achievements and challenges of the Geneva Mutual Accountability Framework from the 2018 Geneva conference. The GMAF framework is a tool meant to monitor progress reaching aid benchmarks agreed to between donors and the Afghan government. It includes 24 deliverables (broken down into 63 sub-deliveries), 16 of which are the government's direct responsibility and eight are joint goals of government and international partners. [2]  
In the quarterly progress report of the Afghan Ministry of Finance from July, seen by AAN, of the 63 sub-deliverables 27 were said to be achieved, with 25 others "on track", 11 "incomplete" and nine called "outliers." [3] In general, this document shows most progress in goals under the program area of improving security and political stability (mostly dealing with the parliamentary elections of 2018) as well as the program area of fiscal sustainability / integrity of public finance and commercial banking issues. The worst results are seen in technical goals dealing with development partnerships and aid effectiveness as well as private sector development. Overall, the document states that the government achieved 85 per cent of its deliverables and the international partners 60 per cent.
B. The current backdrop – 'peace talks', poverty, and Coronavirus crisis
Two issues have been re-focusing the debate around aid for Afghanistan before this pledging conference. Firstly, the Intra-Afghan 'peace talks' in Doha which have injected some (modest) hope for an end to the conflict and shaken up some of the donor's Afghanistan 'fatigue.' Secondly, the coronavirus crisis which has shocked not only the Afghan but also donor economies.
The start of talks had initially boosted donor interest in Afghanistan and the conference, some donor representatives told AAN. The hosts have been trying to use the momentum, speaking of a "critical juncture" and urging donor countries to contribute, see for example this UN statement from 15 September that stated:
The commencement of Afghanistan Peace Negotiations affords new opportunities for development. Strengthened partnership and sustained international support are pivotal as Afghanistan and the Afghan people take on the challenging task of building and sustaining peace after four decades of war and suffering.
However, general levels of violence have not decreased (see AAN reporting here) as hoped after the February 2020 US-Taleban agreement, and little progress is being made in the 'peace process'. Even if it succeeds, peace would not only bring "new opportunities for development", as the UN statement puts it, but also new risks and many open questions. This has triggered debates among donor countries about how they can make long term pledges for a state whose potential power holders and shape may be in flux.
One scenario is that the 'peace process' may fail. There is scepticism about the extent of commitment to the process from either the Taleban or elements of the government. A collapse would result in continued or even more bloodshed, with additional challenges to state building and providing services to citizens. Or it may succeed – while bringing more political involvement of the Taleban with their approach to 'rule of law' and human rights, especially the status of girls and women in society, that is unpalatable to many donors. (One international observer also pointed out that peace would not necessarily "come cheaper" and that in the case of a peace agreement, another donor conference would be necessary to consider additional costs such as new social and governance issues, disarmament, reintegration of fighters etc.)
At the same time, the cost of the 2020 Covid-19 response has already been eating away at funds earmarked for aid purposes. USIP's senior Afghanistan expert Bill Byrd recently analysed this for AAN, finding that the bulk of international assistance was not new money, but had been repurposed: "From the aid perspective, Covid is pre-empting significant assistance resources that would have been used for other developmental purposes in the absence of the pandemic." Byrd also sees a part of the Covid-19 response assistance being mobilised by accelerating or 'borrowing from' Afghanistan's future aid allocations. He warns that this could result in a more severe aid and fiscal squeeze in coming years.
The UN Development Program (UNDP) confirms this view and warned ahead of the conference on 10 November in a so-called country note on the "socio-economic impacts of Covid-19 in Afghanistan" that the "Covid-19 pandemic has set back Afghanistan's economic growth by several years.
[T]he country will continue to need grant support from the international community to address the fiscal deficit and maintain its current level of expenditure on basic services. Additional grants need to be directed at driving and implementing reforms to improve the business regulatory environment, improve governance, encourage investment and strengthen the private sector.
There is also growing frustration about the performance of the Afghan government in a number of areas. This applies to wider governance issues but a particular focus is on failing anti-corruption efforts. One expert spoke of "a complete mood change between the pledging conference of 2016 and today" (see for more the answer to question 2A).
It does not help that an all too familiar dispute over appointments means that there may not be a full cabinet in place before the conference, months after the election was concluded. Ten nominees including for the ministries of foreign affairs, finance, defence and interior are scheduled to present their programs this week. And it is not clear yet when the hearing for another 13 ministerial nominees plus nominees for the positions of chief of the country's intelligence service (NDS), governor of the central bank and a member of the Independent Commission for Overseeing the Implementation of the Constitution will be scheduled.
Altogether, the conference sits at an unfavourable point in time. Not only is the peace process stalled and violence is intensifying, but also is poverty. The current projections for Afghan livelihoods are so severe it is hard to comprehend. Poverty had already increased before the pandemic, from 34 per cent in 2007 to 54.5 per cent in 2017. With Covid-19, the World Bank estimates another possible jump in the poverty rate to up to 72 per cent this year (the government speaks of up to 90 per cent). Some context for what that means in terms of lives touched: in 2018, the UN estimated 3.3 million people needed humanitarian assistance – this year (as of June), it is 14 million people, and the figure is expected to grow.
Short-term humanitarian assistance aside – the underlying causes such as negative growth, rising unemployment, or the return of millions of refugees from Iran and Pakistan continue to need development support.
At the same time, many important donors are distracted by domestic crises, not least from the Coronavirus and ensuing financial deficits. The US – the largest donor – is so engulfed in the aftermath of its presidential election it is unlikely to provide leadership (and may not want to; see an AAN analysis on prospects for US Afghanistan policy under Biden here).
2. What are the expected outcomes of the conference?
There are two main expected outcomes of the Geneva conference: pledges for financial support and a so-called "new aid architecture." (These will as usual also be a joint communiqué.)
A. Pledges of financial support
While no official comments have been made, based on public and private comments from donors and Afghan government representatives, the overall level of aid pledged in the conference is expected to shrink compared to the 2016-20 period. In addition, a number of donors may promise certain components of funding for much shorter intervals – the speculation has been one or two years instead of four – while allowing the government to work on the basis that this can be extrapolated to the whole four-year sum. Donors have also been speaking of stricter conditionality, with several representatives mentioning thorough reviews "every year, not just box-ticking reviews."
The past two pledging conferences have brought similar levels of commitment. Tokyo in 2012 brought over 16 billion US dollars for Afghanistan, Brussels in 2016 over 15 billion. This time around, due to coronavirus related fiscal restraints, donor countries' "financial outlook is bleaker", as one diplomat put it. Some countries may seek to limit funding, though estimates of future funding levels vary. The news agency Reuters cited unnamed sources on 3 November saying that:
[T]he United States, Afghanistan's largest donor, was likely to make deep cuts to its annual contribution of around $800 million for civilian funding, beyond the money allocated for defence and security needs… Britain and France were also considering reducing pledges, while Australia was planning cuts of up to 30%, two sources said.
One source cited in the article went further, suggesting that the US might "cut aid by half." Other large donors however, are expected to stay the course. Germany, the second-biggest bilateral donor after the US, indicated that it will continue its funding at "comparable levels." In 2016, the German government had pledged 1.7 billions Euro for the following four years. Diplomats pointed towards the importance of "signalling continuity and reliability" for development and peace, as "there will be no peace without stabilising the government." European donors in general also do not want the state to destabilise further – or become even poorer –, fearing more Afghan migration towards Europe. One international observer close to the proceedings said that altogether "70 to 80 per cent of the current funding levels would be a realistic ask."
The variety of possible scenarios regarding the future shape of the government – including a possible power sharing with the Taleban – has been making donors more cautious, too. One foreign diplomat said:
There is a lot of debate on that. One shape that this is taking now is a higher emphasis on conditionality. We are looking at ways to support the state and guarantee that aid is given based on performance should the shape of the government change as a consequence of the peace talks. 
The calls for more conditionality also reflect concerns that observers are seeing little progress in the fight against corruption while acknowledging that 2020 was a difficult year for reforms. A Special Inspector General for Afghanistan Reconstruction (SIGAR) paper published on 6 November 2020 was specifically timed to focus attention on the failure to adequately address corruption ahead of the conference, "given international donors are expected to pledge billions of dollars in additional funding at the upcoming donor conference, and that contributions make up 75 per cent of the Afghan government's national budget." SIGAR noted that most benchmarks the government has met are "intangible" actions such as new rules and regulations, which still require further action to actually reduce corruption, whereas tangible efforts such as "the arrest of corrupt actors" are rare. [4]
These complaints are shared by other international donors and international organisations, who note decreased prosecutions at the Anti-Corruption Justice Center (ACJC), powerful corrupt actors not being arrested, with important anti-corruption fighters recently fired or suspended. A UN corruption report from June gave a list of recommendations donors were hoping to see realized before Geneva (see AAN analysis here). However, most remained unfulfilled, one expert said. An oft-demanded independent anti-corruption commission was approved by presidential decree on 12 November – 11 days before this conference – thus appearing to be a hurried gesture to appease donors. The SIGAR report cited above notes that most of the significant anti-corruption reforms have come at times when there's been "increased donor scrutiny."
There are no details yet on what 'more conditionality' would look like, though, nor whether it would take account of the mixed track record of such efforts. [5]
B. The "new aid architecture"
The 'new aid architecture' is a phrase that is being used by government officials and donors, referring to two documents. Similar ones have existed before but will be updated and renamed.
One is the Afghanistan Partnership Framework (APF), an agreement on aid benchmarks to be met by both Afghan government and supporters. This is the successor document for the upcoming four-year period for the already mentioned GMAF that is running out by the end of the year. Indicators were still being negotiated less than two weeks before the conference, with one Afghan Ministry of Finance official speaking of Kabul's demand to reduce "the number of commitments", making deliverables more focused and concrete, and focusing "more on extensive and major reforms."This problem is acknowledged by the international donors (for more see the already mentioned UNAMA and SIGAR reports).
The government will also publish the National Peace and Development Framework for 2021-2025 (ANPDF II), drafts of which have already been privately shared with donors. It provides a wider perspective of goals for governance and the overall development of the country.
3. What is the role of civil society at the conference?
For civil society, donor conferences present an opportunity to ensure that the voices of Afghans have some degree of influence in aid debates and to directly advocate for issues with high-level stakeholders and media. Civil society delegates will take part in the side events on the first day and will have a five-minute slot for a joint statement on the second day, as in earlier conferences. This does not give them much space.
In preparation, consultation meetings for the messaging have been held at the provincial level, helped by the British and Irish Agencies Afghanistan Group (BAAG) and the Civil Society Working Committee (CSWC), an umbrella for Afghan civil society organisations. Due to Covid-19 concerns, a nation-wide conference that was meant to be held in Kabul to integrate the province-level consultations had to be cancelled. However, a synthesis paper has been prepared that will be given to donors. AAN was told that civil society representatives would address a broad range of issues at the conference, starting with the need for a ceasefire, followed by issues pertaining to corruption, unemployment, victims of war and human rights, especially women's rights.
Ten civil society representatives have been nominated to take part in the conference. [6] Their task is to represent civil society demands and to seek, according to the official nomination announcement, "direct interactions with international policymakers, politicians, media, NGOs and other interested stakeholders during the conference." However, the virtual format of the event is worrying this year's delegates as it severely impairs their ability to do just that. Networking and advocacy often happen on the side-lines of conferences, such as at semi-official lunches or casual joint coffee breaks. One delegate, Hadi Marifat of the Afghanistan Human Rights and Democracy Organisation (AHRDO), said unhappily that lobbying efforts would be restricted. Also, "the civil society wanted to hold its own side event which unfortunately has not been approved."
But the loss is mutual. One international diplomat called it "highly regrettable" that his and other ministers, who would usually fly in for the conference and spend one or two full days with Afghan participants, might "now be busy with the conference only for half an hour" (the time needed to record or give the online speech). In this way, the virtual format is taking away most of the exposure that voices from one of the poorest and most violent countries in the world deserve to get.
4. What results did previous donor conferences bring?
In recent years, international donor conferences have been an opportunity to obtain public and media attention for a country that has dropped from the centre stage of world politics although conflict continues to escalate. For a few days, Afghanistan is more than just the focus of diplomatic missions in the country and Afghanistan desks in capitals, but background briefs and speaking points are read and edited at the highest levels of government and international organisations. For both sides, it is usually an opportunity to scrutinise the ever-changing indictors by which progress – or the lack thereof – is measured.
The early international conferences on Afghanistan were in quite a different spirit. The first was organised in Bonn in December 2001. There, Afghan and international representatives agreed on a road map for the re-establishment of permanent, democratically elected Afghan government institutions, the so-called Bonn Process. It was soon followed by the first major donor conference – the Tokyo Conference on Afghanistan in January 2002, which saw pledges of over 1.8 billion US dollars to rebuild Afghanistan, and over three billion US dollars for the years after (see AAN reporting here) – tiny figures compared to today's aid, indicating how much the international community underestimated the needs, challenges, and risks of rebuilding a country after decades of war and with still-unsolved conflicts.
The Berlin conference on Afghanistan in April 2004 was supposed to mark the end of the Bonn Process. However, given delays in both the presidential and parliamentary elections, participants were only able to note the "substantial progress" achieved since the Bonn Agreement of 2001, mainly the new Afghan constitution adopted at the 2003 Constitutional Loya Jirga (see an AAN account of this event here). Aid commitments were made of over eight billion US dollars over three years. [7]
The Bonn Process was declared successfully finalised in January 2006 at the London conference. There, a first set of benchmarks (indicators, timelines and agreed principles of aid effectiveness) were adopted based on what was called the Afghanistan Compact. The intent was to "increase the proportion of donor assistance channelled directly through the core budget." [8] In April 2006, the Joint Coordination and Monitoring Board (JCMB) was established and tasked with coordinating and monitoring implementation of the Afghanistan Compact and the Interim Afghanistan National Development Strategy (IANDS).
Record levels of funding were pledged  in June 2008 at the Paris conference, with an additional 21 billion US dollars. Donors also reaffirmed the Afghanistan Compact and committed to the new Afghanistan National Development Strategy (ANDS) for 2008-13. This was swiftly followed by the Den Haag International Conference in 2009, where participants agreed to significantly expand the resources and personnel devoted to civilian capacity-building programmes and pledged to improve aid effectiveness.
In 2010, there were two major donor conferences and, before, the Lisbon NATO summit, where the plan for a phased handover of security responsibility from NATO and ISAF to the Afghan security forces was announced. At the 2010 London conference on Afghanistan, it was agreed that the Afghan government would gradually take over responsibilities for running the war and running the country over the following five years. This was quickly followed by the Kabul conference in July 2010, where under the motto 'Afghan-owned and Afghan-led', President Karzai launched 22 National Priority Programmes and asked for 15 billion US dollars in pledges. [9] Transition was also the theme in Lisbon in November 2010, where troop contributing nations issued the Lisbon Declaration on Afghanistan, which outlined the gradual withdrawal of foreign forces and their replacement by Afghan ones. [10]
The "process of transition" which began in 2010 was to be completed by the end of 2014 and followed by a "transformation decade" (2015-2024). This was also a main message from an international conference held in Bonn in 2011, to mark the tenth anniversary since the first international conference on Afghanistan in 2001. [11]
In July 2012, Afghanistan's donors pledged 16 billion US dollars at another international conference in Tokyo. [12] The Tokyo pledges were made in response to the Afghan government's strategy document, "Towards Self-Reliance". The conference further agreed to a new set of benchmarks, known as the Tokyo Mutual Accountability Framework (TMAF). This was designed to improve accountability which at this point was very poor, as AAN's ten year review, "Snapshot of an Intervention," made clear. [13]
In December 2014, in London, the then-new Afghan president, Ashraf Ghani, presented a reform programme entitled "Realizing Self-Reliance: Commitments to Reforms and Renewed Partnership" (see AAN reporting here). Ghani's government introduced the "Self-Reliance through Mutual Accountability Framework" (SMAF) in September 2015, which consolidated both its new reform agenda and the previous TMAF benchmarks, laying out a set of 39 benchmarks.
In October 2016, the European Union and the Afghan government co-hosted the Brussels Conference (see AAN's dispatch here). The conference resulted in the endorsement of the Afghan government's programme for the 'transformation decade' (2015-2024), with 24 indictors in the new Self-Reliance through Mutual Accountability Framework (SMAF), called SMART SMAF (see here and here). Donors committed to sustain international funding at or near current levels through 2020, with a pledging total of 15.2 billion US dollars.
In October 2018, in Geneva a joint resolution was agreed, highlighting areas where "much still needs to be done," as well as adopting the Geneva Mutual Accountability Framework (GMAF) with measurable reform objectives and commitments for the government and the international community for 2019-2020.
Edited by Rachel Reid and Thomas Ruttig
---
↑ 

1
These handles and hashtags will help to follow: #Afghanistan2020; @UNAMAnews; @FinlandinAFG; @mediaoffice_mof. For more see the Finnish conference website here, the Afghan finance ministry's microsite here and UNAMA information here

↑ 

2
There are six focus areas:

1. Improving security and political stability;

2. Anti-corruption, governance, rule of law and human rights;

3. Restoring fiscal sustainability & integrity of public finance and commercial banking;

4. Reforming development planning and management and ensuring citizen's development rights;

5. Private sector development and inclusive growth and development;

6. Development partnerships and aid effectiveness.

↑ 

3
On "outliers," the Ministry of Finance document says: "some of the deliverables are marked as outliers, because they were not set realistic at the formulation stage, or heavily impacted by unexpected external factors such as changes in the government processes in the implementation stage."

↑ 

4
The report explained: "Of the 16 benchmarks that the Afghan government provided evidence of implementation for, 4 resulted in tangible reforms, while the remaining 12 constituted intangible legal or regulatory reforms. Of the 11 reforms that are incomplete, 9 would have had a tangible impact on anti- corruption and 2 would have produced intangible reforms." See: SIGAR 21-09-AL/Afghanistan's Anti-Corruption Efforts, page 3.

↑ 

5
Find some food for thought on successful and failed performance-based conditionality in this November 2020 report by Scott Guggenheim for the USIP.

↑ 

6
The list of civil society representatives:

1. Farida Amiri – Peace Friends

2. Forozan Rasooli – Equality for Peace and Democracy

3. Hadi Marifat – Afghanistan Human Rights and Democracy Organization

4. Mohammad Naeem Ayubzada – Transparent Election Foundation of Afghanistan

5. Roshan Mashal – Afghan Women's Network (AWN)

6. Samiullah Hamidee – Helmand Province Bost Civil Society Organisation

7. Sayed Ikram Afzali – Integrity Watch Afghanistan

8. Sayed Hussain Anosh – Civil Society and Human Rights Network (CSHRN)

9. Suraya Pakzad – Voice of Women Organisation

10. Zarqa Yaftali – Women and Children Legal Research Foundation (WCLRF)

Seven representatives come from Kabul, three from other provinces (Herat, Helmand, and Balkh).

↑ 

7
Multi-year commitments were made for the "reconstruction and development" of Afghanistan, totalling 8.2 billion US dollars for the Afghan fiscal years 1383 – 1385 (March 2004 – March 2007), including a pledge of 4.4 billion US dollars for 1383 alone (March 2004 – March 2005).

↑ 

8
See annex two of the Afghanistan Compact on pp 13 and 14, here.

↑ 

9
See also AAN previous reporting here; here; and here.

↑ 

10
See comments by AAN's Thomas Ruttig ahead of the Lisbon summit here, a discussion of the phased handover here for an overview on NATO summits on Afghanistan see AAN reporting here.

↑ 

11
The title of the conclusions from this conference "Afghanistan and the International Community: From Transition to the Transformation Decade" shows the spirit of a long commitment and two clearly defined processes that are in sequel to each other – from a military transition to a social and political transformation.

↑ 

12
See a UNAMA report here and rather more critical reporting by AAN here.

↑ 

13
Snapshot of an Intervention – The Unlearned Lessons of Afghanistan's Decade of Assistance 2001–2011. See also a recent SIGAR report Corruption in Conflict: Lessons from the U.S. Experience in Afghanistan.